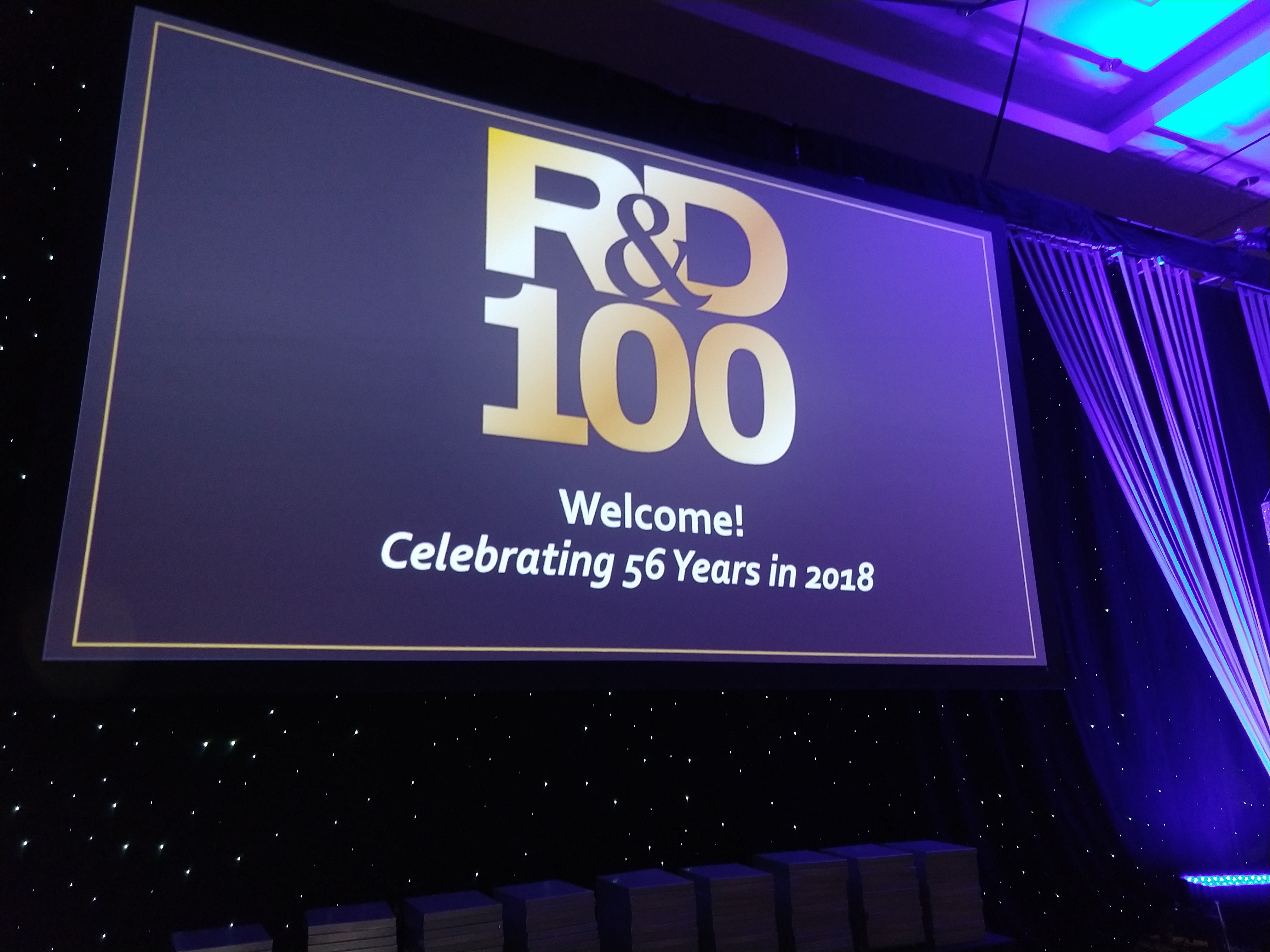 The winners of the 56th annual R&D 100 Awards—an international competition that recognizes the 100 most exceptional innovations in science and technology from the past year—were revealed Friday, Nov. 16, during a black-tie awards ceremony held at Waldorf Astoria Orlando in Orlando, Florida. The R&D 100 Awards have long been considered the most globally prestigious recognition of invention and innovation.
R&D 100 Awards recipients include established Fortune 500 companies and federally funded research institutions, as well as academic and government labs. Their leading products, technologies and services will make a difference in a wide range of industries and together represent a bright future for science and innovation in the years to come. Current and past winners share in the pride of achievement and global recognition an R&D 100 Award offers.
The R&D 100 Award Winners were selected by an independent panel of more than 50 judges representing R&D leaders in a variety of fields. Winners were recognized across five major categories—Analytical/Test, IT/Electrical, Mechanical/Materials, Process/Prototyping, and Software/Services and Other. The full list of winners can be found here
The R&D 100 Awards Ceremony also unveiled the R&D 100 Special Recognition Awards, with Gold, Silver, Bronze and Merit Awards announced during the ceremony. These included Special Recognition: Corporate Social Responsibility; Special Recognition: Green Tech; and Special Recognition: Market Disruptor – Products. A list of those recognized can be found here.
The R&D 100 Winners were selected from among a group of exemplary R&D 100 Finalists, who were previously revealed in the October issue of R&D Magazine. Congratulations to all who were recognized as part of the R&D 100 Awards program.
Applications for 2019 R&D 100 Awards are now being accepted. To be eligible for the 2019 R&D 100 Awards products or services must have entered the marketplace between January 1, 2018 and March 31, 2019.
The R&D 100 Awards Ceremony took place following the fourth annual 2018 R&D 100 Conference Nov. 15-16, which focused on accelerating the R&D pipeline as part of this year's theme, "Path to Success: Innovation & Technology Transfer Strategies in R&D."
For more information on the R&D 100 Conference, visit https://www.rd100conference.com.
About the R&D 100 Conference and R&D 100 Awards
In 2015, the R&D 100 Conference was launched as an educational event that both celebrates the historic R&D 100 Awards and provides an educational opportunity that is unique for the R&D community. The R&D 100 Conference features multi-disciplinary General Sessions specially geared for today's R&D leaders—and up-and-coming leaders—to help them tackle the most important challenges facing the R&D community right now. The conference creates a rare collaborative space where ideas flow and networking is truly special.
The R&D 100 Awards have served as the most prestigious innovations awards program in research and development for the past 56 years, honoring pioneers in science and technology. The 2018 R&D 100 Awards will be presented at the R&D 100 Awards Gala event on the evening of Nov. 16.
Together, the 2018 R&D 100 Awards Gala event and the 2018 R&D 100 Conference explore significant strides in R&D, offering an enriching experience for R&D professionals of all levels and specialties. For registration and conference details visit: www.rd100conference.com.
About Advantage Business Marketing
The R&D 100 Conference, R&D 100 Awards and R&D Magazine are brought to you by Advantage Business Marketing.
Established in 2006, Advantage Business Marketing helps more than one million innovators at science, design engineering and manufacturing companies discover and procure new technologies that give them a competitive advantage. The team provides measurable marketing solutions delivering the news, trends and analysis needed for business success. Advantage leverages proprietary behavioral-data intelligence to strengthen brand awareness, provide thought leadership, drive traffic and deliver qualified leads.