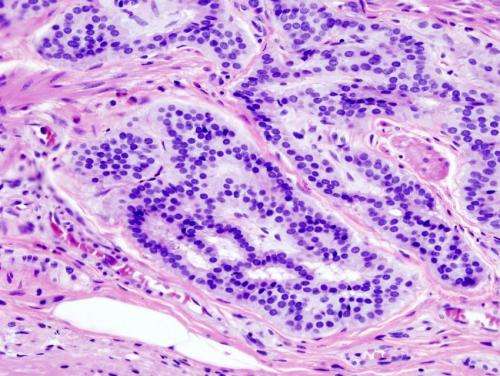 A targeted treatment regimen used in HER2-positive breast cancer demonstrated a notable clinical benefit in heavily pretreated HER2-positive metastatic colorectal cancer, according to phase II study results presented at the annual American Academy of Cancer Research (AACR) meeting April 2.
"Amplification and mutations in the gene HER2 are found in 6-8 percent of RAS/RAF-wild type colorectal cancers [cancers in which the RAS/RAF genes are not altered]," said lead researcher Salvatore Siena, M.D., professor of medical oncology at the University of Milan, in a statement. "RAS-RAF wild-type colorectal cancers comprise an estimated 60 percent of colorectal cancers, but there are about 5 percent of patients with the RAS wild type that have HER2 amplification."
Patients participating in this trial, named HERACLES, had these RAS-wild type tumors that were HER2-positive and refractory to all available treatment options, including the EGFR inhibitors cetuximab (Erbitux) or panitumumab (Vectibix), according to the official announcement. The primary endpoint of the trial was objective response rate and secondary endpoints were progression-free survival and safety.
Patients were split into two groups. In cohort A, patients received the combination of the monoclonal antibody trastuzumab (Herceptin) and tyrosine kinase inhibitor lapatinib (Tykerb).
Final results for cohort A indicated that 10 of the 33 patients evaluated achieved an objective response with two experiencing complete responses and eight experiencing partial responses.
Thirteen participants had stable disease, for a disease control rate of 70 percent. The overall response rate was 50 percent in patients with tumors with highly amplified HER2, said Siena.
Of the two patients that had complete responses, one continued to be disease-free for one year and the other for almost four years since treatment initiation, according to Siena.
"Both had tumors refractory to cetuximab and had become resistant to all standard chemotherapies. This means that HER2-targeted therapy can be a potential stand-alone, low-toxicity treatment approach for this patient population," said Siena.
Eighteen percent of patients experienced grade 3 adverse events, including fatigue (4), skin rash (1) and elevated bilirubin (1).
In cohort B, patients received another monoclonal antibody called pertuzumab (Perjeta) and an antibody drug conjugate called T-DM1 (Kadycla).
So far, Cohort B has enrolled 10 patients. Of the eight who received pertuzumab and T-DM1 and are evaluable for response, seven had a clinical benefit with tumor shrinkage, and two of those have met the objective response criteria.
"We believe that HERACLES demonstrated the efficacy of HER2-targeting because the right patients were selected for the right treatment," Siena said. "We suggest that oncologists determine HER2 status at diagnosis of metastatic disease in colorectal cancer patients, and collect information about anti-EGFR response in HER2-positive cases."