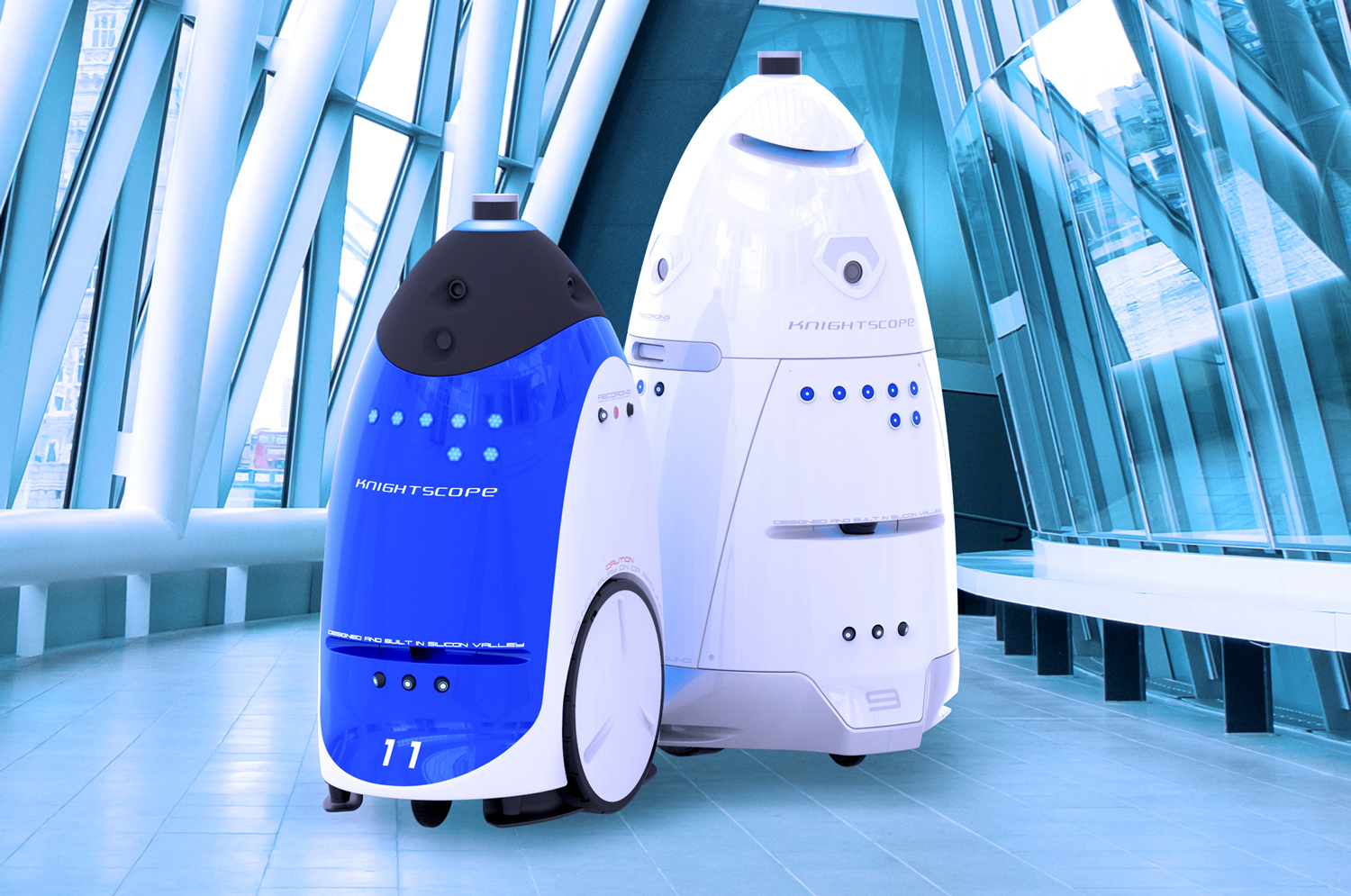 An autonomous security robot coined "Steve" became an internet sensation last week when it accidently drove into a fountain and nearly 'drowned' while patrolling the Georgetown Waterfront in Washington D.C. Everyone from Twitter users to media outlets had something snarky to say about the attempted 'robo-suicide.'
Steve's creator, Knightscope, handled the mishap in stride, even creating an official Twitter account for the robot in question, where it assured the public that Steve would recover fully and provided followers with a tongue-and-cheek play-by-play of the 'investigation' of the incident.
While the Steve situation was humorous and light-hearted, the story behind the Knightscope security robots is actually much more serious, and admirable.
Stacy D. Stephens, the company's co-creator and vice president of marketing and sales, is a former Texas police officer with an extensive criminal justice background. His co-founder William Santana is a New York City native that was deeply impacted by 9/11. The two joined forces in 2013 after the Sandy Hook Elementary School shooting to create something that would prevent, or at the very least, lessen the impact of other horrific events.
"This company was created as a direct result of the Sandy Hook shooting," said Stephens in an interview with R&D Magazine. "After that event took place there were several law enforcement organizations that did studies on active shooter situations, and one of those to which I was privy, which really became the genesis of Knightscope, was that if we could have gotten officers into that school 60 seconds sooner, we could have saved as many as 12 lives. Being a father of three, an entrepreneur, and a former police officer, that resonated with me."
What was needed to solve the problem, said Stephens, was actionable intelligence for law enforcement during and after crisis situations like Sandy Hook. The only way to gain that actionable intelligence was from some form of intelligent 'eyes and ears,' he said. The solution came to them in a moment of humor.
"We were joking with each other one day and we said, oh they've been promising us robots since we were kids, why don't we just have robot security guards," said Stephens.
Eight months later their first security robot was created.
Intelligence gathering
Despite what many of the Steve memes joked, Knightscope robots were not designed to replace human security guards. Instead, they are meant to serve as intelligence gathering tools, which law enforcement officials can utilize during, as well as after an emergency to better understand what is going on, de-escalate a dangerous situation, and potentially help capture or gather evidence against the perpetrator of the crime.
"The robot is only for observing and reporting; it is not going to intervene," explained Stephens. "It is going to provide intelligence. Law enforcement can gather more information from the robot, they could position the robot differently to get eyes on the subject, determine where he is, who is around him, does he have hostages, does he not, what type of weaponry he is using. ect. If it is at night, and someone is hiding in the shadows, the robot could use the thermal cameras to find them. It has many different applications."
In the four years since Knightscope was created, its robots have assisted law enforcement numerous times. These include—helping to issue an arrest warrant for a sexual predator, assisting a security officer in apprehending a thief in a retail environment, assisting a real estate owner in stopping a fraudulent insurance claim, assisting a corporation in tracking down a vandal, and assisting a healthcare organization in deterring vehicle break-ins.
Currently, Knightscope robots are deployed in six states, and growing, and are utilized at shopping centers, corporate campuses, professional sporting arenas, hospitals, logistic warehouses, research environments, and pharmaceutical companies. Soon they will deploy a new four-wheeled 'off road' model, built for critical infrastructure, airports, and seaports. Their customers include the Sacramento Kings basketball team and Microsoft.
How it works
Knightscope robots feature a variety of gadgets and tools that can assist with intelligence gathering, including light detection and ranging (LIDAR) devices; high-definition, low-light video cameras; thermal imaging; automatic license plate recognition (ALPR); directional microphones; proximity sensors; inertial measurement unit; wheel encoders; and a global positioning system (GPS). They are working to upgrade the robot to do both visible and concealed gun detection.
All of their sensor data is processed in real-time to determine if there is a concern or threat in the area. If so, an event is created with an appropriate alert level and a notification is sent to the proper authorities through the Knightscope Security Operations Center (KSOC), a browser based-user interface.
Users can in a sense 'take over' the robot during an emergency, instructing it to move autonomously to a specific location or report back specific information. All of its data can be accessed in real-time via a desktop computer. Knightscope is currently testing a mobile-phone based interface.
As a former cop, Stephens is designing robots with other law enforcement officers in mind.
"When I was a police officer there was only so much real estate I had on my body to carry technology, but I always carried my smart phone with me," he said. "If you can utilize a platform that is capable of carrying a significant payload of technology, and then create a way for it to wirelessly communicate back to a security operations center through some kind of software, and have an officer be able to tap into that, it infinitely improves his situational awareness."
Moving forward
As for Steve's fountain dive, Stephens isn't letting the incident slow down his mission.
"If the space program said, 'let's kill the whole program,' every time one of their rockets blew up, we'd never get anywhere," he said. "There is going to be glitches with technology sometimes and as a general rule everyone knows that. What really matters is how you handle it, and we've chosen to take a humorous approach."