Cost: $75 million
Size: 109,000 sf total; Class 100 cleanroom: 30,000 sf; Class 10,000 cleanroom: 10,000 sf
Project team: Osceola County (owner); BRIDG (operator, under agreement with the University of Central Florida); Skanska (contractor); ZHA International (program manager); HOK (lead architect): Abbie Gregg Inc. (cleanroom/lab planning and design (arch + MEP)); Vanderweil Engineers (MEP engineering); Walter P Moore (structural engineering); Hanson, Walter & Associates Inc. (civil engineering); NFC Landscape Architects (landscape architect); Affiliated Engineers (commissioning agent); Terracon (environmental consultant); Colin Gordon & Associates (acoustic and vibration consultant); VitaTech Electromagnetics, LLC (EMI consultant); Jensen Hughes (fire protection engineering)
Description: Located at NeoCity—a 500-acre master-planned intuitive community of innovation in Osceola County, less than 20 minutes from the Orlando International Airport and within a mile of the Florida Turnpike— BRIDG is a unique public-private partnership at the heart of a technology-based economic transformation taking place in Central Florida.
As an industry-led, not-for-profit organization for advanced sensors, semiconductors, photonics and other advanced nanoscale systems, BRIDG provides research and development capabilities and infrastructure for manufacturing processes and materials geared toward system miniaturization and smart sensor innovation.
BRIDG operates a highly versatile 200mm microelectronics fabrication facility—a 109,000 sf building with nearly 60,000 sf of laboratory/manufacturing space that includes two cleanrooms; one operating at Class 100 standards and the other at Class 10,000.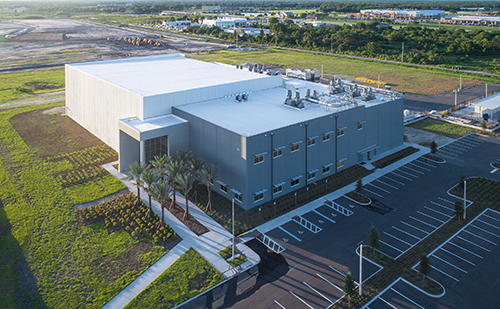 Focused on the innovative manufacturable processes, materials and equipment for next-generation sensors and future high-tech products, BRIDG serves as the catalyst to bring high-value, quality jobs to Florida. As companies get products through development cycles, BRIDG provides the necessary infrastructure (talent, equipment, background/foreground IP, etc.) to test ideas and concepts, acting as the bridge to product commercialization. BRIDG is the state-of-the-art "boutique" lab/fab facility open and flexible enough to keep up with the ever-evolving pace of technology with space to accommodate a variety of partner-funded activities.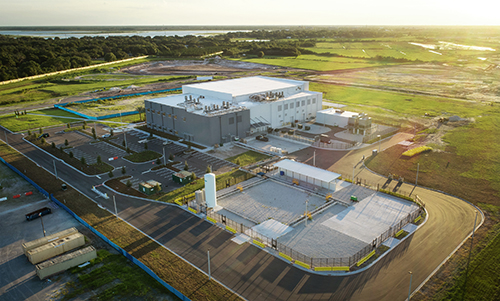 Completion date: April 2017
Contact: Gloria LeQuang, BRIDG, Director of Marketing and Community Relations, 407-742-4253, glequang@gobridg.com