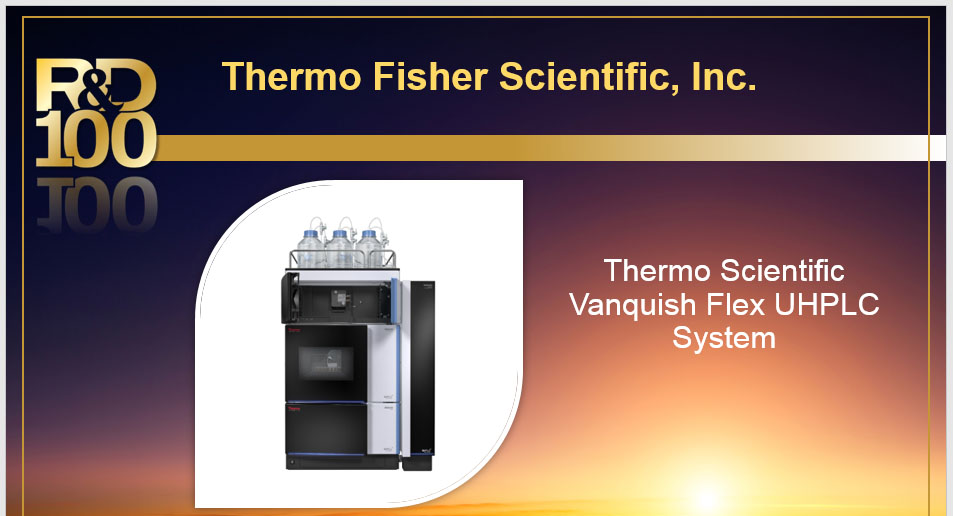 The Thermo Scientific Vanquish Flex UHPLC System is an integrated biocompatible UHPLC system with quaternary pump, ideal for biopharmaceutical use. Application requirements differ throughout the biopharmaceutical workflow, and as such, trustworthy data is essential to ensure the best decisions can be made from drugs entering the pipeline to batch release in quality control. The technology allows users to perform biocompatible analysis to obtain high-quality and consistent data with the advanced speed, resolution and sensitivity of the system. By incorporating an integrated modular design, customers have the ability to configure the system to their specific analytical needs while maintaining an intuitive, compact setup. The system is the ideal tool to analyze all major biopharmaceutical attributes, including aggregates, glycans, charge variants, peptide sequence and intact proteins.
Each year for more than 50 years, R&D Magazine has honored the 100 best innovations in research and development. We are currently accepting applications for the 2017 R&D 100 Awards. Innovators with an exceptional product developed between January 1, 2016 and March 31, 2017 should apply. Submissions close April 14, 2017
For information on the 55th Annual R&D 100 Awards visit the R&D 100 Conference website.