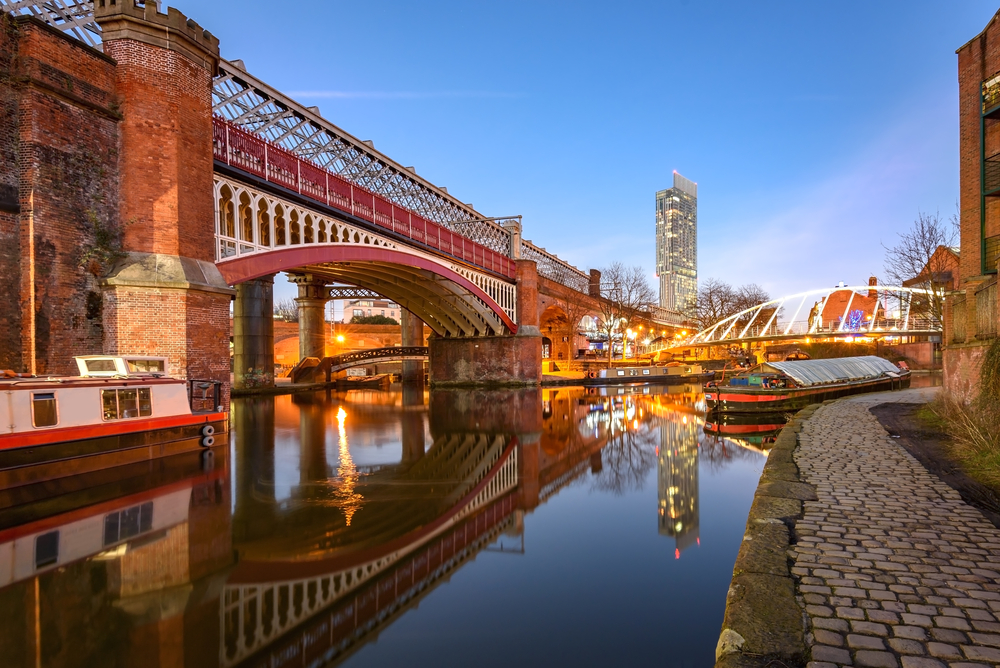 Thirteen years ago Andre Geim and Kostya Novoselov— two researchers at the University of Manchester—isolated graphene for the first time.
Prior to that day scientists knew the one atom thick, 2D crystal material existed, but no one had worked out how to extract it from graphite.
During one of their weekly Friday night experiment sessions the duo removed flakes from a lump of bulk graphite with sticky tape and noticed that some flakes were thinner than others. They kept separating graphite fragments repeatedly until they created flakes that were just one atom thick.
Six years later they won the Nobel Prize in Physics for their discovery.
Today Manchester continues to serve as a center for graphene innovation. Coined 'Graphene City,' the University of Manchester is home to over 250 researchers working on graphene and has over 70 industry partners, including high-profile companies Dyson, Merck, GlaxoSmithKline, Rolls-Royce, Samsung, Sharp, and Siemens.
"Our vision of Graphene City is a bit like Silicon Valley," said James Baker, business director of graphene at the University of Manchester. "We are trying to create a hub in Manchester, where at the heart of activity we have the University of Manchester where we have lots of academics and scientists, and then we also have international partnerships. The biggest chance of graphene being a success is through that partnership and collaboration model and this Graphene City concept."
As part of this initiative, a significant investment has been made in two state-of-the-art facilities. The first, the National Graphene Institute (NGI), houses both academics carrying out fundamental research as well as industrial partners. The goal of the £61-million facility is to foster collaboration between the two and grow early-stage applications of graphene-based products.
The £60m Graphene Engineering Innovation Center (GEIC)—which will open in the second half of 2018—will foster commercialization of those early-stage applications, serving as a facility to scale-up and test graphene-based products.
Both of these facilities will tackle some of the major challenges regarding graphene. While many different companies are creating graphene, how to best use the material in the most efficient and intelligent manner is still unclear.
"The challenge is less now how to produce a material, it is how do you disperse or how do you mix it, how do you go from a 2D material into a 3D product or application, and then how do you get that consistency, and qualification and certainty that it is safe?" said Baker. "We have over 70 industry partners that we are working with to look at those challenges. That will increase and accelerate once the GEIC is completed this year."
Since it wasn't discovered until 2004, graphene is still in its "teenage years," said Baker, and has only been seriously investigated for the past six to seven years. A material that new would typically take decades before significant products were commercialized, he said. Graphene City was created to change that.
"We are looking to accelerate the production of graphene products and applications," said Baker. "By working in a much more concurrent way, we can hopefully take a new material which typically takes 20 to 30 years to get to the market, and really reduce the time, and get it to market as quickly as possible."
Applications for graphene
Right now, there are a few simple products utilizing graphene in the marketplace. Most use the material as a composite or coatings, adding it to other materials instead of creating a brand new product with it. Using this technique, graphene has been used to created 'smarter' tennis rackets, cycle tires, light bulbs, and inks.
However, the potential of graphene spans far beyond simple composite or coatings. Graphene membranes could be created and used for water desalination, nuclear cleanup, or novel fuel cells. The material also has potential in the aerospace and electrical industries, as well as biomedical applications such as using it to create novel drug delivery systems or artificial skin.
In addition, the discovery of graphene has opened up a new world of potential 2D materials, and researchers are now investigating multiple types of materials that are also isolated to a single atomic layer.
These 2D materials could be stacked together layer by layer to create a multi-functional, 'smart' material, said Baker.
"We are now applying a similar science to a whole family of materials, and today we are studying over 100 different 2D materials," said Baker. "This is huge is terms of its potential. It has the potential to change the world."