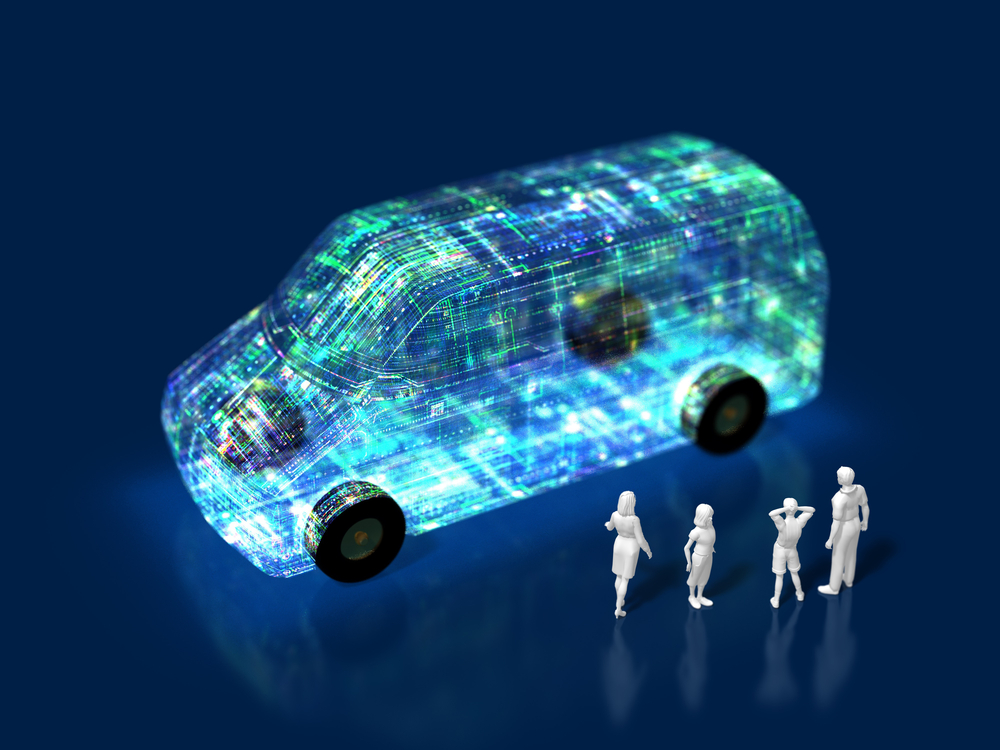 Flying cars.
Robotic taxis.
Sophisticated sensor networks that can create high-definition radar images or test blood alcohol levels.
These are some of the futuristic vehicle advancements startups like Uber, Lyft, and Waymo are working on that could redefine the future of transportation.
Novel technologies like this have drawn significant interest from venture capital firms, with financing hitting over $1 billion in 2016, according to an analysis from CB Insights, a company that tracks venture capital investment.
Last year $1049 million was invested across 87 funding deals in the automotive technology space, per the data compiled by CB Insights. Those numbers represented a 30 percent rise in annual deal activity compared to the prior year, while R&D funding also increased by 91 percent, hitting record highs.
But it's not just startups that are getting involved in these high-tech automotive advancements.
Major automotive manufacturers like General Motors (GM) and Ford played a big role in this investment surge, searching for deals and partnerships in various emerging research fields revolving around mapping systems, artificial intelligence, advanced manufacturing technology, and materials science research.
R&D Magazine rounded up a few ways traditional automakers are keeping up with Silicon Valley technology startups.
GM
GM—one of Detroit's Big Three automotive manufacturers— has been particularly active in pursuing deals with automotive technology startups within the self-driving car space.
GM bought Cruise Automation last year in a deal potentially worth over $1 billion, reported Fortune. The San, Francisco-based startup is a technology firm working on self-driving car software that could be incorporated into existing vehicles.
The acquisition brought Cruise's, "deep software talent and rapid development capability to further accelerate GM's development of autonomous vehicle technology," according to an announcement from GM.
Currently, Cruise's proprietary technology is being tested in a series self-driving Chevy Bolt test vehicles that are also electrically powered. The fleet of cars are being tested in San Francisco, Scottsdale, Arizona, and the metropolitan Detroit area.
GM's venture capital arm has also funneled money into startups like Sirrus Chemistry and The Nanosteel Company, which operate in the advance materials space.
Sirrus is developing a manufacturing platform of reactive monomers that include a variety of coating, adhesives, sealants, inks and other products that could give certain cars advantages like enhanced "on demand" curing. This could reduce energy consumption and costs.
The NanoSteel Company is working on similar products. Proceeds from a recent investment round will be geared towards commercialization of the firm's advanced high strength sheet steel for automotive light weighting applications, according to an announcement in February.
Ford
Ford made a big foray into the self-driving car research arena earlier this year as well.
Ford, one of the oldest automakers in the United States, announced that in February it would invest $1 billion over the next five years in Argo AI, which was a two-month old startup at the time.
"The next decade will be defined by the automation of the automobile, and autonomous vehicles will have as significant an impact on society as Ford's moving assembly line did 100 years ago," said Ford's President and CEO Mark Fields, in a statement. "As Ford expands to be an auto and a mobility company, we believe that investing in Argo AI will create significant value for our shareholders by strengthening Ford's leadership in bringing self-driving vehicles to market in the near term and by creating technology that could be licensed to others in the future."
Argo became a subsidiary of Ford and it plans to build a virtual driver system for the company's autonomous vehicles, coming in 2021. It could license that technology to other companies down the road.
Ford has also made similar investments in the self-driving car space, with a focus on components that could lay a foundation for a self-driving software system.
It teamed up with Baidu, the Chinese equivalent of Google, on a $75 million investment in Velodyne, which is working on laser sensors for guiding self-driving cars.
Velodyne's sensors are LiDAR technology. LiDAR stands for light, detection, and ranging and can be used in conventional vehicles, but Ford said these sensors will be a key enabler of self-driving vehicles. LiDAR technology works by essentially emitting concentrated pulses of lights from different types of equipment, providing users with three-dimensional structures about the shape of the targeted area.
Essentially, Velodyne's sensors could help Ford create a series of autonomous vehicles that can recognize and avoid certain obstacles to create a higher level of safety for passengers.
Other acquisitions Ford has made could signify the corporation's plans for control over the network of self-driving car software too.
It struck a notable licensing deal with Nirenberg Neuroscience, which is a machine learning company founded by neuroscientists who "cracked the neural code" the human eyes use to transmit visual information to the brain.
This breakthrough contributed to a novel machine vision platform that can perform tasks like navigation, along with facial and object recognition. Ford hopes this research could help incorporate an element of human-like intelligence to the machine learning modules of its future autonomous vehicle driver system.
BMW
The investment arm of BMW, known as BMW i Ventures, struck deals with notable startups operating in the manufacturing and ride-sharing space.
During the first six months of this year, the venture firm struck strategic investments with the following manufacturing-focused startups:
Desktop Metal: a firm focused on making it easier to access metal 3D printing for design and manufacturing teams.
Proterra: a startup developing manufacturing capabilities for heavy-duty electric mass transportation vehicles designed to eliminate dependency on fossil fuels and lower costs for transit providers.
Xometry: an entrepreneurial venture creating a platform for product designers and engineers to access a network of manufacturing facilities.
Essentially, adding these companies into BMW's portfolio could give the corporation the ability to quickly make vehicles that are fuel-efficient, cost-effective, and more durable.
Ride sharing has been an area of increased interest for major car companies, withFord and GM both working with Lyft and Uber on different initiatives. Taxis and even taxi mini-vans are some of the self-driving experiments that could define our transportation future.
BMW opted to invest in a business called Bus.com, which aimsto eliminate the need forbus rental for group transportation, according to BMW.
Bus.com raised a funding round of $5 million in April 2017 to help improve certain parts of its business, including bus supplier operations and the rider experience.
BMW I Ventures involvement in this financing could have signified the, "latest example of a push by automakers to find revenue opportunities outside the traditional business of building and selling vehicles," reported Fortune.
Daimler
This German automotive firm has made alternative energy startups a focus of its investment strategy as well.
It is working with three other major car companies on a network of charging stations throughout Europe that could deliver a max charging rate of 350 kilowatts of power.
Also, Daimler invested in Chargepoint in March 2017, which could factor into its networking of charging stations. The startup's strategy is to create a network of charging stations for electric vehicles as common as gas stations located throughout any region. Chargepoint offers 33,000 charging spots at over 7,000 sites in the U.S.
Daimler's participation in this funding round will help the startup expand into Europe.