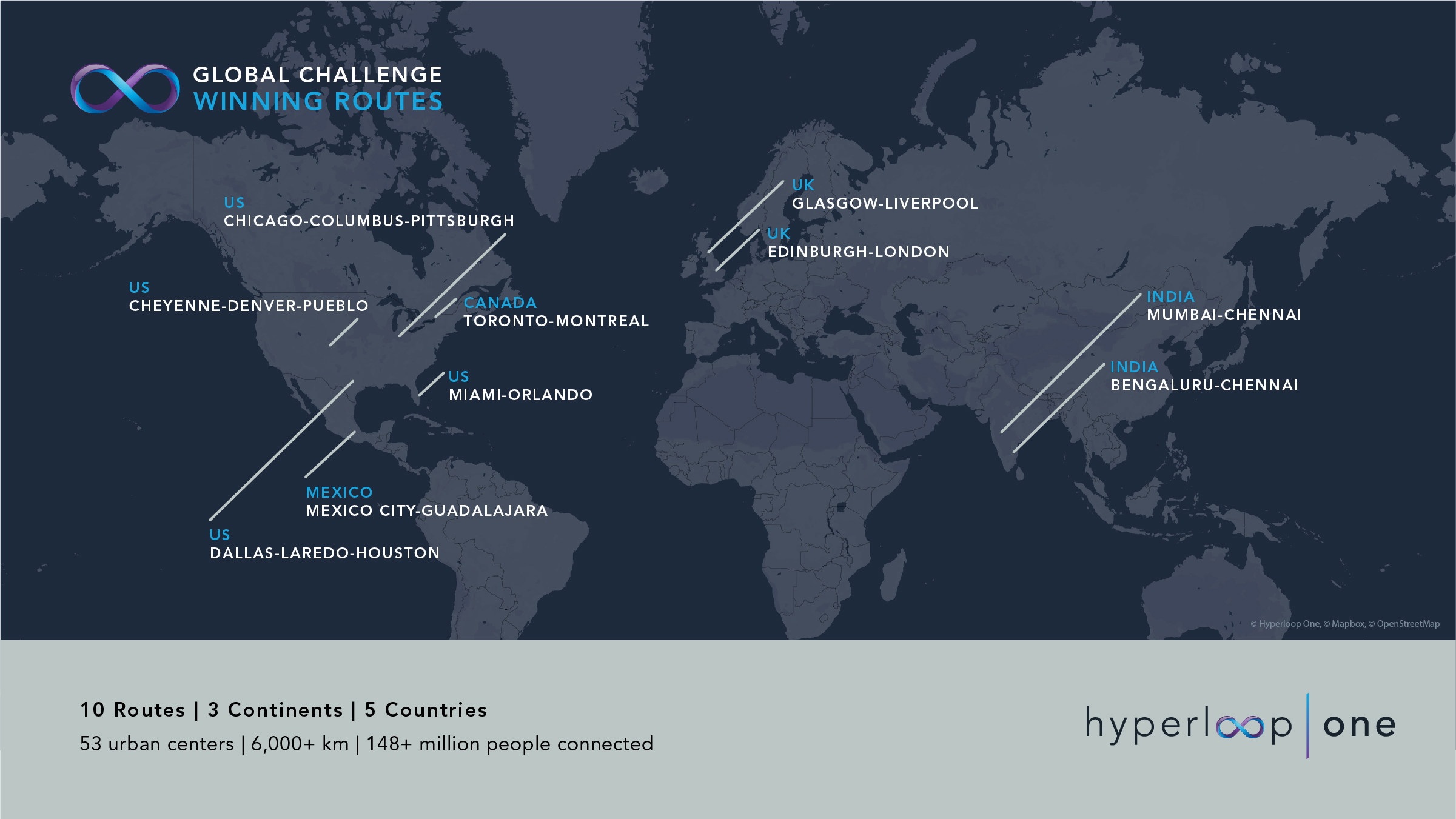 The company responsible for the only full-scale Hyperloop system in the world has announced winners to a contest selecting potential routes for the next Hyperloop.
Hyperloop One has awarded 10 winners of the Hyperloop One Global Challenge out of hundreds of applicants, identifying the strongest new Hyperloop routes from around the world.
"The Hyperloop One Global Challenge started as a call to action for innovators, engineers, trailblazers and dreamers around the world who shared our vision of creating a new mode of transportation," Shervin Pishevar, co-founder and Executive Chairman of Hyperloop One, said in a statement. "The Global Challenge became a movement of thousands of people from more than 100 countries over six continents.
"Like us, they believe that Hyperloop will not only solve transportation and urban development challenges within communities, it will unlock vast economic potential and transform how our cities operate and how we live," she added. "Our successful test this summer made Hyperloop a reality and now we're ready to bring our Hyperloop system to the world."
The 10 winning proposals connect 53 urban centers and nearly 150 million people in the U.S., Canada, India, Mexico and the U.K, spanning 4,121 miles.
A panel of experts in infrastructure, technology and transportation, assessed the proposals and awarded ten teams from five countries from the hundreds of applicants as winners.
With the winners chosen, Hyperloop One plans on committing meaningful business and engineering resources to each winner, to determine whether the projects are commercially viable, as well as determining initial ridership forecasts, business case and preliminary technical analysis of the route and corridor, tailored to the needs of the individual route.
The contest began in May 2016 with an open call to individuals, universities, companies and government entities to develop comprehensive proposals for deploying Hyperloop One's transportation technology in their region.
"The excitement around Hyperloop is in its potential to reimagine transportation by eliminating the barriers of distance and time," Michael Burke, chairman and chief executive officer AECOM, said in a statement. "That half of the winning teams are supported by AECOM demonstrates the power of our connected expertise and is further evidence that these are the kinds of problems AECOM is built to take on and solve.
"We're excited to be part of Hyperloop One's efforts to create impactful use cases for a technology that can transform what it means to get from point A to B anywhere in the world," he added.
Hyperloop One is also entering into a public private partnership with the Colorado Department of Transportation to begin a feasibility study in Colorado.
In a Hyperloop, passengers and cargo are loaded into a pod and accelerate gradually through electric propulsion through a low-pressure tube. The pod lifts above the track using magnetic levitation and glides at airline speeds for long distances due to ultra-low aerodynamic drag.
In May, Hyperloop One held the first ever full-scale Hyperloop test in North Las Vegas.
Here are the winning routes: