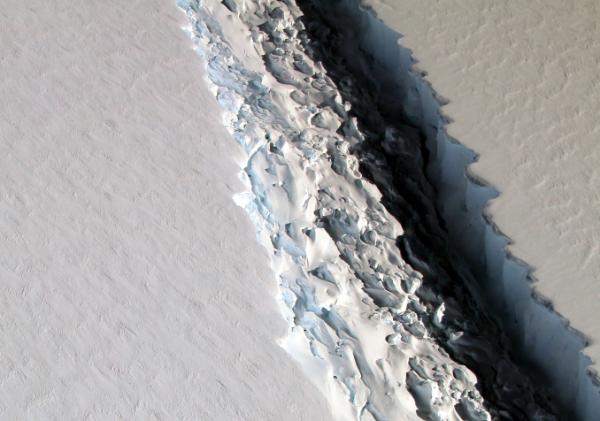 An ice shelf rift in Antarctica is growing at an expedited rate.
Researchers from Project MIDAS, a UK-based Antarctic research project, investigating the effects of a warming climate on the Larsen C ice shelf in West Antarctica, have said in just six days— between May 25 and May 31— the rift grew an additional 11 miles and is now slightly more than eight miles from the ice front.
Professor Adrian Luckman, of Swansea University's College of Science and head of Project MIDAS, said the recent growth of the rift is the largest jump since January, which indicates that the calving of an iceberg is likely going to occur in the near future, possibly producing one of the largest ice bergs in history.
"The rift tip appears also to have turned significantly towards the ice front, indicating that the time of calving is probably very close," Luckman said in a statement. "The rift has now fully breached the zone of soft 'suture' ice originating at the Cole Peninsula and there appears to be very little to prevent the iceberg from breaking away completely."
The rift was discovered late in 2016 and has been spreading since, with a second branch forming earlier this year.
Luckman said the loss leaves the entire shelf vulnerable to future break-ups.
According to the researchers, if the 5,000 sq. km piece does in fact break off, it will leave the entire shelf vulnerable to future break-ups of Larsen C—which is approximately 350 meters thick and floats on the seas at the edge of West Antarctica. The ice shelf is important because it holds back the flow of glaciers that feed into it.
"When it calves, the Larsen C Ice Shelf will lose more than 10% of its area to leave the ice front at its most retreated position ever recorded; this event will fundamentally change the landscape of the Antarctic Peninsula," Luckman said. "We have previously shown that the new configuration will be less stable than it was prior to the rift, and that Larsen C may eventually follow the example of its neighbor Larsen B, which disintegrated in 2002 following a similar rift-induced calving event."
R&D Magazine covered the last update on the rift in May.