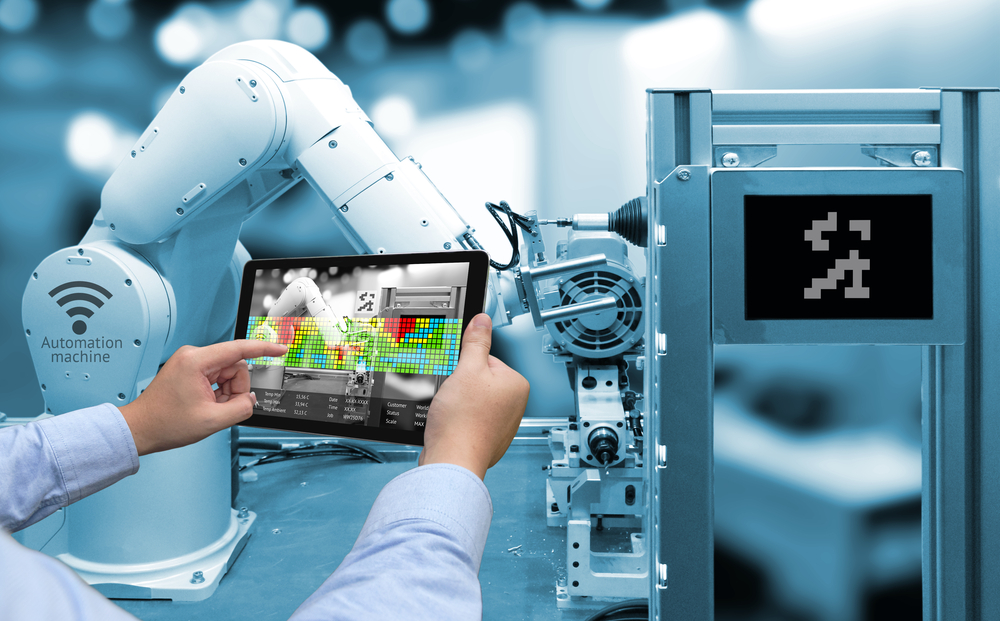 Today's industrial robots are very well aligned with repeatable processes. They can do the same thing over and over again very accurately, and they are tireless. So, if you need 10,000 functions performed the exact same way each time, a robot might be right for your job.
On the other hand, robots today are not very adaptable. If tools are just a little out of place, or if requirements vary slightly from one task to the next, contemporary robots typically do not have the agility to adjust quickly to even minor change. A robot knows only what it is specifically programmed to know and, if what you want the robot to do changes only a bit, it must be reprogrammed to perform something new. The time and costs inherent in that fact restrict the practicality of using robots to only high volume, highly predictable industrial processes.
While we are unlikely in our lifetimes to realize the vision of self-aware robots that are capable of observing, perceiving and adapting in the way that humans do, we are perhaps on the cusp of developing robots that can understand enough logic to make basic inferences. If A is bigger than B and B is bigger than C, then A is bigger than C … a robot in the foreseeable future should be able to make that connection even when the conclusion is not explicitly stated in its programming. And getting to that point could unlock a range of potential applications across areas of life.
Toward a Global Standard
Robots capable of these more complex interactions with humans and other machines need a more standardized and well-defined knowledge representation. The way we talk about a robot's capabilities and missions currently is very specialized to a given application domain (and often is only loosely defined even within a single domain).
This was the assessment of a multi-discipline working group that gathered from around the world through the IEEE Standards Association (IEEE-SA). The fruit of the working group's efforts is a standard that helps simplify programming and extend the information processing and reasoning capabilities of robots. IEEE 1872™, IEEE Standard Ontologies for Robotics and Automation, published in 2015, ultimately is intended to advance clear robot-to-robot and human-to-robot communication.
A working group of 166 experts from 23 nations collaborated on the standard with the goal of precisely defining the concepts in a robot's knowledge representation, supporting common understanding across domains of robot applications and helping enable efficient data integration and information transfer among robotic systems. About half of the working group's members represented educational institutions; about a quarter each came from private companies and governments.
One of the first tasks was simply to forge agreement on terminology across robot domains. Even basic concepts had to be addressed: What is a robot? Different definitions were in play in different domains, so it was clear that disparate robot implementations did not have a common core understanding of terms to be able to work collaboratively.
Once they were speaking the same language, the IEEE 1872 working group's members then went further than simply creating a dictionary of those terms to define an "ontology," a logic-based, robot-interpretable language to model generic concepts, as well as their definitions, attributes, constraints and relationships in a particular domain. Artificial intelligence (AI) often relies on an ontology that it can use to do things such as learn and adapt. Many people in the ontology community, in fact, are also part of the AI community.
IEEE 1872 proposes an ontology—the main, most general concepts, relations and axioms—of robotics and automation (R&A). The standard could be used on an industrial shop floor, for example, to help a robot understand its own capabilities (lift capacity, whether it can work safely around people, etc.) and be able to be dynamically re-tasked to perform an activity for which it was not explicitly programmed to perform.
Conclusion
Several universities and industrial organizations are using and/or exploring IEEE 1872 today to help enable areas of innovation such as robot agility. Within the IEEE Robotics and Automation Society, there has been a great deal of interest in the standard and what it might be used to do. Also, there are study groups within IEEE exploring extensions to the base IEEE 1872 standard to more specifically address areas such as autonomous mobility, healthcare applications and task representation. Due to the strong impact and promise that IEEE 1872 provides, it was honored with the prestigious 2015 IEEE Standards Association Emerging Technology Award.
Without globally joined, multi-discipline collaborative work on standards such as IEEE 1872, development of standards for robots would be confined within individual domain silos. It is unlikely that advances in one domain could be leveraged across others; plus, the costs and time involved in redundant development would inhibit innovation in robot technology overall.
But with collaborative standards innovation, robots are advancing in their capabilities, and it is becoming easier and easier to see the benefits they could deliver in more and more domains. Foundational standards such as IEEE 1872 that foster clear, unambiguous communication among robots and between robots and humans ultimately can fuel evolution in automation, enhance productivity and spur integration of robotics in industrial supply chains globally.