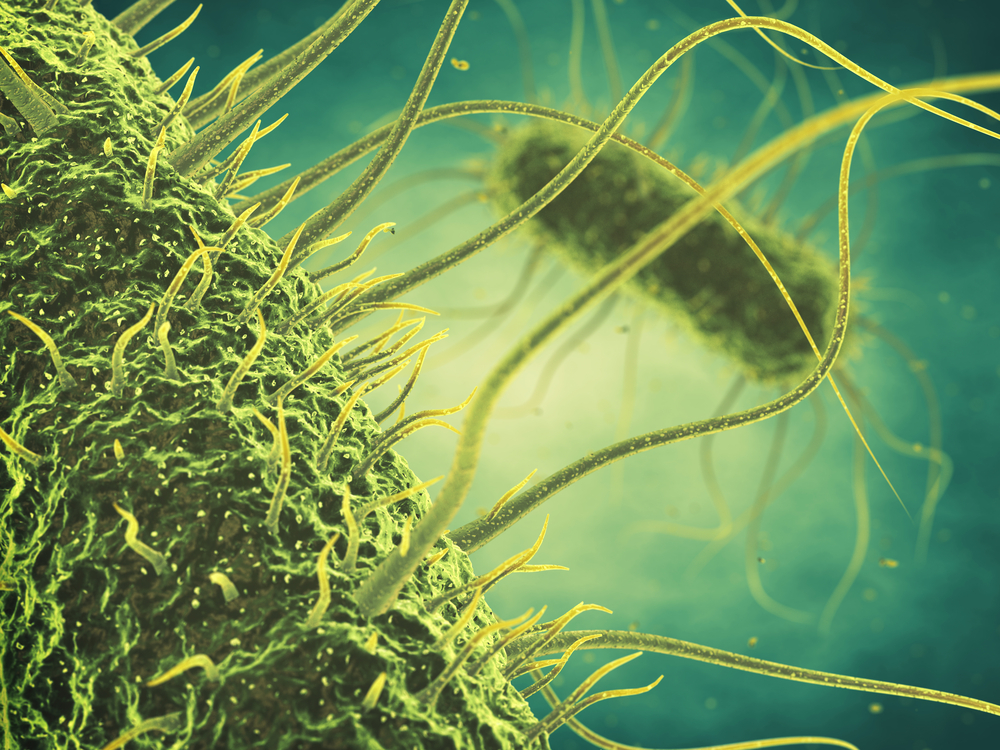 Salmonella is one of the most common intestinal pathogens that is frequently reported on whenever there is a recall for contaminated food.
The infection is responsible for uncomfortable symptoms including pain in the abdomen and muscles, fatigue, fever, diarrhea, blood in stools and other symptoms.
While Salmonella holds top spot in the pathogen world, causing a total of 1.2 million illnesses and 450 deaths annually across the country, it is still a wonder as to how some people are able to fight it while others end up fighting for their lives against it.
"Humans differ in their response to exposure to bacterial infections. Some people get infected and some don't, some get sick and others stay healthy, and some spread the infection while others clear it," Denise Monack, senior author of the paper and professor of Microbiology and Immunology at Stanford University School of Medicine, said. "It has been a real mystery to understand why we see these differences among people. Our finding may shed some light on this phenomenon.
Stanford Medicine researchers answered the question of how some people can fight while others fall victim. A molecule called propionate, created by bacteroides, slows the progression of Salmonella in the intestinal tract. The internal acidity prolongs the amount of time it takes during the pathogen's division.
Propionate does not trigger the immune system to attack the pathogen, but prolongs its process, slowing it down.
Essentially, propionate acts as a natural protector against the pathogen.
Complexity of Pathogen Response
With such a diverse and densely packed ecosystem, analyzing the gut microbiome is difficult to do, with trillions of bacteria, viruses, fungi and other complexities.
But researchers wanted to see how the variety of bacteria in the gut may play a role in the ability to fight the pathogen, or fall victim to it, in mice.
Ultimately, this research could help could lead to the development of better treatments and explain why people are able to fight it more than others.
The researchers proposed that the natural composition of bacteria in the different mouse strains could result in Salmonella growth.
But they first had to understand why, when infected with the pathogen, the two inbred strains of mice they were observing had different levels of Salmonella.
After giving the mice antibiotics to kill their composition, the team replaced the gut microbial community in the mice with a fecal transplant from other mice that were resistant and or not resistant to Salmonella.
In doing this, it revealed that the microbes responsible for increased resistance to Salmonella by identifying different groups of bacteria between strains within the mice through machine learning technology.
Furthermore, an abundance of bacteroides were identified in mice that went through the fecal transplant, and that propionate levels were increased threefold.
This brings into question whether bacteroides, which produce short chain fatty acids that build up the immune system, and propionate both protected the mice against Salmonella by naturally enhancing the immune system.
Propionate was found to decrease intracellular pH significantly in Salmonella, which caused an uptake in how long it took for the bacteria to divide. This resulted in the propionate having more of a direct impact on the pathogen's growth.
"Collectively, our results show that when concentrations of propionate, which is produced by Bacteroides, in the gut are high, Salmonella are unable to raise their internal pH to facilitate cellular functions required for growth," Amanda Jacobson, the paper's lead author and graduate student in Microbiology and Immunology, said.
How Does This Translate to Humans?
Further research in understanding the biology of the molecule propionate and how it functions, as well as how other molecules made by the microbes in the intestine influence pathogens that cause infection, is required.
Additionally, understanding is needed into how diets may influence these pathogens, and if certain diets influence the growth of pathogens in the gut.
Propionate could save good bacteria and be used to treat infections worldwide, as it could potentially be utilized to reduce the use of antibiotics that attacks good bacteria and occasionally make diseases such as Salmonella worse.