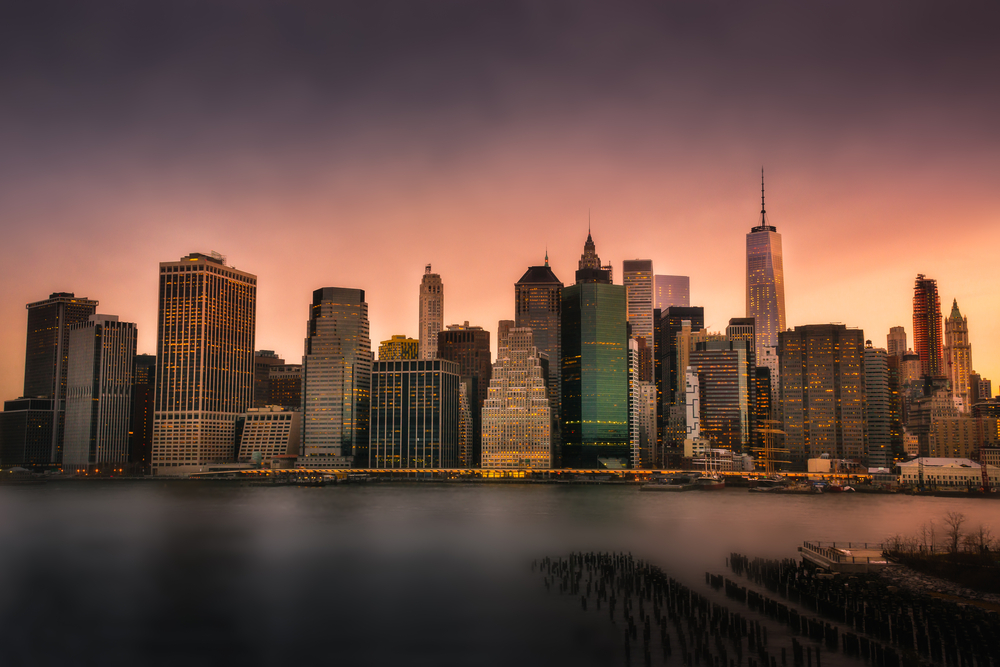 Mayor Bill de Blasio announced the first funding from his LifeSci NYC Incubator Network is a $5 million grant to BioLabs@NYULangone, a new center for life science startups. The 180 Varick Street center, in Manhattan, is set to open by the end of 2017.
The incubator is part of the wider LifeSci NYC initiative and part of the Mayor's New York Works plan, which is made up of 25 initiatives to spur 100,000 jobs with good wages over the coming decade, including 1,000 at companies growing out of the BioLabs@NYULangone incubator.
"With this grant we are investing in New York's emerging Life Science economy, one that benefits New York workers and encourages collaboration between our great research institutions, innovators and startup businesses. When it comes to science and technology, we will leverage our competitive edge and spur 100,000 good-paying jobs over the next decade – all to make our city more affordable for all," Mayor Bill de Blasio said.
The 50,000 square-foot project is designed to house up to 35 startup companies seeking to turn laboratory discoveries into successful businesses with good jobs for New Yorkers. It will offer affordable lab and office space.
In December 2016, Mayor de Blasio launched the $500 million LifeSci NYC initiative, to spur an estimated 16,000 new, good-paying jobs and establish New York City as a global leader in life sciences research and innovation. New Yorkers hoping to secure a career-track job in a growing industry and struggling with the rising cost of living will have access to 1,000 paid internships, new training programs and job placements in a field with average salaries of $75,000.
NYU Langone, is partnering with BioLabs on the incubator, which will occupy two floors in the building. BioLabs is a leading operator of shared laboratory space for life science startups nationwide. The new facility will include 48 benches in an "open lab," or common lab; three private labs; three medium private labs; nine small private labs; along with 30 offices, conference rooms and state-of-the-art event space.
Companies selected for BioLabs@NYULangone will start with a package of tailored laboratory equipment and supplies. BioLabs staff will provide educational programming and operational support, enabling startups to focus on science and innovation, and ultimately move more quickly into their own spaces.
With more than 100 research foundations and nine academic medical centers, New York City is home to one of the largest concentrations of academic life sciences research in the world. However, challenges, including a shortage of affordable commercial laboratory space, have made it hard for New York City to hold on to young companies spinning out of its research institutions. While most traditional incubators in the space focus on very early-stage companies, BioLabs@NYULangone will host more mature startups, which have already attracted some venture capital investment, which are even more likely to grow and create more jobs.
With 16 percent growth in jobs since 2009, the life sciences sector is among the fastest growing in the city. It offers a wide range of technical jobs such as microbiologists and lab technicians, as well as non-technical jobs in areas like marketing and administration. Roughly 30 percent of jobs in the industry require a high-school diploma or Associate's Degree, while another 50 percent of jobs require a Bachelor's Degree.
"We're thrilled to be providing the first funding from Mayor de Blasio's LifeSci NYC Initiative to a project that will help turn new discoveries into good jobs for New Yorkers," said New York City Economic Development Corporation President and CEO James Patchett. "New York already has the best research institutions in the world, and by investing in lab space, talent and emerging firms, we can put New York City at the forefront of the biotech industry."
"The new center builds on the outstanding track record at NYU Langone in launching biomedical technology and drug discovery companies, and in helping them grow, create high-tech jobs, and improve human health," said Robert Schneider, PhD, associate dean for Biomedical Innovation and Commercialization at NYU Langone.
"We believe the center will become the long-sought foundation of a larger biotech corridor in New York City, in part because we will welcome new companies spinning out of all the region's academic centers and biotechs," said BioLabs' President Johannes Fruehauf, MD, PhD. "Bringing our proven BioLabs model to New York City will capture its entrepreneurial excitement."
"Biotechnology jobs are a growing part of New York's future as a center for cutting-edge innovation," said Manhattan Borough President Gale A. Brewer. "I look forward to seeing how BioLabs@NYULangone will change the world."
"With some of the sharpest scientific minds in the world, the City of New York should without a doubt be a leader in the life sciences industry," said Council Member Dan Garodnick, Chair of the Committee on Economic Development. "This investment in BioLabs@NYULangone will set us well on our way towards achieving this goal and should help our city in furthering its mission to create good paying jobs for New Yorkers."
"Mayor de Blasio is bringing jobs of the future to New York," said Council Member Corey Johnson. "If we're going to compete in the global economy, we need to embrace cutting edge technologies in industries like life sciences. I want to thank Mayor de Blasio for his leadership on this important issue."
Mayor de Blasio's Ten-Point LifeSci NYC Plan:
1. Invest $100 million to create a new Applied Life Sciences Campus. The de Blasio Administration will provide funding to create a world-class facility along Manhattan's East Side or in neighboring Long Island City that drives bio-engineering innovations, research and development (R&D) partnerships and entrepreneurial training. The campus will serve as an institutional anchor for the life sciences industry, much as Cornell Tech serves as an anchor for applied sciences and engineering.
2. Provide $50 million to expand network of life sciences R&D facilities. To remain at the forefront of the innovative research that leads to new businesses, the Administration will make targeted investments in New York City's existing academic medical centers and research institutions. The City will provide capital to a network of up to eight non-profit research facilities, to help create new workspace for research with a high potential for commercialization and job growth.
3. Invest $10 million to expand network of incubators for life sciences start-up facilities. To provide affordable space for the next generation of life science startups, the City will invest in up to five new incubators and innovation centers, with the first (BioLabs@NYULangone) expected to open in late 2017. Incubators will be located near existing research centers to better support innovators and connect skilled workers with jobs.
4. Commit $20 million a year in matching funds to support early-stage businesses. Young life sciences startups often struggle to secure the capital they need to expand. By committing $20 million in seed and growth funding, and seeking matching funds from private sources, the City will help spur growth of up to 80 companies, helping them expand and create new jobs for New Yorkers.
5. Invest $7.5 million to create internships and life sciences curricula. The City will officially launch a new internship program later this year, which will connect students each year with opportunities at life sciences companies and institutions. Organizations that have already agreed to take on interns include global pharmaceutical companies such as Roche, research institutions such as the New York Stem Cell Foundation, and investors such as Deerfield Management. The City will also provide funding to support the development of new curricula for local colleges and universities, based on input from local employers, to prepare the next generation of life sciences talent.
6. Commit $300 million in tax incentives to attract investment in commercial lab space for life sciences businesses. The high cost of lab construction has resulted in a shortage of space for new life science companies. By offsetting that cost, the City will unlock affordable lab space for growing companies that provide accessible, middle class jobs for New Yorkers.
7. Modernize land use policies to encourage new space for life sciences firms. To more than double the potential areas for life sciences jobs, the Administration will clarify regulations to make explicit that lab space for life sciences R&D is permitted in the majority of commercial zones. In addition, the administration will leverage upcoming rezoning to include life sciences sites where appropriate.
8. Provide $7.5 million to create a Life Sciences Management Corps. The City will provide financing to life sciences startups to help them secure experienced entrepreneurs to help launch and grow their businesses in New York City. These entrepreneurs will be committed to growing companies, cultivating new talent and creating good and accessible jobs in the five boroughs.
9. Provide $3.8 million to expand training programs for entrepreneurs. The de Blasio Administration will provide funding to expand and improve on two successful programs, serving up to 500 companies over the course of the program. NYCEDC will expand its Bio and Health Tech Entrepreneurship Lab (ELabNYC) with new curriculum in areas such as corporate commercialization and project management. It will expand the SBIR Impact program, which helps life sciences firms compete for funding through the National Institute of Health's Small Business Innovation Research program.
10. Launch the Mayor's Life Sciences Advisory Council. The Life Sciences Advisory Council launched in May of 2017. The Advisory Council has 15 members with experts from academia, industry, philanthropy and finance, advising the City of New York on its life science programs and catalyzing strategic partnerships with the industry. The council will work with the administration to promote New York as a global center for life sciences.