Enter the 2019 R&D 100 Awards!
The Phosphate Sponge from Global Phosphate Solutions (GPS) is a 2018 R&D 100 Special Recognition Award winner. All of the R&D 100 Awardees were announced at the R&D 100 Awards Gala held in Orlando, Florida on Nov. 16, 2018.
The R&D 100 Awards have served as the most prestigious innovation awards program for the past 57 years, honoring R&D pioneers and their revolutionary ideas in science and technology.
Submissions for the 2019 R&D 100 Awards are now being accepted. Any new technical product or process that was first available for purchase or licensing between January 1, 2018 and March 31, 2019, is eligible for entry in the 2019 awards.
Start or complete your entry now: visit: https://rd1002019.secure-platform.com/a. For more info: www.rd100conference.com/awards.
Researchers have created non-toxic, absorbent beads that act as a sponge to remove one of the largest pollutants in lakes, rivers and other waterways and the primary food source for algae—phosphate.
Scientists from the U.S. Department of Energy's Idaho National Laboratory (INL) and Rocky Mountain Scientific (RMS) have formed Global Phosphorus Solutions and developed the Phosphate Sponge, which produces an ionic exchange as water with phosphate passes through, causing the pollutant to attach to the large surface area of the material.
Phosphate Sponge —which was 2018 R&D 100 Award, Special Recognition, in November for Green Technology—is the result of a combination of two separate technologies developed by the two collaborating research groups.
RMS previously developed a powder that absorbs phosphorous, arsenic, fluoride and selenium from water. The powder's performance is improved using a polyacrylonitrile binder developed at INL by modifying technology commonly used to separate chemical species from liquids and gases in the nuclear energy industry.
"This actual technology has been used in the nuclear industry for a number of years," Troy Garn, a research scientist at INL, said in an exclusive interview with R&D Magazine. "It holds up well in highly acidic environments, it holds up well in radioactive environments. It is very robust in any environment, making it a perfect match for this technology."
The Phosphate Sponge is capable of removing dissolved phosphates from water passing through a column or bed containing the beads. The beads absorb phosphates by ion exchange. Just like a real sponge, the beads are loaded with unwanted phosphates when treating water, and then can be "rung out" when saturated.
The main use of the technology is to combat the growing toxic cyanobacteria algae bloom problem plaguing freshwater bodies of water. It can reduce phosphate levels to just a few parts per billion.
Toxic cyanobacteria algae blooms are green-colored plants that feed on phosphate from a number of different sources, including sewage treatment plants, concentrated animal feeding operations and fertilizer runoff.
To fight this problem, the beads can be deployed at inflow locations including rivers, streams and canals, as well as discharge locations like industrial plants or any other location where the flow of water could be directed through a resin bed.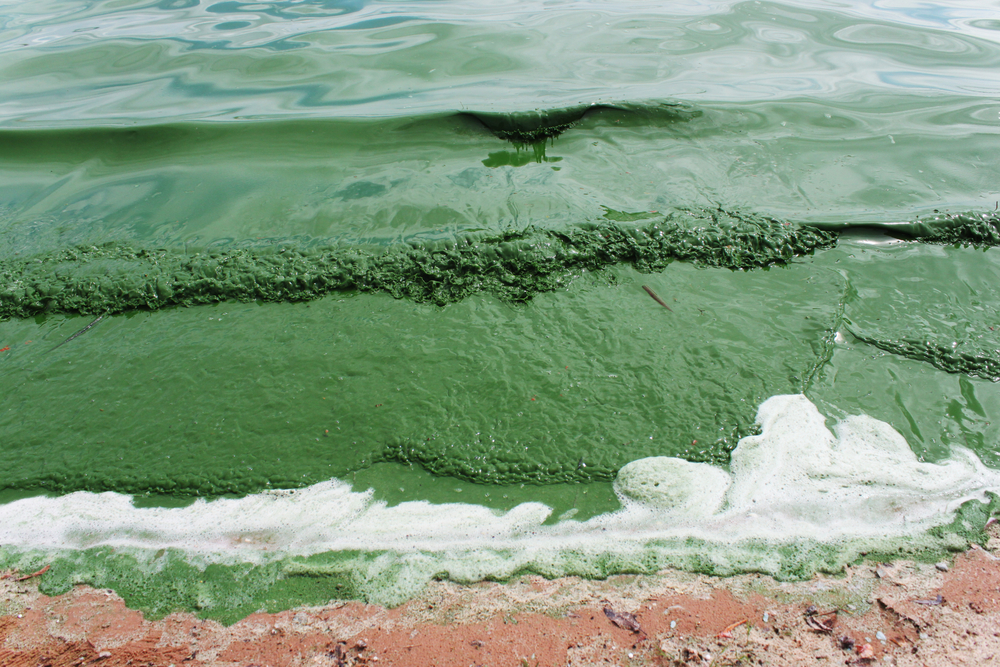 These pumps could also be located on artificial floating islands in bodies of water where phosphate combined with stagnant water contributes to toxic cyanobacteria algae blooms. Solar or wind energy could be used to pump water through resin beds located on the islands. Floating islands could be designed for a specific body of water, and multiple islands could be moored and relocated as needed.
"What we're really talking about is the different delivery methods of the pellets," RMS Chief Technology Officer Mike Irish said in an exclusive interview with R&D Magazine. "If you have a pellet that can absorb the phosphorous then depending on the specific problem that you're looking at then you can apply it in different ways."
When fully loaded, the researchers can release and collect the phosphate from the sponge by simply changing its pH. Recovered phosphate can be converted into calcium phosphate, which can be used for the production of phosphoric acid and fertilizers. The sponge can also be reused.
Testing has shown that the sponge can go through at least 100 load and strip cycles without degrading in performance
GPS has already set up several pilot projects at water treatment plants with two different working prototypes.
GPS CEO Steve Hammon said in an interview with R&D Magazine that one of the challenges for working with the sponge is that it works best below a specific pH level.
"One of the limitations is that our product likes a something below 7.5 pH range," he said. "So if it is a higher pH we need to put something into the system so that it lowers the pH down to that range."
There have been recent examples of toxic algae blooms causing major public health problems in Florida, Ohio and the Great Lakes. Toxic algae blooms also can deplete the fish populations in freshwater lakes. For example, in 2016 23 million salmon in Chile are reported to have died due to a deadly algal bloom, costing $800 million in lost production.
"Almost every freshwater lake in the United States is starting to have problems with their toxic algae blooms," Hammon said. "The problem that we are trying to solve is getting rid of toxic algae blooms in our waterways."