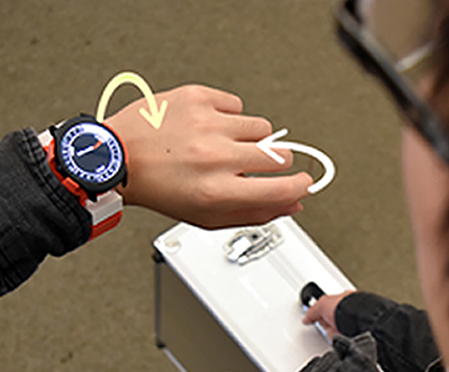 Imagine being able to tell someone you are stuck in traffic and running late without having to succumb to the dangerous temptation of texting and driving.
A team from Dartmouth College has developed a new smart watch called WrisText that allows users to compose text messages without physically typing on the touchscreen interface, by simply moving their wrist in different directions to indicate letters and words.
"Watches are becoming more commonly used for text entry, but the process can still be awkward," Xing-Dong Yang, an assistant professor of computer science at Dartmouth, said in a statement. "WrisText provides an alternative for text entry that is quick, convenient and effective.
"Smartwatches help people access info 'on the fly,' but they are far from perfect. Our aim is to eliminate the technical and practical barriers that keep people from using wearable devices."
The new watch includes a round face, an alphabetical keyboard and an augmented wristband that uses proximity and vibration sensors to transfer natural wrist motions into text entry.
To text messages on the smartwatch, the user moves their watch hand in one of six directions, which each represent a key in a circular keyboard with letters distributed in alphabetical order. Based on the user's input, the system will search all the corresponding words to the sequence of selected keys. The user then pinches their thumb and index finger to switch to selection mode and select their intended word.
Initially, entering text was difficult for the 10 users who participated in a five-day test of the watch, according to the researchers. However, after only a few days the participants in the study became proficient. On average, participants achieved a text entry speed of 9.9 word per minute across all sessions, and were able to type as fast as 15.2 words per minute by the end of the last day.
The researchers will unveil the new technology at the CM CHI Conference on Human Factors in Computing Systems (CHI2018) in Montreal from April 21 to April 26. The WrisText research paper earned honorable mention from CHI2018 and builds on an earlier innovation from the XD Lab that allows users to input non-textual gestures with the watch-wearing hand.
The researchers also developed Jetto, a second smart watch that allows gamers and movie watchers to feel when virtual objects collide within the smartwatch. Jetto is built on 3D-printed gears within a pneumatic system that is embedded in a custom watchcase and is in the early stage of development.
The system includes a rotating air nozzle that can control the location, direction, duration and magnitude of a virtual force experienced in a watch function to make the user feel something hitting the watch edge.
"Jetto mixes the physical and virtual worlds in a smartwatch," said Yang. "This mixed-reality experience leverages the unique quality of wearables to connect what users see to what they can feel."