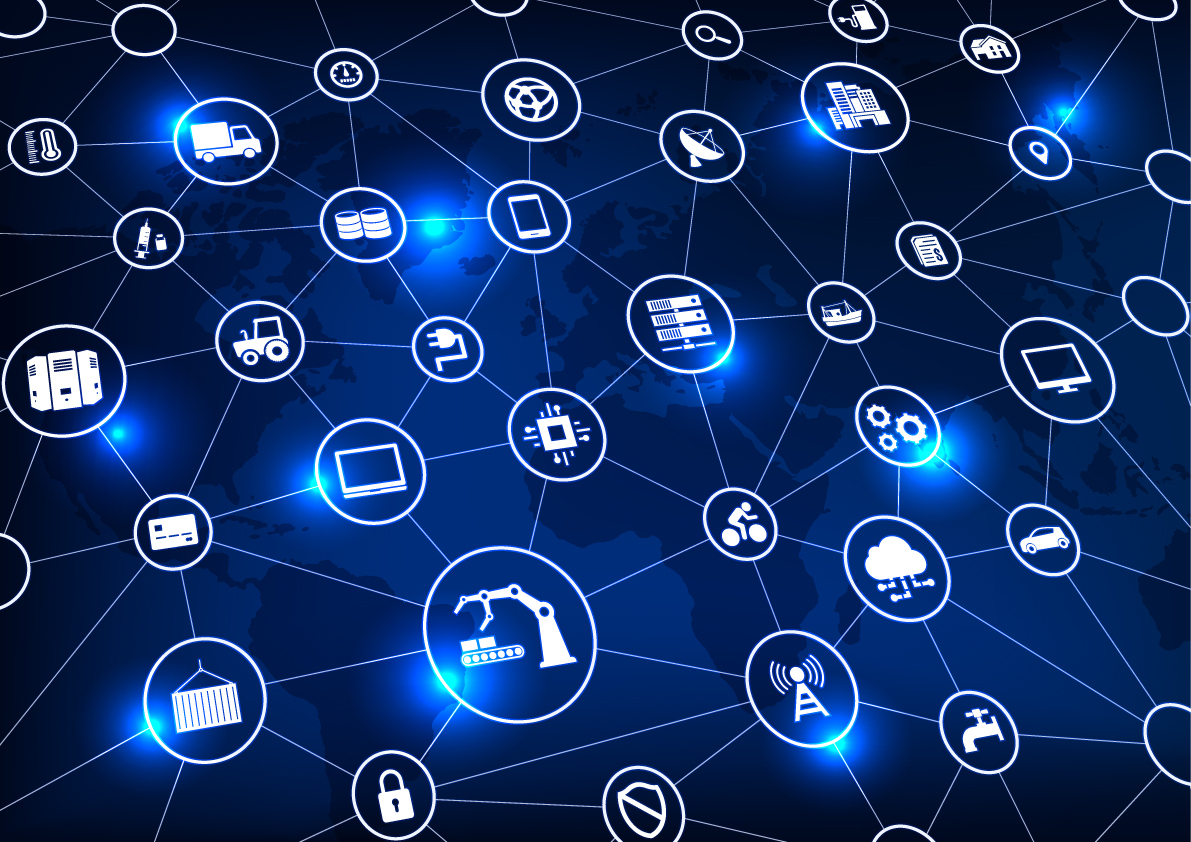 The potential of today's technology reaches far beyond each device's individual capabilities.
Innovators are no longer limited to just the devices they have in front of them. Thanks to the Internet of Things (IoT) they can now take advantage of what an entire network of interconnected devices can do together.
IoT is the inter-networking of "smart" devices, such as those used in homes, offices, and vehicles. These devices are embedded with electronics, software, sensors, actuators, and network connectivity, and can collect and exchange data. This comprehensive network opens up an endless possibility of opportunities for technological innovation, which scientists and engineers in numerous areas of R&D and technology have already taken advantage of.
During the month of September, R&D Magazine highlighted exciting advancements, technologies, as well as some challenges, within IoT. Here's what we covered:
The Potential of IoT
We kicked off our reporting by highlighting some of the top sectors where IoT is thriving. Our article, "Three Industries Undergoing IoT Innovation" focused on agriculture, healthcare, and transportation—all sectors where IoT firms are testing intriguing technologies.
Those technologies include: Descartes Labs, which is using a mix of satellite imagery and artificial intelligence to predict crop yields; Awarepoint, which created a location software system to help track delivery of medical equipment in real-time; and Vnomics, which designed software systems for commercial trucking fleets for better fuel optimization.
Healthcare
Next, our coverage took a particular focus in the healthcare space, an area where experts say IoT could really thrive— if both healthcare payers and providers recognize its potential.
Our article, "How IoT Could Reshape Healthcare," outlined a recent Accenture Health report based on a survey of healthcare executives in the payer and provider space. Accenture Health reported that the estimated value of Internet of Heathcare Things (IoHT) solutions could reach $163 billion by 2020, with a compound annual growth rate of 38.1 percent between 2015 and 2020.
Hospitals specifically could benefit from these advancements.
In our article "Hospitals Get 'Smart' With IoT Technology," we highlighted how hospitals are already using IoT to improve safety and health. One example is a wireless tagging technology system designed to prevent infant abduction and mother-baby mismatches for newborns.. Similar tagging technology is also used for high-risk patients, including patients in psych wards, pediatric departments, trauma units and dementia and Alzheimer's units.
IoT can also be implemented as a way to to track and manage chronic conditions.
Our story , "Wearable IoT Device Predicts an Asthma Attack Before it Happens," featured ADAMM Intelligent Asthma Monitoring, a soft, flexible, waterproof, wearable IoT device that communicates with a smart phone app and web portal using Bluetooth, WiFi, and cellular connections. The wearable technology can identify and alert users to precursor symptoms of asthmatic attacks much earlier, allowing them to take the necessary steps to stop or reduce the attack and prevent future problems.
Other applications
Healthcare isn't the only space where IoT applications are making a difference. Iot technology is the core behind CardioWheel, an advanced driver assistance system that acquires ECG from the driver's hands, via a custom steering wheel cover, to continuously detect drowsiness. We featured this technology—which also performs biometric identity recognition to assure the person driving the vehicle is who it is supposed to be—in our article, "Novel Steering Wheel Tech Uses ECG to Detect Drowsy Drivers."
In addition to making sure humans are alert and in good health, IoT can also be used to monitor the conditions of machines.
In our article, "Startup Offers 'Fitbit' for Industrial Machines," we interviewed the founder of startup Petasense, which built an end-to-end wireless predictive maintenance system and machine learning software that can monitor the health of machines in a variety of plants and facility settings. This technology is critical, as the health of a machine deteriorating in a pharmaceutical research and development facility, for example, could lead to the destruction of experiments resulting in millions of dollars in lost revenue.
Applications for IoT can also be applied at an even larger scale. In our article, "Smart Cities Could Be Asset During Natural Disasters," we focused on the potential of connecting many of the essential elements required to run a city using IoT. By utilizing IoT to connect different telecommunications platforms and utility services, municipalities can enhance communication between first responders while also handling any potential problems to the water, gas or power services faster.
IoT security challenges
Despite the many benefits of IoT, having so many devices connected does not come without risk.
In "The Growing Cybersecurity Risk of 'Smart' Homes," expert Jason Hong, an associate professor of Human Computer Interaction at Carnegie Mellon University, explains why many of the IoT devices that are commonly in homes are vulnerable to threats of malware and other security hacks. He said a "market failure" is occurring, where consumers aren't given the proper amount of information regarding the security of their devices.
In "The Potential of Blockchain to Secure IoT," Ahmed Banafa, IoT expert, technology speaker and faculty member at San Jose State University, offers blockchain as a possible solution to the cyber-security risks of IoT. Blockchain—the initial technology behind the digital currency Bitcoin—is managed by a peer-to-peer system and not any one central authority, making it safer than conventional IoT security systems, according to Banafa.
Next Month's Focus
In October, R&D Magazine will continue its special focus series, this time highlighting the rapidly growing field of 3D printing. The process—also known as additive manufacturing—creates objects by adding material layer-upon-layer. There are 3D printing applications across almost every industry—including architecture and construction, healthcare and medical, chemical, mechanical, nanotechnology, aeronautics and space, and much more.
Check back next month for more!