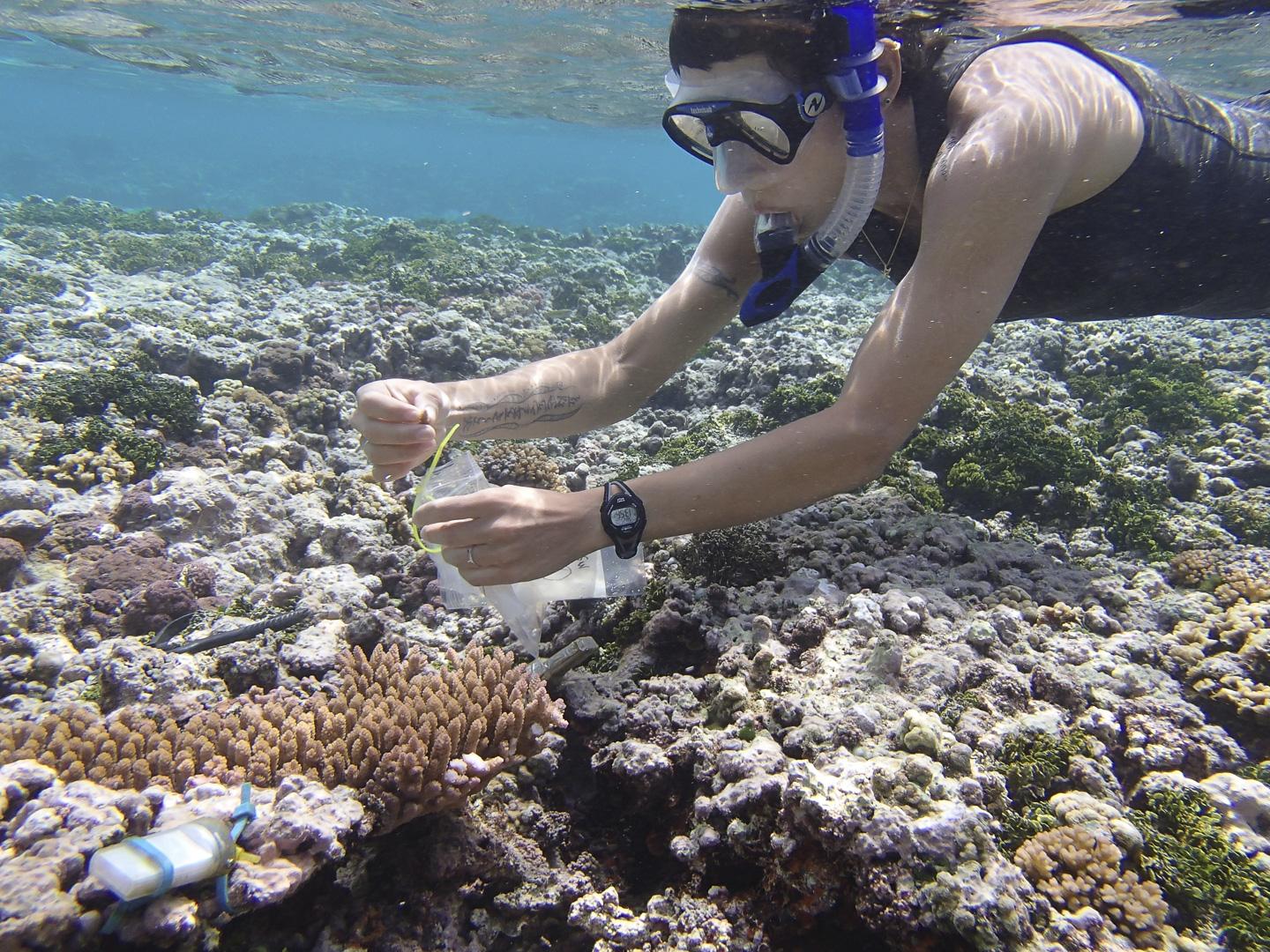 Stanford marine biologists have discovered that corals activate a specific group of ancient, defensive genes when exposed to stressful environmental conditions. These stress-induced genes could serve as a kind of warning sign for coral bleaching events.
In the study, researchers monitored three coral colonies in a lagoon on Ofu Island, American Samoa, for their response to stressors like high temperatures, oxygen, and ocean acidity. On the hottest days, the researchers saw a significant change in which genes the corals were activating within their cells.
"They started using a whole set of genes that they had just not been using before," said Steve Palumbi, a professor of marine sciences, director of Hopkins Marine Station, and an author of the paper that outlines the study, recently published in Science Advances.
A snapshot of coral health
In 2016, the Great Barrier reef saw the worst coral bleaching event on record as corals across hundreds of miles turned stark white. These bleaching events can eventually lead to coral death. Scientists predict that global climate change and the continued increase in ocean temperatures will increase the frequency of coral bleaching worldwide. The tricky part is, corals don't show visible signs of bleaching beforehand. The genes identified in this study could give scientists a snapshot indication of coral health – and an idea of when bleaching is likely to occur.
Under stressful conditions, a coral's normal cellular functions begin to fail. In response, the group of genes identified in this study triggers a process, called the unfolded protein response, that works to restore normal conditions within the cell. If conditions continue to worsen, the corals bleach and eventually die.
"For the first time, we are able to ask those corals, 'how are you doing?' They don't have a heartbeat. They don't have a pulse. We need to know their vital signs in order to understand how they react to the environment," Palumbi said.
An ancient stress response
Over the course of the seventeen-day study period, Palumbi and graduate student Lupita Ruiz-Jones monitored over 17,000 coral genes at just after noon each day. On the seventh and eighth day, when tides were lowest and temperatures hottest, the corals' genes initiated the cellular unfolded protein response. On day nine, the tides rose and the corals' systems returned to normal.
"This response just shows how in sync corals are with their environment," said Ruiz-Jones, who was first author on the paper.
This stress response is not unique to corals. It's been observed in mammals as well as some yeast species. Humans activate the same ancient genes in response to diseases, like cancer. In times of stress, a cell's misfolded and unfolded proteins accumulate in the endoplasmic reticulum, a series of flattened, tube-like structures in the cell that assist with building proteins. The unfolded protein response is a reaction to the flood of misassembled proteins.
"It's basically the organism recognizing that something isn't right," Ruiz-Jones said.
Studying tough corals
The lagoon on Ofu Island, a shallow turquoise bathtub, provided the ideal coral laboratory for studying heat-tolerant corals. The corals on Ofu Island experience water temperatures near human body temperature, enough to kill most coral species. The corals of Ofu, however, prosper in stressful environmental conditions.
Scientists believe that frequent, pulsing exposure to high temperatures may make corals stronger, much in the same way athletes train for competition. Understanding why some of the world's toughest corals are so heat-tolerant could help scientists identify and map other survivor coral colonies around the globe.
"We know that corals have the ability to adapt and evolve to warmer water than we thought before. We can use that as a primary asset to help them live through the next decades until we solve global climate change," Palumbi said.
Palumbi is also a senior fellow at the Stanford Woods Institute for the Environment