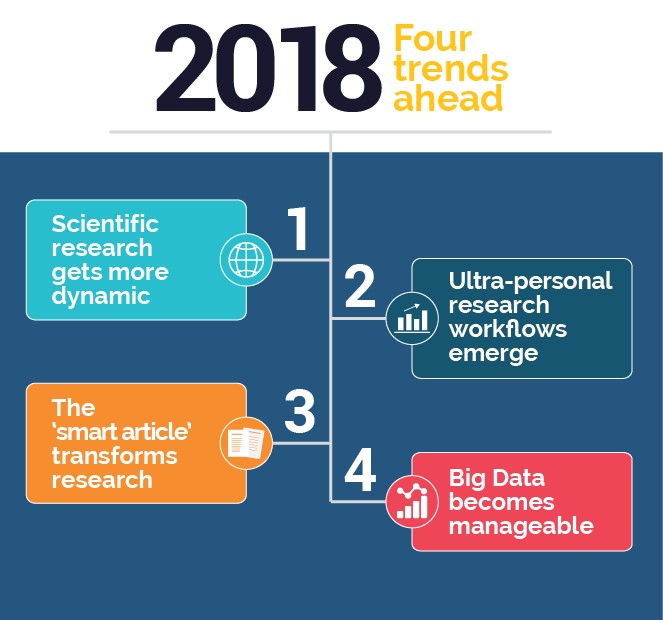 For most biotech and medical research organizations, accessing exactly the right information in published journal articles is crucial. A clinical-stage biotechnology company developing anticancer therapeutics, for example, can be a knowledge-hungry R&D organization where researchers must have 24/7 access to quality scientific literature to support their findings.
"Difficult access to journal articles is a real roadblock to quickly discovering new research sources for drug development," says one such company. "We need a solution for our researchers to access journal articles seamlessly and easily whenever they needed them." And any-time access is only part of the challenge. Homing in quickly on a specific citation is a must.
Why is access and precision so difficult in the realm of science literature? It has a lot to do with the vast amount of content available online. It's predicted that more than 40 Zettabytes (or 40 trillion gigabytes) of digital data will have been generated by 2020. With at least 50 million scholarly journal articles already filling information pipelines, and more than 2.5 million more added each year, researchers can be easily overwhelmed by what data scientists are calling "The Data Deluge."
For biomedical researchers, for example, getting a comprehensive summary of relevant literature pertaining to a particular gene or genomic region can be daunting. With thousands of articles added to search tools like PubMed and Google Scholar every day, narrowing down citations and making decisions about which are the most relevant is a time consuming and costly endeavor.
The worldwide community of publishers, librarians, technology companies and research professionals has clamored for a better, more cost-effective solution to knowledge management and data analysis for a long time. Many believe that 2018 will be the year where the smartest information management technologists will come together to capitalize on advances in artificial intelligence and machine learning to make access to data and scientific literature much more manageable. Augmented reality and voice search are just a few of the concepts that are being talked about as game changing, while ultra-personal research workflows and on-demand research retrieval with data analysis are driving technology solutions that are already changing the way researchers find information and convert it into knowledge.
The science, technology and medical (STM) literature access experience in particular is becoming exceedingly dynamic, which can only help researchers pinpoint and acquire the citations they need – when they need them. Technologies that unify and dramatically streamline search results to provide dynamic answers to a researcher's query (rather than a list of possible answers) are becoming mainstream. According to the International Association of STM Publishers (STM) this new research experience will rely partly on publishers "combining the digital technology stack, access to open content, research data, and the advanced computational resources to provide real-time analytics to synthesize an answer to questions. The systems will be 'intelligent' enough to provide the aggregated knowledge from those relevant resources."
Some research organizations have been taking advantage of the latest knowledge access and management technology trends for some time. One such organization is Bial, Portugal's leading pharmaceutical company, where Teresa Silveira brings a unique perspective to her role in managing corporate knowledge.
"The core problem is not accessing information, the problem is transforming that information into knowledge that can drive the business," Silveira says. "There is a huge difference between the two."
Bial always had a document delivery service in place but lacked any kind of automatic content delivery system until recently. The first challenge was to make access to content fast, easy, automatic, and independent of anyone in document management. "What Bial had," Silveira explains, "was a manually-intensive process that was single-threaded through a mediator. You can't scale up a system like that. It was also impossible to capture the vital business information associated with the actual content usage."
Silveira set out to find a more comprehensive STM literature access solution for her research team, eventually settling on the Article Galaxy solution from Reprints Desk – a cloud-based platform for on-demand research and data intelligence, powered by an ecosystem of app-like science gadgets designed to enhance and extract data.
Personalized research is another notable trend in the scientific research realm. Far more valuable than simply presenting information, personalized access tools place the researcher squarely in the center of the scientific literature ecosystem with tools that make the best of available content by pinpointing what's important. A number of forward-thinking companies are leading the "user first" charge. HubSpot, for example, provides easy-to-navigate content management systems that seek to "delight the customer." Several scientific literature publishers are delivering the "smart article" which represents an interactive dialogue between machine and researcher, resulting in much more precise information that answers specific queries.
Today's most productive R&D organizations are discovering that scientific literature access platforms that integrate AI, machine learning, personalized research workflows and big-data analytics are essential to their productivity. The race to knowledge – that inevitable quest for a competitive edge – will only get faster fueled by knowledge access, acquisition and analysis technologies that help thousands of life science researchers across the globe find and use the information they need to develop life-altering products.