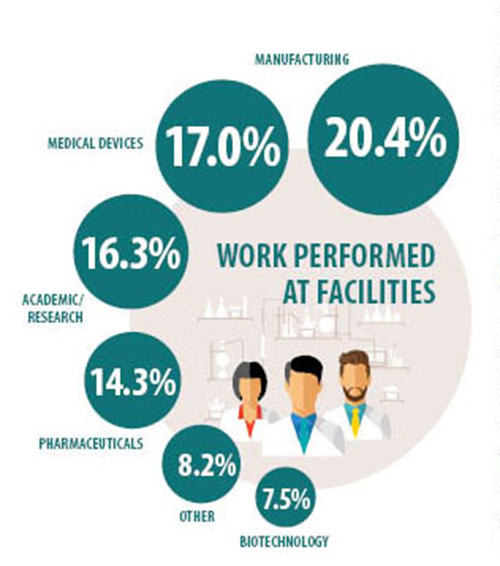 For the third year, Controlled Environments has surveyed its readership on cleanroom facility-related purchasing decisions, as well as the salary and benefits of cleanroom industry professionals. We have used these results to analyze the latest trends, which will enable you to compare your cleanroom and overall compensation package with those of your peers.
Controlled Environments has once again surveyed its readers to find out what's trending in the cleanroom business, and which industries are represented by our readership. We also asked questions about industry salaries, workloads, benefits, and job satisfaction.
Cleanroom fields
We asked readers the primary field of work performed in their facilities. Just like last year, manufacturing took the top spot, with 20.4 percent of the votes. Unlike last year, though, the runner-up spot was claimed by medical devices at 17 percent. Closely following in third place was academic/research, with 16.3 percent of responses.
Pharmaceuticals came in at 14.3 percent, and biotechnology represented 7.5 percent of responders. Fields that fell under the 5 percent mark—food and beverage, life sciences, microelectronics, nanotechnology, packaging, and validation or quality assurance.
"Other" was represented by 8.2 percent of survey responders —the open-ended answers included responses such as power generation and fuel planning, human diagnostics, environmental rooms, bacteria control in labs, sales, cleanroom laundry services, and cosmetics manufacturing.
Facility conditions
We asked readers about the condition of the facilities in which they work. A slight majority of survey takers (43.5 percent) said they work in a new or custom-built facility. Meanwhile, 42.2 percent work in a retrofitted facility — compare this with the 61.4 percent of responders in the 2016 survey who said they work in a retrofitted facility. Turnkey facility workers made up 14.3 percent of responses.
Thinking ahead
Once again, readers were asked about their facility's foremost concern when purchasing equipment and supplies. Like last year and the year before, the main concern was the longevity and quality of products, although the responses declined slightly to 44.9 percent — in 2016 the result was 47.1 percent, and in 2015 the result was nearly 46 percent.
Cost was the next highest concern, at 35.4 percent, which is up from 2016's result of 28.2 percent and parallel with 2015's result of 35 percent. Getting the newest, most up-to-date models available once again stayed relatively steady at 7.5 percent. The bottom of the list was rounded out by concerns about purchasing environmentally friendly products (6.1 percent), and purchasing ethical or American-made products (2 percent). Concerns stated in our open-ended "Other" option include cost of ownership, safety, effectiveness, and space concerns.
Cost was also cited as the foremost concern when choosing a supplier/distributor for equipment and supplies — 38.1 percent of this year's survey responders chose this option, which is up from last year at about 32 percent. Concern for a supplier or distributor's reputation and reviews came in at 23.1 percent. Another factor, chosen by 15 percent of responders, is whether the supplier offers a wide selection of products/services. Concern about environmental practices and a desire to purchase only American-made products was, once again, not a main concern for most people surveyed.
We also asked readers what their highest anticipated expenses are for the year ending Dec. 31, 2017 — participants were allowed to check all available options applicable to their facility. The biggest percentage, 40.4 percent, was represented by those who said they will likely be updating or maintaining existing equipment. Meanwhile, 33.6 percent plan to purchase new equipment. Major repair/renovation of existing cleanroom facility is planned by 20.5 percent of those surveyed, 12.3 percent are looking to build an entirely new cleanroom facility (down from 18.1 percent in 2016) and 4.8 percent will do a complete overhaul of their existing cleanroom facility (down significantly from 12 percent last year).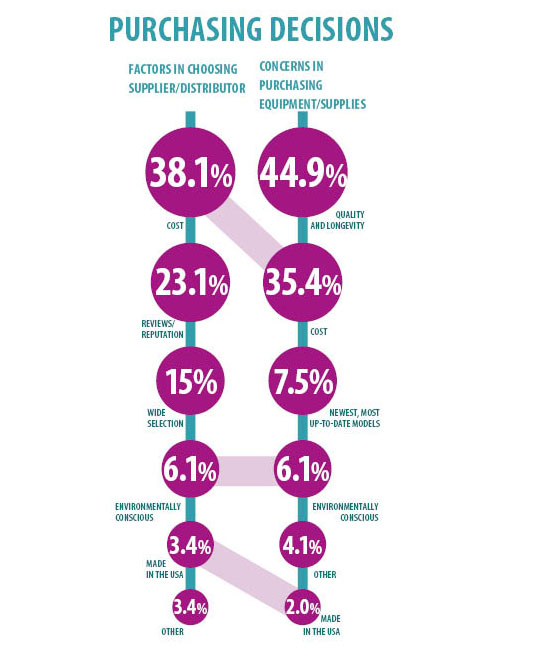 What are you buying?
Responders were given a list of cleanroom supplies and asked to select everything that their facility purchases. Attire overtook the top spot from consumables this year, with 71.2 percent of responders saying they plan to purchase. Consumables was still high up on the list at 69.9 percent, which is down from 80 percent in 2016 and 74 percent in 2015. Monitoring/instrumentation systems are purchased by 52.1 percent of readers, followed by critical cleaning products at 49.3 percent, both cleanroom components and benches/enclosures at 48.6 percent each, and cleanroom furniture at 47.9 percent. Cleanroom services (outside cleaning companies, consultants, designers/engineers) will be utilized by 31.5 percent of those that took the survey.
Unlike last year, the majority of responders (40.8 percent) use single-use, disposable cleanroom attire, rather than washable attire (36.7 percent). But similar to last year, 7.5 percent use single-use, recyclable attire. Approximately twice as many responders as last year (15 percent) said they do not purchase attire for their job.
The number of responders who said they re-stock their consumables once a month went back down to 2015 levels — 51.7 percent this year, compared with 58 percent in 2015 and 72.6 percent in 2016. Quarterly consumables orders were represented by 29.3 percent of responders, up from 11.9 percent last year. A smaller percentage (9.5 percent) say they order these products twice a year. Only a few said they order once a year, or every other year.
Your turn to clean
We asked readers who takes care of cleaning their facility. An equal percentage (36.1 percent) said that this task is delegated to the cleanroom workers themselves, or they hire an outside company to clean for them. Meanwhile, 27.8 percent say they have an in-house staff solely dedicated to cleaning duties.
Nearly half of responders — 44.8 percent — have the facility inspected by an outside company once a year. "More than once a year" was represented by 30.3 percent of the responses. Meanwhile, 16.6 percent have their facility inspected by an outside company every two to five years, and 8.3 percent bring in an outside inspector every five to 10 years.
Demographics
Once again, men make up more than two-thirds of Controlled Environments readers who responded to this survey, at 78.3 percent.
Similar to our 2015 survey, the largest represented age bracket was made up of people aged 50 to 59, at 35.3 percent. A significant portion of survey takers are working into their golden years, with 27.7 percent aged 60 or above. Ages 40 to 49 made up the next-highest age range at 21 percent, and 30 to 39 year-olds made up 13.4 percent of responses. One again, cleanroom workers in their 20s were scarce, with just three responders in this age group.
Graduate degree holders declined a bit this year to 45 percent, compared with exactly 50 percent last year. College graduates make up 32.5 percent of survey takers; 13.3 percent finished some college classes; and 9.2 percent hold a high school diploma.
International responses also declined this year, with only 14 percent of survey takers saying they live outside of the U.S. —the number was 24 percent in 2015, and 31.3 percent in 2016. As for U.S. workers, the Midwest slightly edged out the Northeast this year for the top spot, at 29.8 percent versus 28.1 percent, respectively. Western cleanroom workers are represented at 15.7 percent, and Southern workers make up 12.4 percent of our survey audience.
We asked about job titles. A slight majority of readers (39.2 percent) say they are in a non-sales management position — examples we gave included product manager, operations manager, branch manager, purchasing manager, and facility manager. Employees in a non-management position represent 29.2 percent of survey takers, and 18.3 percent said they are a C-level executive (owner, chairperson, CEO, CFO, etc.). Five responders said they are in sales. The open-ended portion of this question invited survey responders to fill in their position if it wasn't named — we received responses from people who work in stockroom management, academics, quality assurance, lab technicians, tech services, executive assistance, and safety.
A happy worker is a busy worker
Last year, those that took our survey seemed to be content with their jobs and felt that they are fairly compensated.
We asked how long survey takers had been with their company. Just like last year (compared to 2015, when the clear majority of responders — 32 percent — said they'd been with their company for just one to five years), this year's results were once again evenly spread between the date ranges. Results fell in the 12 to 16 percent range for people who had been with their company for anywhere from seven to more than 25 years.
We asked people how long they have held their current position for under 10 years — 18.2 percent said five to seven years; 17.4 percent said 10 to 15 years; 14 percent said seven to 10 years; 13.2 percent said one to three years; 10.7 percent said 25 years or more; 9.9 percent said 15 to 20 years; 9.1 percent said three to five years; 5.8 percent said 20 to 25 years; and only 1.7 percent said they've been with their company for a year or less.
The majority of survey takers (35.5 percent) supervise one to five employees, while 20.7 percent said they supervise 20 or more people; 14.9 percent supervise six to 10 employees; 7.4 percent supervise 10 to 20 employees. A significant percentage (21.5 percent) do not supervise anyone at all.
Just like last year and the year before, workloads have increased for about three-quarters of survey responders. Most survey takers reported getting some kind of increase in pay or benefits in the past year, whether it was a performance-based raise, a cost-of-living raise, or a stronger benefits package. A little under a quarter of responders said they did not receive any kind of salary increase whatsoever. In a separate question, 84.6 percent said they have not faced any salary or benefits cuts in the past year.
When asked if their company offers adequate opportunities for growth, 53.8 percent said "yes" and 30.3 percent said "no", while 16 percent of survey takers said they are not sure.
We also asked those surveyed if they believe they are fairly compensated. This year, 67.5 percent said "yes", up from 60 percent last year and slightly down from 69 percent in 2015.
We invited our survey takers to tell us why they may or may not feel their compensation is fair. Most people said in the open-ended section that, overall, they feel their compensation is satisfactory, although more money would always be nice. One responder lamented that co-workers with less experience seem to make more. A few said they don't appreciate working longer hours for little/no extra pay or benefits. One of the more interesting responses was simply "corporate greed."