Problem: Keeping laboratory equipment clean is a daunting task. Microbes from the air, lingering in places like cardboard boxes, or coming from human skin can threaten the validity of your results. At the same time, costly cleaning procedures threaten research time and productivity. To eliminate RNase A, for example, decontamination procedures range from chemical detergents to rinsing with RNase-free water and autoclaving for hours, both of which cost time and money. Effectively decontaminating equipment at a low operational cost is a constant battle in the lab.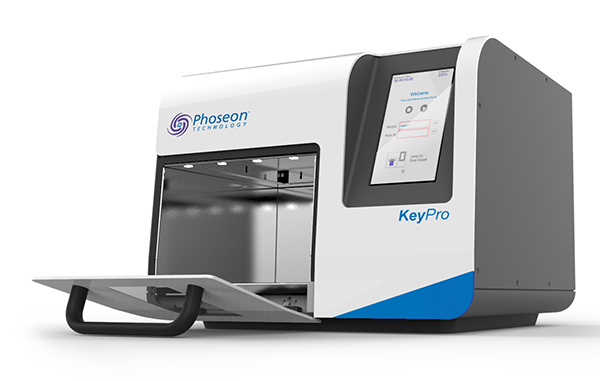 Solution: Phoseon Technology's solid-state, deep UV LEDs save time and money, and preserve the accuracy of your results through thorough decontamination. Patented SLM™ technology allows Phoseon lamps to generate orders of magnitude higher irradiance than is currently seen in the market. This high-irradiance light is then focused to a specific wavelength, or combination of wavelengths, that affect the structure of microbial contaminants.
When it comes to inactivation, irradiance matters. Studies have shown that high irradiance 275 nm light requires a lower total dose, less time, and more completely inactivates glass surfaces compared with lower irradiance. Complete inactivation of RNase A was achieved after 5 minutes at high irradiance compared with 25 minutes for the lower irradiance level.
There was also no evidence of reactivation in the target area once the cycle was complete, confirming inactivation was complete and irreversible. This is possible because higher irradiance sources emit a greater numbers of photons in the same area at the same time. This means greater chances of disrupting the disulfide bond in RNase A, rendering it inactive. Thus, by reaching high irradiance levels (5W/cm2 in Phoseon lamps compared with low mW/cm2 range Ultraviolet Decontamination of Laboratory Equipment seen in the market), Phoseon lamps can achieve thorough decontamination.
Greater, still, are the results when wavelengths are combined. Utilizing the high-powered 275 nm source alone saves time. Combining it with a 365 nm source saves more time and decreases the total dose necessary to achieve inactivation.
Exposing RNase A to 365 nm light concurrently with 275 nm light reduced both the irradiance and total dose of 275 nm wavelength necessary to achieve inactivation. Furthermore, total inactivation of RNase A (compared with negative control) was achieved after three minutes. Alone, the 365 nm light source was ineffective, showing no appreciable inactivation. Working with the 275 nm source, however, the wavelengths act synergistically to achieve rapid inactivation. This has significant implications for the future. In choosing specific, targeted combinations of light, laboratory equipment such as pipettes, microtiter plates, glass slides, and more can be decontaminated safely, quickly, and with less operational cost.
Chemical decontamination of laboratory equipment is a difficult task. One must successfully clean the equipment while maintaining its integrity by carefully choosing detergents based on equipment material. Phoseon solid-state, deep UV LED technology eliminates this problem. Simply chose the targeted wavelength (or wavelengths) for the material and contaminant, and you can achieve rapid, complete inactivation, saving research time for its intended purpose: furthering scientific knowledge.
For more information, visit www.phoseon.com.