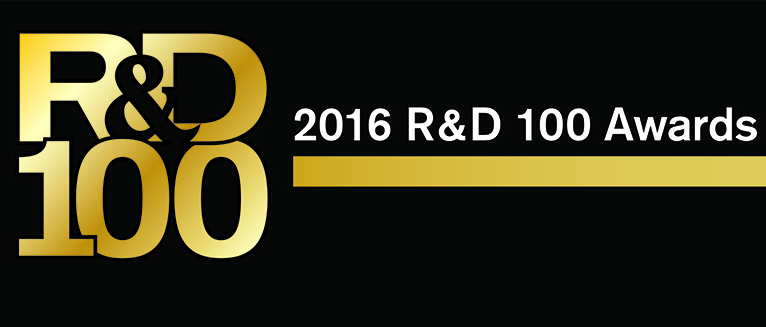 OXEN HILL, Md.—R&D Magazine has announced the Winners of the 54th annual R&D 100 Awards, an international competition that recognizes the 100 most technologically significant products introduced into the marketplace over the past year, at the R&D 100 Awards Ceremony held last night at the Gaylord National Resort & Convention Center. The R&D 100 Awards recognize excellence across a wide range of industries, including telecommunications, optics, high-energy physics, materials science, chemistry, and biotechnology.
R&D 100 Award recipients include established Fortune 500 companies and federally funded research institutions, as well as academic and government labs. The awards not only recognize the efforts of the development team and partners, they provide a mark of excellence known to industry, government and consumers.
The full list of 2016 R&D 100 Award Winners is available here: www.rd100conference.com/awards/winners-finalists/year/2016/
The 2016 R&D 100 Awards Banquet took place on Nov. 3, 2016 at the Gaylord National Harbor & Resort in Oxon Hill, Maryland, where R&D Magazine also presented the R&D 100 Conference, which will conclude today. Last night at the annual black-tie awards ceremony, the leaders of science and technology industries were honored for their innovative, high-tech products and processes. This year, the R&D 100 Finalists were also recognized for their high achievements within the five categories described at the ceremony, including Analytical/Test, IT/Electrical, Mechanical/Materials, Processing/Prototyping, and Software/Services.
Along with honoring the 100 best technologies of the year, R&D Magazine also presented Scientist of the Year and Innovator of the Year awards. The 2016 Scientist of the Year is Dharmendra S. Modha, Ph.D., who is an IBM Fellow and IBM Chief Scientist for Brain-inspired Computing. He is a Cognitive Computing pioneer who envisioned and now leads a highly successful effort to develop brain-inspired computers.
The project has received more than $65 million in research funding from DARPA, the U.S. Department of Defense, the U.S. Department of Energy, and industry. This ground-breaking project is multi-disciplinary, multi-institutional and multi-national, and has a worldwide scientific impact. Mark C. O'Riley, Esq., from Technology Policy, IBM Government and Regulatory Affairs accepted the award on his behalf.
The 2016 Innovator of the Year is Anthony Atala, MD, Director of the Wake Forest Institute for Regenerative Medicine and the W. Boyce Professor and Chair of Urology at Wake Forest University, who has done pioneering work in 3D bioprinting. Dr. Atala spoke to the spell-bound audience about his revolutionary work in regenerative medicine.
The R&D 100 Awards Ceremony also unveiled the R&D 100 Special Recognition Awards, with Gold, Silver, Bronze and Merit Awards announced during the ceremony. These included the Green Tech Special Recognition Award, Corporate Social Responsibility Special Recognition Award, Market Disruptor Services Special Recognition Award, and Market Disruptor Product Special Recognition Award. You can see the full list here: www.rd100conference.com/awards/special-recognition-finalists/year/2016/
The R&D Editor's Choice Award topped off the gala event. This year also marked the second R&D 100 Awards Conference, which took place November 2 to 4. This science and technology conference offered attendees in-depth presentations by industry experts in General Sessions, Keynotes and three educational tracks to inspire conversations and offer best practices, insights and solutions.
Entries for the 2016 R&D 100 Awards are now open. Please go to www.bitly.com/2017-rd100 for more information.
About R&D Magazine:
Since its founding in 1959 as Industrial Research, R&D Magazine (www.rdmag.com) has served research scientists, engineers, and technical staff at laboratories around the world, providing timely, informative news and useful technical articles that broaden readers' knowledge of the research and development industry and improve the quality of their work. R&D Magazine is a publication of the Advantage Business Media Science Group, with sister brands including Laboratory Equipment, Bioscience Technology, Drug Discovery & Development, Laboratory Design, Scientific Computing, and Controlled Environments.