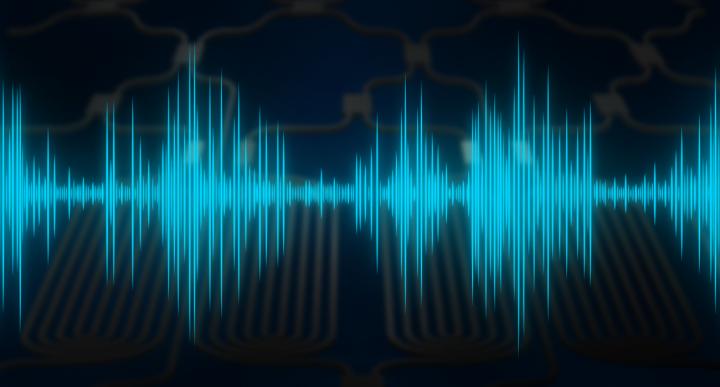 Although it may not fit the traditional definition, acoustic noise is a form of pollution because of its negative impact on human health. Indoor-generated noise is especially a problem in the workplace, where noise can cause minor distractions or even mental stress. Thanks to an award from the National Science Foundation (NSF), researchers at the University of Pittsburgh are exploring fundamental new research that may lead to new sound barriers that mitigate acoustic noise.
Piervincenzo (Piero) Rizzo, associate professor of civil and environmental engineering at the Pitt's Swanson School of Engineering, is principal investigator for a two-year, $200,000 NSF-EAGER grant for the project "EAGER: Acoustic Diode as Architectural Material (ADAM)." EAGER awards supports exploratory work in its early stages on untested, but potentially transformative, research ideas or approaches.
"Engineers and architects strive to create effective and fine solutions to mitigate indoor- and outdoor- generated noise in order to enhance the comfort of the occupants, improve personnel efficiency in the workplace, guarantee privacy, and to provide distraction-free spaces. However, traditional building materials have limits, whether structurally or economically," Dr. Rizzo said. "Through this award we'll explore a new architectural system based on the concept of acoustic diodes acting as a sound barrier that impedes unwanted noise in an environment."
According to Dr. Rizzo, acoustic diodes offer low resistance to sound in one direction and high resistance in the opposite direction, which cancels out sound transmission along one direction. His hypothesis is that a diode, embedded in novel architectural material, can be scaled at multiple lengths to shield indoor noise and eventually transit-generated noise.
"Our research will explore "trapping" acoustic noise in building materials via acoustic diodes, where they would reflect and decay," Dr. Rizzo said. "By integrating several disciplines including acoustics, nonlinear dynamics, and architectural engineering, we hope to determine the feasibility of this potential technology."