Carbon dioxide (CO2) is a known pollutant that affects the performance of humans in workplaces, schools, and other indoor areas. Thus, the development of devices for sensing and monitoring CO2 levels is crucial for many fields such as food packaging and for human safety indoors.
The Catalan Institute of Nanoscience and Nanotechnology (ICN2) groups — led by Professor Laura M. Lechuga, NanoBiosensors and Bioanalytical Applications Group, and ICREA Professor Daniel Maspoch, Supramolecular NanoChemistry and Materials Group — recently published a shared article tackling this issue in Journal of Materials Chemistry A. Blanca Chocarro, who is developing her PhD in collaboration with both groups thanks to an FPI fellowship linked to the ICN2 Severo Ochoa Programme, is the first author of the work.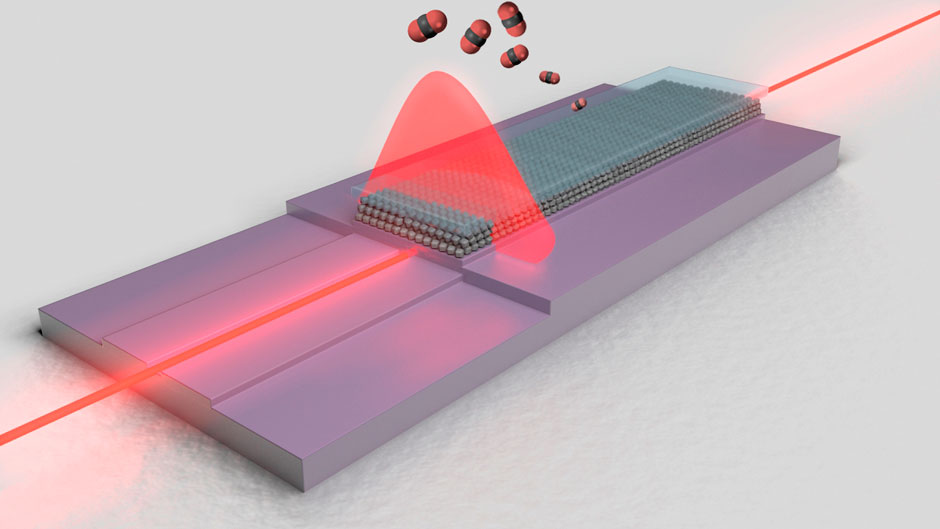 The work, published as an Advanced Article in the journal website, details the fabrication of an optical CO2 sensor by integration of a metal-organic framework (MOF) onto bimodal optical waveguides. This sensor is constructed via self-assembly of a transparent film of zeolitic imidazolate framework-8 (ZIF-8) nanoparticles (size: 32 ± 5 nm) on the waveguides.
The sensor showed a broad linear response, with limit of detections of 3130 ppm at room temperature and 774 ppm at 278 K; values that are below the threshold for CO2 monitoring in food packaging and for human safety indoors. Furthermore, it is robust, selective, fast, and reusable, and can be stored under humid conditions with no loss in performance. The present results should enable the development of fully integrated MOF-based sensors for in situ gas sensing and other in situ practical applications.