The R&D Index for the week ending June 15, 2018 closed at 4,450.38 for the 25 companies in the R&D Index. The Index was up 1.21% (or 53.03 basis points) from the week ending June 8, 2018. Eleven R&D Index companies gained value last week from 0.11% (Intel) to 4.75% (Bayer AG). Fourteen R&D Index companies lost value last week from -0.03% (Astra Zeneca) to -3.94% (Oracle).
As expected, the U.S. Federal Reserve raised short-term interest rates a quarter percentage point at their regularly scheduled meeting last Wednesday, June 13. The rates are now in a range between 1.75% and 2.00%. They also noted that two more rate hikes are planned for 2018, an increase from the three they noted in their March meeting. Nine of the 14 Fed officials noted that the neutral funds rate is likely to be 2.75% to 3.00% over the long term. They also see the unemployment rate dropping from the current 3.8% to 3.5% by the end of 2019. This is about 1% below the Fed's expected long-term natural rate, below which inflation can be expected to accelerate (by the so-called "Phillips curve", named after famed London School of Economics Professor William Phillips).
The European economy is not faring as well as the U.S. economy. Following the Fed's rate hike, the Euro fell 1.88% on Thursday against the U.S. dollar, its largest drop since the day after the Brexit vote. The European Central Bank (ECB) has stated that it will maintain its existing interest rates through the summer of 2019 to support its economy. ECB interest rates are negative at -0.4% where they've been since 2014. Part of the European softer growth is partly due to recent labor strikes in France, declining factory orders in Germany, a cold winter and recent flu outbreaks. China's recent economic data has also shown slower activities and the People's Bank of China has also stated it will maintain its current interest rates. U.S. growth is expected to exceed 4.0% in 2Q, up from 2.5%.
R&D Index member Apple is likely to stay with traditional LCD-based displays for its next-generation iPhones to be introduced in the fall, according to analysts. The organic-light-emitting diode (OLED) used in Apple's current iPhoneX have proved to be too expensive for consumers and Apple developers are expected to stay with the more cost-effective LCD displays to keep the overall costs down.
In efforts to support its promise to investors to be profitable by the fall, Tesla cut its workforce by 9% (or 3,500 employees) last week. The cuts were mostly aimed at salaried staff (and possibly R&D) and won't affect production workers, according to the company which was initially targeting production of 5,000 Model 3 vehicles/week by the end of June. Tesla has yet to be profitable in any quarter in its 15-year history.
Ford Motor Co. will announce on June 19 that it is converting the long-vacant Michigan Central train station in the Corktown section of Detroit. Initial plans include locating 2,500 employees (with expansion for an additional 2,500 people) for its relocated autonomous and electric vehicle business, strategy and R&D teams. The campus will consist of about 1.2 million square feet and take about four years to complete. The renovation will focus on the 17-story, 105-year old office tower. Ford already owns and occupies several other sites in the Corktown neighborhood.
R&D Index Week Ending June 15, 2018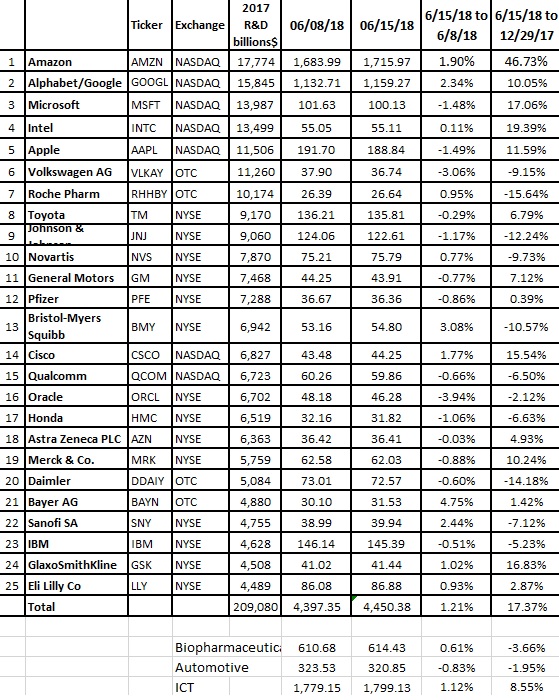 About the R&D Index
R&D Magazine's R&D Index is a weekly stock market summary of the top international companies involved in research and development. The top 25 industrial spenders of R&D in 2017 were selected based on the latest listings from Schonfeld & Associates' June 2017 R&D Ratios & Budgets. These 25 companies include pharmaceutical (11 companies), automotive (5), ICT (8) and conglomerate (1) organizations who invested a cumulative total of more than $209 billion in R&D in 2017, or approximately 10% of all the R&D spent in the world by government, industries and academia combined, according to R&D Magazine's 2017 Global R&D Funding Forecast. The stock prices used in the R&D Index are tabulated from NASDAQ, NYSE, XETRA and OTC common stock prices (in U.S. dollars) for the companies selected at the close of stock trading business on the Friday preceding the publication of the R&D Index in R&D Magazine's R&D Daily eNewsletter.
The companies used in the R&D Index include Amazon, Alphabet/Google, Microsoft, Intel, Apple, Volkswagen AG, Roche Pharma, Toyota, Johnson & Johnson, Novartis, General Motors, Pfizer, Bristol-Myers Squibb, Cisco, Qualcomm, Oracle, Honda Motor Company, Astra Zeneca plc, Merck & Company, Daimler, Bayer AG, Sanofi SA, IBM, GlaxoSmithKline and Eli Lilly Co. Stock prices are based on those stocks traded on the U.S. exchanges. R&D Index trends (in the stock prices) are just one indicator of the amount of capital available to these high-technology companies to invest in R&D and should not be implied to indicate the absolute value of R&D investments made by these organizations. The companies chosen for the R&D Index have very large sophisticated internal and global R&D organizations with each company investing between $4.5 and $17 billion annually on their R&D efforts.