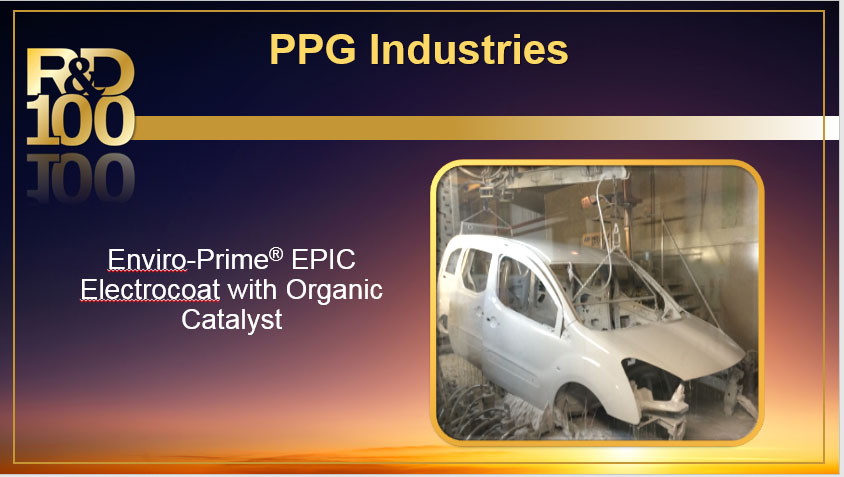 For more than 50 years, electrocoat coatings have been used in the global automotive industry to provide unmatched corrosion protection for metal bodies and parts and to serve as a primer layer for subsequent decorative coatings. These water-based, environmentally-friendly coatings offer the ultimate in corrosion and chemical resistance and serve as the benchmark for primer performance. Practically every commercial automobile manufacturer in the world uses electrocoat coatings to protect their vehicles. PPG recently introduced its innovative Enviro-Prime EPIC Electrocoat with Organic Catalyst—a next-generation, organically-catalyzed product that provides excellent corrosion protection, facilitates optimized appearance and helps save money in the production processes while significantly reducing the overall environmental impact. Concerned with ever-increasing environmental regulations and with a desire to enhance product sustainability without relying on metal-based catalysts, PPG invested significant effort in the creation of a novel and proprietary organic metal-free catalyst system that permits the electrocoat to cure without the use of tin-based compounds while enhancing its overall performance.
Each year for more than 50 years, R&D Magazine has honored the 100 best innovations in research and development. We are currently accepting applications for the 2017 R&D 100 Awards. Innovators with an exceptional product developed between January 1, 2016 and March 31, 2017 should apply. Submissions close May 12, 2017.
For information on the 55th Annual R&D 100 Awards visit the R&D 100 Conference website.