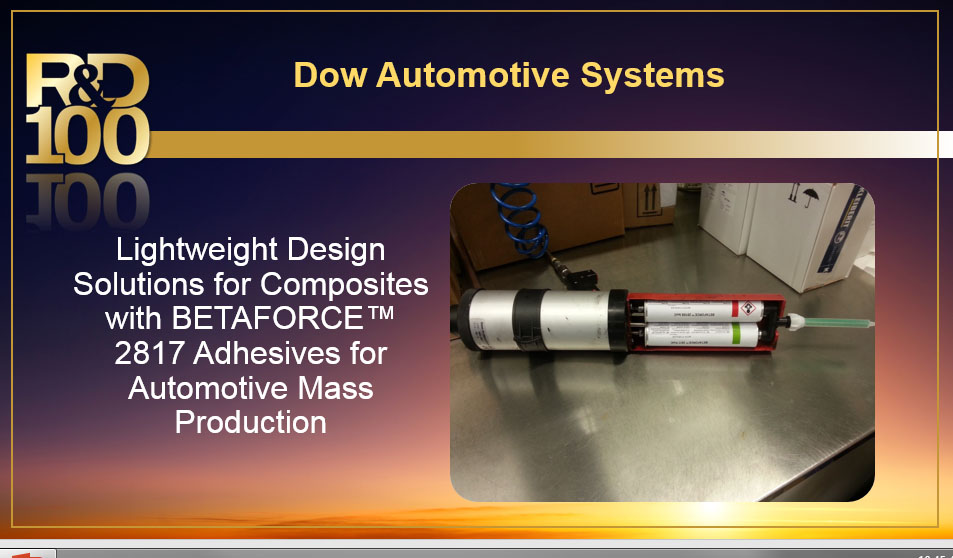 Lightweight Design Solutions for Composites with BETAFORCE 2817 Adhesives for Automotive Mass Production provides a continuous bond line and cohesive joining of surfaces. This adhesive offers a cycle time of around one minute and is currently being used in the production of vehicles. On the assembly line, where speed is important, this product offers curing properties that can be adjusted to accommodate specific mounting requirements in the plant, such as long open times (time between adhesive application and part assembly) and quicker curing time by infrared treatment. The adhesive is used to bond different parts in the vehicle roof, providing increased load bearing capability and increased static and dynamic stiffness. This leads to improved safety and crash behavior, reduced vibrations and noise, optimized ride, driving and handling characteristics and extending the vehicle life span and long-term value via higher durability. BETAFORCE 2817 is a two-component polyurethane adhesive that is used for multi-material bonding.
Each year for more than 50 years, R&D Magazine has honored the 100 best innovations in research and development. We are currently accepting applications for the 2017 R&D 100 Awards. Innovators with an exceptional product developed between January 1, 2016 and March 31, 2017 should apply. Submissions close May 12, 2017.
For information on the 55th Annual R&D 100 Awards visit the R&D 100 Conference website.