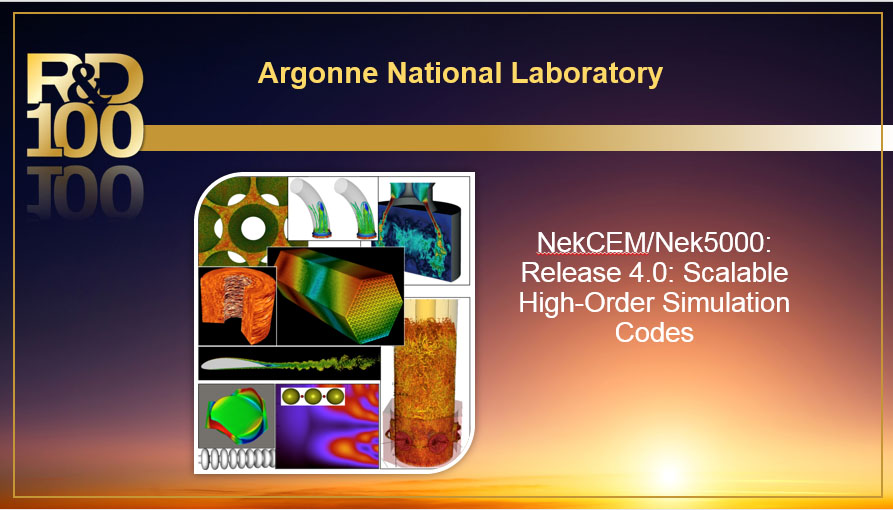 NekCEM/Nek5000: Release 4.0: Scalable High-Order Simulation Codes is an open-source simulation-software package that delivers highly accurate solutions for a wide range of scientific applications including electromagnetics, quantum optics, fluid flow, thermal convection, combustion and magnetohydrodynamics. It features state-of-the-art, scalable, high-order algorithms that are fast and efficient on platforms ranging from laptops to the world's fastest computers. The size of the physical phenomena that can be simulated with this package ranges from quantum dots for nanoscale devices to accretion disks surrounding black holes. The NekCEM provides simulation capabilities for the analysis of electromagnetic and quantum optical devices, such as particle accelerators and solar cells. Nek5000 provides turbulent flow simulation capabilities for a variety of thermal-fluid problems including nuclear reactors, internal combustion engines, vascular flows and ocean currents.
Each year for more than 50 years, R&D Magazine has honored the 100 best innovations in research and development. We are currently accepting applications for the 2017 R&D 100 Awards. Innovators with an exceptional product developed between January 1, 2016 and March 31, 2017 should apply. Submissions close May 12, 2017.
For information on the 55th Annual R&D 100 Awards visit the R&D 100 Conference website.