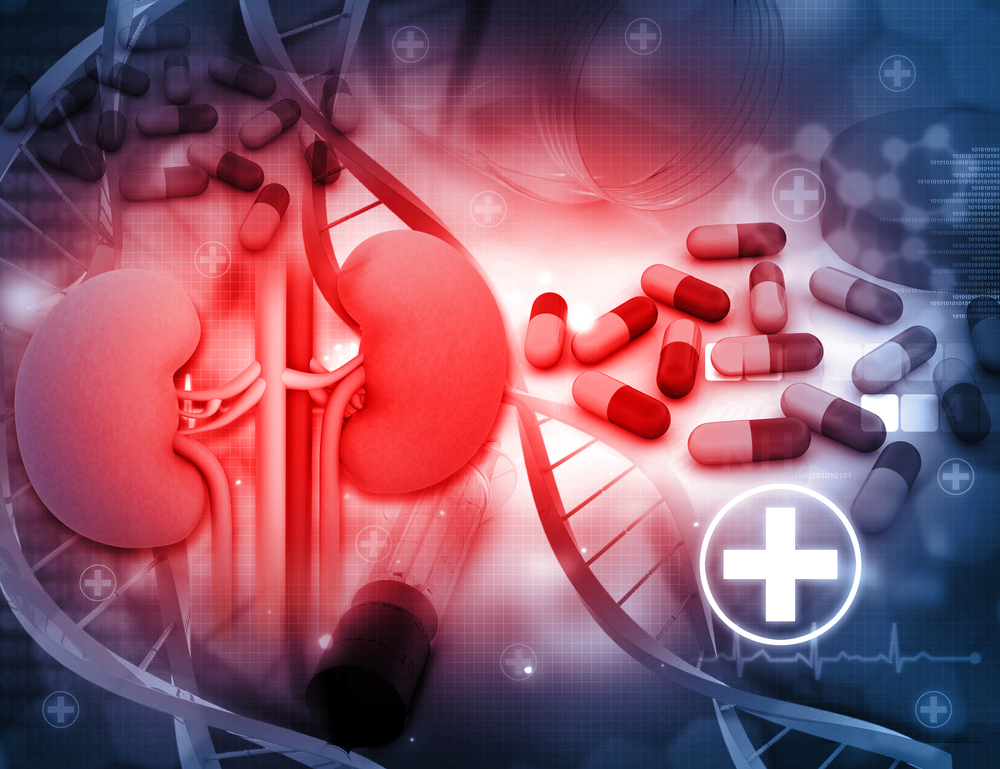 Patients with Chronic Kidney Disease (CKD) may benefit from a new collaboration between the University of Michigan (U-M) and AstraZeneca who have partnered to develop a new therapeutic strategy for treatment. The partners will jointly conduct chemistry and drug discovery research with the aim of developing candidate drugs.
CKD is a group of conditions in which damaged kidneys cannot filter blood as effectively as healthy kidneys do. It is referred to as the silent epidemic, affecting more than 10% of the population resulting in increased cardiovascular disease, dialysis and death. The incidence of CKD is expected to continue to rise due to increased prevalence of diabetes and obesity. CKD not only imposes tremendous suffering in the affected individuals and their families, but also strains health resources with more than 1% of the entire federal budget of the US being consumed for dialysis costs. Currently, there are no effective treatments for CKD.
The four-year collaboration, led by U-M nephrologist Matthias Kretzler, M.D. and Vince Groppi, Ph.D. from the Center for Discovery of New Medicines at U-M, brings together a powerful, cross-functional team of experts in bioinformatics, translational drug discovery, and precision medicine. The leaders from U-M include Raymond Trievel, Ph.D., Wenjun Ju, Ph.D., and Jeanne Stuckey, Ph.D.
"This collaboration represents a new level of cooperation between University of Michigan and an industry partner to significantly improve the treatment and outcome for patients with Chronic Kidney Disease," says Steve Kunkel, Ph.D., Senior Associate Dean for Research at the U-M Medical School Office of Research. "New therapies for patients are waiting to be discovered among the vast amount of information now available. I'm confident this is an effective route to get better medicines to people with failing kidneys."
The novel therapeutic strategy in the CKD project was identified using the highthroughput screening and structural biology facilities at the U-M Life Sciences Institute. And funding was provided by the Center for the Discovery of New Medicines, a coordinating hub for drug discovery at U-M that supports faculty from across the university in developing promising biomedical research toward commercialization.
Under the collaboration, AstraZeneca will contribute funding to support the research teams as the project reaches agreed milestones.
"This collaboration allows us to combine our efforts to develop a fundamentally novel treatment strategy which both of our teams identified and pursued independently," Kretzler said. "Our complimentary expertise in kidney disease and drug development will help us to realize the goal of having a major impact on the health of our CKD patients."
"This collaboration is fully aligned with AstraZeneca's strategic commitment to drive scientific progress in the field of chronic kidney disease (CKD). Working together with researchers at the University of Michigan will allow us to build on their target discovery capabilities with the aim of accelerating the development of life-changing therapies for CKD," said Mene Pangalos, Executive Vice President of AstraZeneca's Innovative Medicines and Early Development (IMED) Biotech Unit.