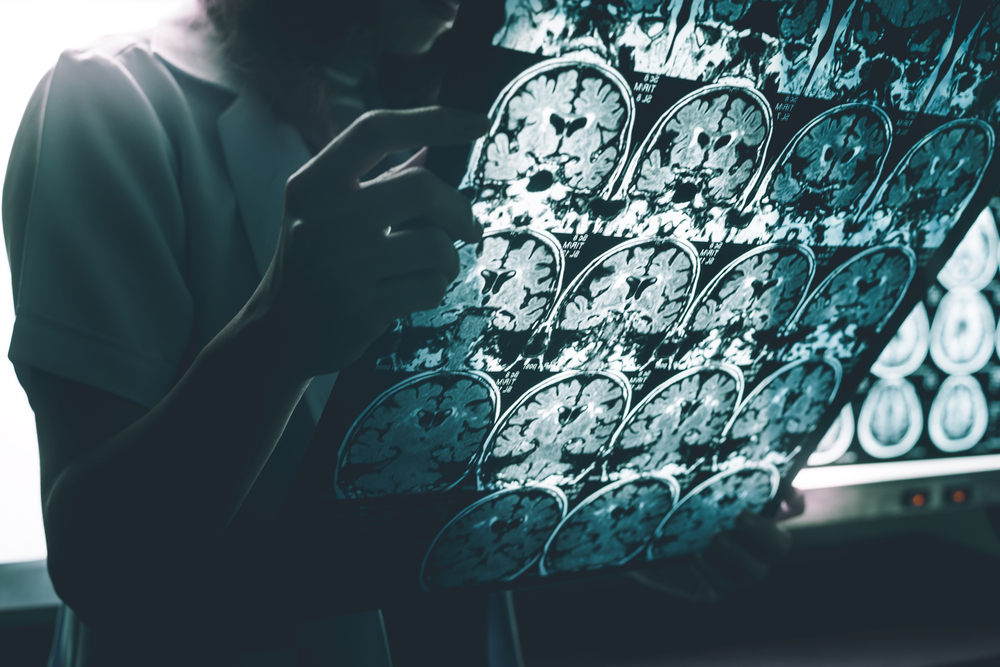 Advancements in treatment for heart disease, stroke and cancer can be traced back to the use of imaging technologies that enable doctors and researchers to visualize the impact and progression of these diseases inside the body.
Just a decade ago, we had no way of seeing or measuring the hallmark amyloid brain plaques of Alzheimer's disease dementia in living people. Now there is brain imaging that makes this possible. Known as amyloid PET scanning, this technology helped establish the widely held view that Alzheimer's may begin up to 20 years before problems with memory and thinking are noticeable.
This progress would not have been possible without innovative and strategic collaborations to build research infrastructure and overcome obstacles to advancing critical studies. A clear example of this is the landmark Alzheimer's Disease Neuroimaging Initiative (ADNI).
ADNI launched in 2004 to identify and understand markers of Alzheimer's in body fluids and brain tissue. Now more than 1,000 participants at 57 locations across the U.S. and Canada are enrolled in it. Led by the U.S. National Institutes of Health (NIH) with private sector support coordinated by the Foundation for the NIH, ADNI unites federal agencies, academia, industry, and nonprofit organizations (including the Alzheimer's Association) to make large-scale research possible. Importantly, there are no intellectual property or other limitations placed on data and samples generated through the initiative.
ADNI findings provided support for FDA approval of the first chemical tracer making amyloid brain plaques visible on a PET scan. Alzheimer's Association funding supported expanding ADNI to include PET imaging. The work enabled by this funding made a huge difference in our understanding of the role amyloid, both in people with Alzheimer's dementia and those with normal cognition.
In fact, ADNI and other studies laid the groundwork that led to the FDA approval of three amyloid PET tracers by 2013. In response to this new technology, the Alzheimer's Association partnered with the Society of Nuclear Medicine and Molecular Imaging to lead an expert group of researchers to develop Appropriate Use Criteria (AUC) for amyloid PET. The AUC have provided important guidance to physicians and patients on the use of amyloid PET.
However, also in 2013, the Center for Medicare and Medicaid (CMS) issued a decision that they would not reimburse for amyloid PET. Once again, the Alzheimer's Association responded by launching the $100 million IDEAS Study with the American College of Radiology (and significant funding from CMS for the scans, plus support from Lilly, GE and Piramal) to generate data on the impact of amyloid PET on medical management of people with MCI and dementia in the hope of changing the CMS decision.
One of the major findings from ADNI is that up to 30 percent of people believed to have Alzheimer's did not have abnormal amyloid build up. As a result, researchers are using amyloid PET imaging to improve clinical trials. For example, Biogen's Phase 1b trial of the anti-amyloid agent aducanumab enrolled only individuals with high levels of amyloid buildup in their brains based on the scan – ensuring participants have the problem the drug candidate is meant to address.
We are at a moment of unprecedented promise in Alzheimer's research. It is time for even greater collaboration and innovation. Alzheimer's is a complex disease that still lacks an effective treatment or prevention. If new treatments aren't found, the number of Americans with Alzheimer's is expected to triple from more than 5 million today to as many as 16 million by 2050, costing the nation $1.1 trillion annually and potentially crippling our healthcare system. (Alzheimer's Association 2017 Alzheimer's Disease Facts and Figures)
The majority of Alzheimer's investigational therapies that have advanced to late-stage clinical trials have targeted amyloid plaques, but numerous studies suggest additional factors contribute to the disease's development. For example, there is evidence that the accumulation of tau tangles – another hallmark brain change of the disease – is more closely associated with cognitive decline in Alzheimer's than levels of amyloid. Other contributors may include inflammation, problems with blood circulation in the brain, and reduced clearance of abnormal proteins.
In October 2015, the Alzheimer's Association Research Roundtable (AARR) brought together experts from academia, industry, and regulatory agencies to examine the underlying biology of tau in neurodegenerative diseases and explore strategies to expedite development of tau-targeted therapies. At AAIC 2016, researchers for TauRx Therapeutics reported results of a trial of an anti-tau drug for Alzheimer's. While it failed to demonstrate a treatment benefit in the full study population, it was the first completed phase 3 trial of an anti-tau therapy.
Anti-tau therapeutics is a growing area of interest for pharmaceutical/biotechnology companies. Currently, there are several anti-tau drugs in clinical trials, plus multiple studies are honing the measurement of tau buildup using tau PET imaging and cerebrospinal fluid (CSF) analysis, according to a May 2017 article in Alzheimer's & Dementia: Translational Research & Clinical Interventions.
Regardless of the treatment target, one of the biggest bottlenecks in the drug development process is transitioning drugs from preclinical testing into clinical trials. To ensure that more promising drug candidates advance past this "valley of death," the Alzheimer's Association, in partnership with philanthropist Michaela Hoag, leads an initiative called Part the Cloud (PTC) Translational Research Grants. PTC funds research specifically designed to accelerate the transition of research findings from the laboratory, through clinical trials, and into practice.
One PTC grant recipient is Tim West, Ph.D., of C2N Diagnostics. The funding enabled the company to conduct a Phase I study of an investigational tau-targeting drug now known as ABBV-8E12. In 2015, C2N entered into an exclusive partnership with global biopharmaceutical company AbbVie, Inc. for the drug's continued development. Now there are two ongoing international Phase II studies of the compound. It has received both Orphan Drug Designations for Progressive Supranuclear Palsy in the U.S. and Europe, and Fast Track Designation from the U.S. Food and Drug Administration.
The PTC initiative supports both academic and company-based projects. Since its inception 2012, it has raised more than $20 million for Alzheimer's research with the help of more than 300 donors – many of them leaders in the technology industry in California's Silicon Valley. In 2017, PTC announced a $7 million investment in four clinical trials targeting brain inflammation as an innovative avenue for Alzheimer's therapy. The hope is success stories similar to C2N's will be the result.
Looking ahead, researchers hope to discover even easier and more accurate ways to detect Alzheimer's before its devastating symptoms begin. There are ongoing efforts to show that markers of Alzheimer's in blood and CSF can be identified and measured to determine who is at increased risk for developing the disease. Additional studies suggest smell and eye tests may be able to detect memory decline and dementia.
Before these and other diagnostic measures, known among scientists as biomarkers, can be widely incorporated into clinical practice, they must be standardized. This is another area where collaboration will be key to success.
The Global Biomarker Standardization Consortium (GBSC) is one partnership that is driving discussions on global standardization, and is led by the Alzheimer's Association. GBSC brings together researchers, clinicians, and industry, regulatory and government leaders to achieve this. Its efforts include demonstrating the safety of lumbar punctures for collecting CSF so researchers, clinicians, and patients will be more comfortable using this procedure in Alzheimer's research and diagnosis. GBSC also is working to standardize procedures for processing, handling, and storing CSF samples.
Similarly, a partnership called the Coalition Against Major Diseases (CAMD) is working to secure regulatory support for use of certain Alzheimer's biomarkers in clinical trials. CAMD's coordinating committee consist of 18 pharma/biotech companies, four patient advocacy groups, and drug regulatory agencies in the U.S. and Europe
The Alzheimer's Association encourages federal agencies, academia, industry, and advocacy groups to join partnerships that drive Alzheimer's research forward and is open to discussing such possibilities with all who are interested. While research is the vehicle, these collaborations pave the road to making sure no one has to suffer the devastating effects of Alzheimer's – a destination we all want to reach.