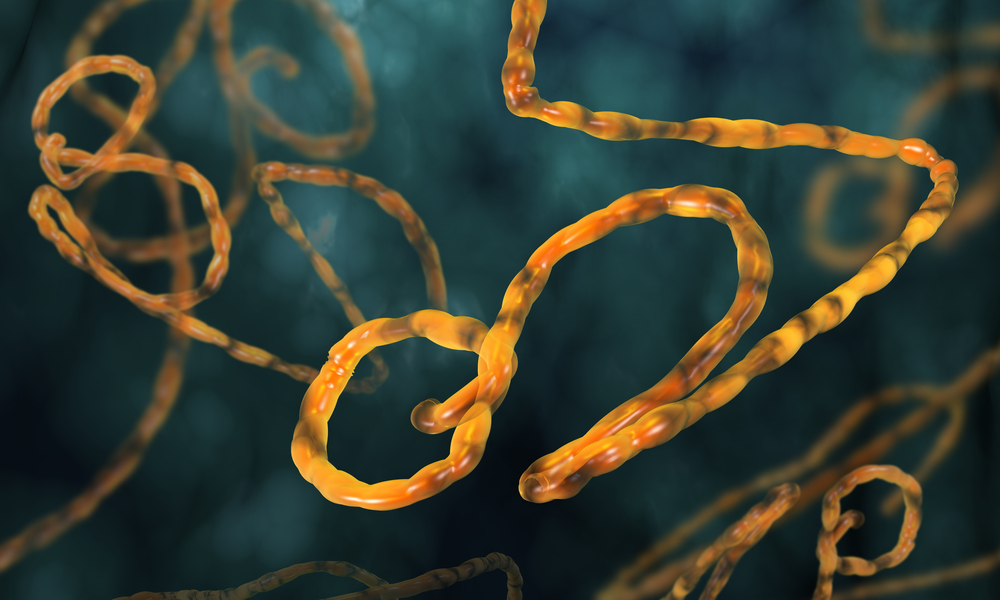 In the search for drugs that are effective against Ebola virus, scientists from SRI International and Collaborations Pharmaceuticals, Inc., led a study that used machine learning methods to identify tilorone dihydrochloride as a potential new inhibitor of viral infection. The low molecular weight immunomodulatory drug has shown promising efficacy with 100 percent survival in an Ebola virus disease model.
The authors of the study, published in Antimicrobial Agents and Chemotherapy describe the pharmacokinetic properties and anti-Ebola activities of tilorone dihydrochloride, which can be given orally and is already used as an antiviral against influenza, acute respiratory viral infection, viral hepatitis, viral encephalitis, myelitis, and other diseases in Russia.
Only a small number of potential drugs have shown efficacy against Ebola in mammalian disease models, and the identification of tilorone provides an option with a new mode of action and broad-spectrum activities. The anti-Ebola efficacy of the drug and its history of safe use in humans make it an excellent candidate for future development as a standalone drug or in combination with one of the current clinical stage anti-Ebola drugs.
"Tilorone was one of three molecules that had been previously identified using a Bayesian Machine learning model and found to be active in vitro against the Ebola virus, and now represents the first of these to be tested in vivo. This work was based on an initial high throughput screen published by SRI International and demonstrates how such data can be used to help develop new drugs," said Sean Ekins, CEO of Collaborations Pharmaceuticals, Inc.
"Further preclinical investigations will be undertaken to understand how the compound is working and we will also use additional disease models that better replicate the human disease," said Peter Madrid, Ph.D., director of Discovery Technologies, SRI International. "Tilorone has the clear advantages of widespread availability, broad-spectrum antiviral potential and a track record of safe human use for other viral diseases," This represents an example of computationally-driven drug repurposing that can lead to in vivo active molecules.