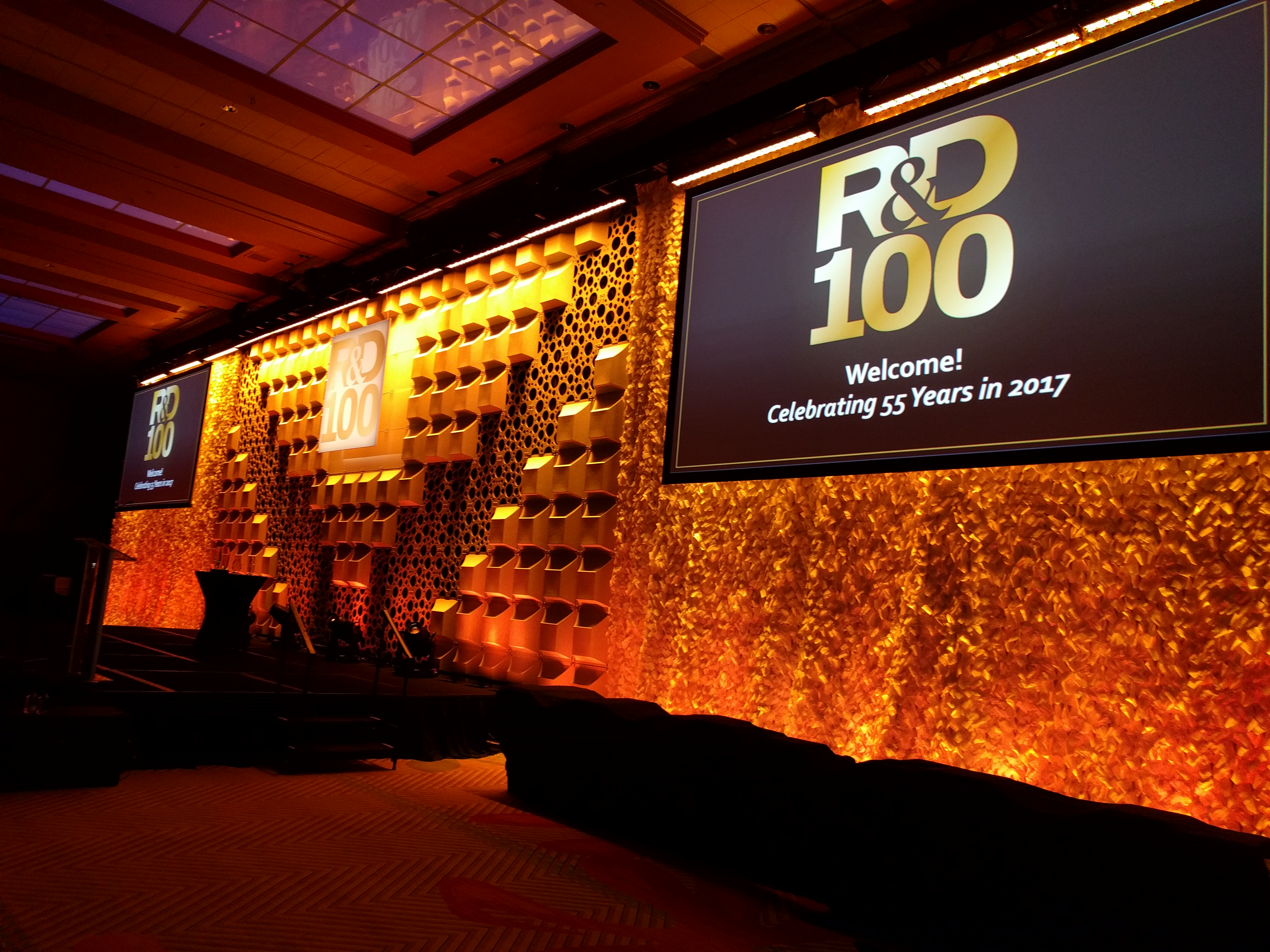 At this year's R&D 100 Awards—held Nov. 17 at the Walt Disney World Swan Resort in Orlando, Florida— R&D Magazine announced 13 Special Recognition Award recipients who were each honored at a black tie gala.
At that same event, R&D Magazine announced the 100 exceptional innovations selected as the 2017 R&D 100 Awards recipients, as well as the Editor's Choice R&D 100 Award recipients.
The R&D 100 Special Recognition Awards—now in their third year— focus on specific characteristics of a product or service that are especially impressive. Categories include Special Recognition: Corporate Social Responsibility; Special Recognition: Green Tech; Special Recognition: Market Disruptor—Products; and Special Recognition: Market Disruptor—Services.
"The Special Recognition Awards give R&D Magazine the opportunity to highlight individual innovations that have made a deep contribution to R&D in a specific and significant way," said Bea Riemschneider, Editorial Director for R&D Magazine. "This year's Special Recognition Award recipients all made impressive impacts in the areas they were recognized and have moved certain important avenues in research forward significantly."
Corporate Social Responsibility
The R&D 100 Award for Special Recognition: Corporate Social Responsibility honors organizational efforts to be a greater corporate member of society from a local to a global level. This year, R&D Magazine honored two companies—Ohio Soybean Council and MilliporeSigma— who received Gold and Silver Special Recognition Awards for Corporate Social Responsibility, respectively.
Ohio Soybean Council, along with co-developers Battelle, Kentucky State University and Redwood Innovations, received the Gold Award for EnzoMeal, a sustainable replacement for fishmeal.
Wild-caught fish and shrimp are becoming increasingly scarce. While soybean meal is an attractive alternative, it contains approximately 30 percent indigestible carbohydrates or anti-nutritional factors (ANFs), and high inclusion of conventional soybean feed can cause intestinal inflammation and organ damage to the fish. EnzoMeal—unlike other soybean meals on the market—has removed these ANFs. It can be included at much higher levels in fish diets and offers aquaculture farmers a sustainable, long-term and economically viable solution to address the lack of sustainability with current fish feeds.
MilliporeSigma received a Special Recognition Silver Award for Corporate Social Responsibility, along with co-developer Betabox, for its Curiosity Platform: Curiosity Labs and Curiosity Cube Programs. The program is an inquiry-based, hands-on science curriculum enabling students to engage in experiments used in real-world application, such as DNA extraction. It was launched by MilliporeSigma as part of their global science education program—known as the SPARK program— which aims to bring leading-edge science technology and experiments to students around the globe, inspiring them to seek a career in STEM.
The Curiosity Cube system is a 22×10-foot, retrofitted shipping container that has been transformed into a mobile science lab. The system visited more than two dozen stops across the United States in 2017, aiming to reach 350,000 students.
Green Tech
From an engineering and societal perspective, efficiency and environmental factors play an increasingly important role in the world today. The Green Tech Special Recognition Award was created to recognize those innovations that help make the environment greener and our goal towards energy reduction closer. This year Gold, Silver, Bronze and three Merit Awards were given in this category, a reflection of a lot of activity in this area this year in R&D.
The Gold Award for Special Recognition in Green Tech went to Argonne National Laboratory for its Oleo Sponge, a novel absorbent for cleaning up oil spills from water that can capture up to 90 times its own weight in oil. Created from low-cost materials, Oleo Sponge is reusable and can collect oil both above and below the water's surface. It is created by chemically treating a polymer foam such as polyurethane. As manufactured, polyurethane foam is not effective for removing oil from water. This is because the surface of polyurethane is neither oleophilic nor hydrophobic. Consequently, when polyurethane foam is immersed in an oil/water mixture, it will absorb both substances more or less equally. In contrast, Oleo Sponge is simultaneously highly oleophilic and highly hydrophobic, so that it rapidly and selectively absorbs oil from an oil/water mixture.
The Silver Award for Special Recognition: Green Tech went to The Dow Chemical Company for Ropaque NT-2900 Opaque Polymer for BLUE 4EST Thermal Paper, which was co-developed by The Koehler Paper Group.
Current thermal paper includes unsafe chemical developers and dyes and regulatory and consumer concern is driving a search for replacement chemicals. Ropaque NT-2900 Opaque Polymer for BLUE 4EST Thermal Paper eliminates the chemical developer entirely. Air-filled, reflecting spheres are chemically produced from otherwise clear polymers by precise control of particle size and void diameter. A layer of these polymer spheres effectively mask or hide an underlying colored layer. Exposure to heat collapses the voided particles making the colored layer visible. The resulting paper is compatible with existing thermal printers and, unlike conventional thermal paper, creates an irreversible image.
The Dow Chemical Company—Building & Construction also received the Bronze Award for Special Recognition: Green Tech for ECOGROUND, a waterborne acrylic-based adhesive system that fully replaces polyurethane adhesives for making rubberized running surfaces for track and field, playgrounds and walkways. ECOGROUND contains zero free TDI/MDI, is low VOC and low odor.
Two-part polyurethane (PU) and Silane-PU based adhesive technology have been the mainstream technology in the fabrication of all-weather synthetic track and field, playgrounds and walkways. However, a significant amount of organic solvents, processing additives and heavy metal catalysts have been used on the jobsite, which resulted in the discharge of large amounts of VOCs and harmful substances, such as heavy metals and carcinogenic aromatic molecules, into the environment. ECOGROUND offers an environmental-friendly option to current polyurethane technology.
Merit Awards for Special Recognition: Green Tech went to PPG Industries, Industrial Technology Research Institute (ITRI) and Dow Chemical.
PPG Industries received the award for PR-2870, a family of non-chrome corrosion inhibitive aerospace sealants. PR-2870 uses PPG's Permapol P-3.1 polythioether polymer and a unique corrosion inhibition package. As a replacement option for chromate-containing sealants such as PRO-SEAL 870 sealant—the industry standard for over four decades— PR-2870 sealant uses PPG-patented technologies to inhibit corrosion on metal. Its versatility allows it to be used in multiple aircraft applications, aerodynamic smoothing, structural surface sealing, fay sealing and pressure fuselage sealing.
ITRI received a Merit in the Special Recognition: Green Tech category for its LCD Waste Recycling System. This system integrates sequential separation and ppb-level purification nano-pore technologies to recycle liquid crystals, indium and glasses. It is a zero-waste, eco-friendly and cost-effective total solution for LCD waste treatment.
ITRI's processing method extracts liquid crystal for reuse, not only enabling the recycle of the indium and the glass which no longer contains liquid crystal, but also reducing the production of new liquid crystal, and therefore lessening environmental pollution. Extracting liquid crystal from waste LCD panel achieves a nearly 100 percent liquid crystal recovery rate. After purification, this liquid crystal can be reused in new LCDs or liquid crystal smart windows.
The final Merit in this category went to Dow Chemical for VORAGUARD, a novel polymer polyol that combines efficient load bearing with intrinsic flame retardant characteristics, allowing the production of halogen free foams with ultra-low emissions while still passing stringent flame-retardant tests for domestic furniture.
Flexible polyurethane foams are used for the production of mattresses and furniture, however, they require the addition of styrene-acrylonitrile (SAN) copolymer polyols to increase the foam load bearing properties. These copolymer polyols have a negative impact on foam flammability, requiring the addition of high levels of halogenated flame-retardants. An industrially viable technology was needed with major flammability performance improvements over the current commercial Combustion Modified High Resilient (CMHR) foam formulations based on SAN polymer polyols, without deterioration of the physical properties or severely restricting the application space in terms of attainable hardness and density.
Market Disruptor—Products
The Market Disruptor—Products Award was designed to highlight products that have the potential to be "game-changers"—displacing established technologies, shaking up their specific industries, or creating an entirely new industry. Some organizations have chosen to enter the R&D 100 Awards in a specific category and also submit their product for a special recognition for being especially disruptive.
This year, R&D Magazine recognized Gold, Silver, Bronze and one Merit Award recipient in this category.
The Gold Award recipient was Siemens Medical Solutions USA, Inc. and co-developers Siemens Healthcare, GmbH, for their Compressed Sensing Cardiac Cine.
Nearly every cardiac MRI examination includes a 2D cine scan for the assessment of left-ventricular (LV) function. Multiple breath-holds are required to establish a stack of 2D slices in the short-axis orientation covering the left ventricle. However, the recovery time between breath-holds extends the total duration of the exam, and several consecutive breath-holds may be too challenging for severely-ill patients. The Compressed Sensing Cardiac Cine allows left ventricular function to be assessed within a single breath-hold. With the high speed of Compressed Sensing Cardiac Cine, cardiac MRI has become accessible and easier for entire patient groups— in particular those with breath-hold difficulties and cardiac arrhythmias.
The Silver Award for Market Disruptor—Products went to HP, Inc. for the HP Jet Fusion 3D 4200 Printing Solution. The 3D printer allows businesses to meet same-day demands, create prototypes, produce functional parts and deliver mass customization. It features a processing station with fast cooling for improved time-to-part, end-to-end speed and a higher disk capacity for enhanced performance. It provides advanced and custom print modes to control mechanical, functional and aesthetic properties, accuracy and speed. This innovation could lead to a potential future where we can produce "Smart Parts" with embedded electronics and integrated traceability and intelligence can be produced.
Sensogram Technologies Inc. received the Bronze Award for Market Disruptor—Products for SensoSCAN, the first cuffless, wireless, wearable device that quickly, easily and accurately monitors vital signs. This technology can monitor blood pressure, heart rate, blood oxygen saturation and respiration rate through highly sensitive optical sensors. The captured and derived parameter values are then displayed on the SensoSCAN screen and transmitted via Bluetooth in real-time to a smartphone or tablet. The SensoSCAN application also allows the user to send the data to a dedicated secure cloud system that is accessible via the SensoSCAN web portal.
Finally, Los Alamos National Laboratory—with co-developer Naval Medical Research Center— received a Merit in this category for EDGE Bioinformatics, an intuitive, web-based platform that allows a biologist, researcher or physician to easily and quickly analyze complex genomics data.
EDGE—Empowering the Development of Genomics Expertise—Bioinformatics, consists of a broad variety of fully integrated and innovative bioinformatic software and algorithms, incorporated into a user-friendly, web-based system with preconfigured workflows
This data can then be applied to a wide variety of genome-sequencing projects, ranging from individual isolates (from a culture of a single organism) to much more complex metagenomics (microbiome) projects.
Market Disruptor–Services
Similar to its sister category of Market Disruptor—Products, the Special Recognition of Market Disruptor—Services was designed to highlight any service that will forever change the R&D industry or a particular vertical within the industry. This year, one company, Nielsen Marketing Cloud, received a Merit Award in this category.
Nielsen Marketing Cloud received the recognition for Nielsen AI, a system that scales modeling capability to tens of thousands of models. The system creates "look-a-like" models as soon as they are needed—often creating audiences within just a few hours after a model is initially launched. The models dynamically and seamlessly adapt in real-time to changes in market conditions or consumer behavior.
Nielsen Marketing Cloud builds models that create targetable audiences for use in digital marketing campaigns. These audiences are designed to effectively align with marketing objectives such as conquesting buyers of competitive products, better engaging current customers and reducing customer churn.
The R&D 100 Awards have served as the most prestigious innovations awards program in research and development for the past 55 years, honoring pioneers in science and technology. The 2017 R&D 100 Awards took place at the Walt Disney World Swan Resort in Orlando, Florida on Nov. 17, following the two-day R&D 100 Conference, which took place Nov. 16-17.
The R&D 100 Conference was launched in 2015 as an educational event that both celebrates the historic R&D 100 Awards and provides an educational opportunity that is unique for the R&D community. For conference details visit www.rd100conference.com.
For more information about the R&D 100 Awards or R&D Magazine, Bea Riemschneider, Editorial Director for R&D Magazine at Bea.Riemschneider@advantagemedia.com or R&D Magazine Editor Laura Panjwani at laura.panjwani@advantagemedia.com