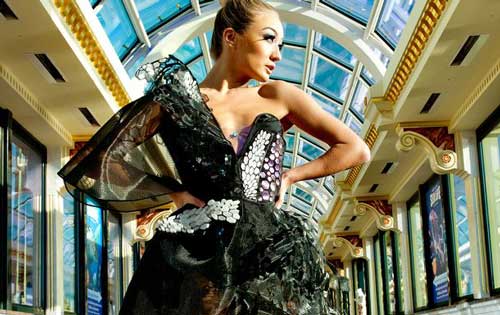 The new prototype garment showcases the future uses of the revolutionary, Nobel Prize winning material graphene and incorporating it into fashion for the first time, in the ultimate wearable tech statement garment.
The project between intu Trafford Centre, renowned wearable tech company Cute Circuit which has made dresses for the likes of Katy Perry and Nicole Scherzinger and the National Graphene Institute at The University of Manchester, uses graphene in a number of innovative ways to create the world's most high-tech LBD — highlighting the material's incredible properties.
The dress is complete with a graphene sensor which captures the rate in which the wearer is breathing via a contracting graphene band around the models waist, the micro LED which is featured across the bust on translucent conductive graphene responds to the sensor making the LED flash and changing color depending on breathing rate. It marks a major step in the future uses of graphene in fashion where it is hoped the highly conductive transparent material could be used to create designs which act as screens showcasing digital imagery which could be programmed to change and updated by the wearer meaning one garment could be in any color hue or design.
The 3D printed graphene filament shows the intricate structural detail of graphene in raised diamond shaped patterns and showcases graphene's unrivalled conductivity with flashing LED lights.
The high tech LBD can be controlled by The Q app created by Cute Circuit to change the way the garment illuminates.
The dress was created by the Manchester shopping center to celebrate Manchester's crown as the European City of Science and will be on display during the Manchester Science Festival at Museum of Science and Industry. The dress will then be on display at intu Trafford Centre; it will then be available for museums and galleries to loan for fashion displays.
Richard Paxton, general manager at intu Trafford Centre, says, "We have a real passion for fashion and fashion firsts, this dress is a celebration of Manchester, its amazing love for innovation and textiles, showcasing this new wonder material in a truly unique and exciting way. It really is the world's most high-tech dress featuring the most advanced super-material and something intu is very proud to have created in collaboration with Cute Circuit and the National Graphene Institute. Hopefully this project inspires more people to experiment with graphene and its wide range of uses."
Francesca Rosella, Chief Creative Director for Cute Circuit, says, "This was such an exciting project for us to get involved in, graphene has never been used in the fashion industry and being the first to use it was a real honor allowing us to have a lot of fun creating the stunning intu Little Black Graphene Dress, and showcasing graphene's amazing properties."
Dr. Paul Wiper, Research Associate, National Graphene Institute, says, "This is a fantastic project, graphene is still very much at its infancy for real-world applications and showcasing its amazing properties through the forum of fashion is very exciting. The dress is truly a one of a kind and shows what creativity, imagination and a desire to innovate can create using graphene and related two-dimensional materials."
The dress is modelled by Britain's Next Top Model finalist Bethan Sowerby who is from Manchester and used to work at intu Trafford Centre's Top Shop.
Source: University of Manchester