Problem: Cleanrooms are often very mechanically complicated spaces; they have air handling units (AHUs), process controls, and support piping winding through ceilings. This creates a challenge when controls need to be serviced and systems need to be modified.
The old method of management utilized cleanroom access doors, which were both costly to purchase and install; they also created another potential leakage point. Finding space to locate that door could be difficult and even moreso in small rooms. Installing one in the perfect spot? Usually a huge guess.
Consequently, planners installed as few doors as possible: when it was time to use the access door, it was not located in the right place, which required workers to crawl through a dark, tight-fitting plenum that could contain sharp objects. When the work was completed, that person would then have to crawl backward to the only exit. Not only was this very risky, but if anything went wrong the worker would have to cut a fixture out of the ceiling, creating a mess.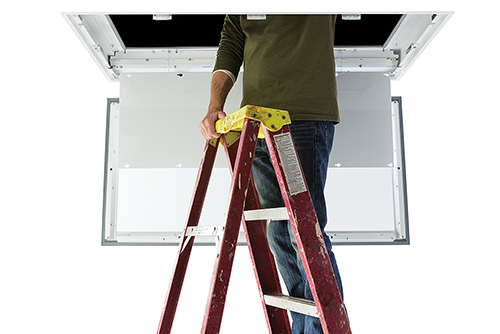 Solution: Kenall identified this as a major maintenance issue and designed the SimpleSeal CSEPO to solve it. Now every light fixture in the cleanroom is an access point to the plenum or interstitial space. The light fixture is sealed from both the room side and the plenum, so there is no breach between the room or plenum until it's needed.
When you want to access an area above the ceiling, simply open the fi xture as you normally would to service the fixture. Release the hinged, gasketed lens cover and allow it to hang down to one side of the fixture. This reveals an access door located in the rear Cleanroom Luminaire Offers Easier, Safer Access of this specially-designed luminaire. The door has captive hardware, that, when loosened, allows the gasketed and hinged access door to open and drop down alongside the lens cover. Since the luminaire is LED, there are no lamps to remove and the passageway is clear for entrance. This access opening is tested to 300 lbs. static load and measures 40-in. by 12.7-in. It is reinforced with an 18-gauge steel frame and a 20-gauge, seam-welded steel housing to prevent damage from anyone passing through, even if he or she is wearing a tool belt. When the work is completed, it takes only a few minutes to seal the opening up again.
The fixture comes with the highest ratings for cleanroom fixtures, including ISO-3, NSF2 food zone, IP-6x from above, and IP-66 from below. It also carries a limited 5-year warranty.
For more information, visit www.kenall.com.