Problem: In biopharmaceutical manufacturing, a major change has taken place with the ongoing and rapid growth of single-use products and systems for multiple bioprocessing steps. Biopharma manufacturers are finding that single-use flow paths offer an efficiency advantage by eliminating the need for cleaning between unit batch operations. In addition, the wider adoption of single-use products also increases the assurance of sterility by closing all the unit operations and transfer steps.
However, manufacturers still need to sample from, or add ingredients to their process fluid pathways, and do so in a closed aseptic method to ensure the sterility of the process. A new product introduced by Avantor now eliminates the inherit risks of open-vial sampling and small-volume transfer steps.
Recently, a manufacturer encountered some challenges in the way it performed its sampling. The company required a novel process-sampling solution for taking multiple conical tube samples at varying time points with only one connection to the process. In order to provide the highest level of sterility assurance, samples needed to be taken in a closed manner without using a biological safety hood. Test methods required samples to be drawn into multiple tube materials and at varying volumes.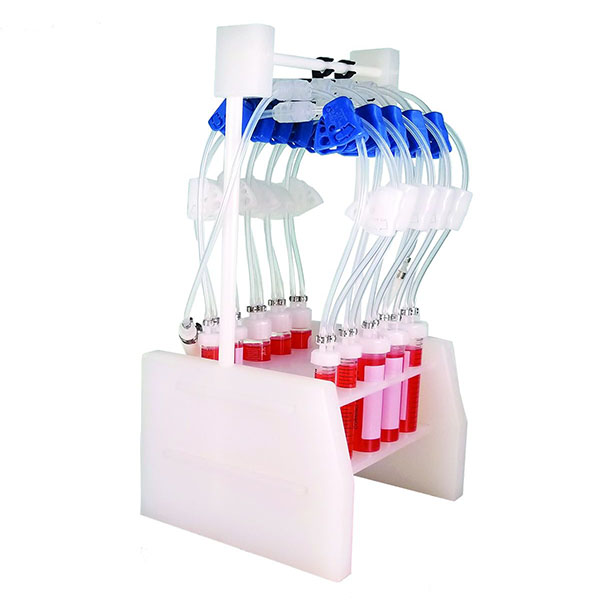 Solution: Avantor has designed a new generation of single-use products to simplify closed-system fluid sampling and small-volume, closed-system fluid transfers. The company created its OmniTop Sample Tubes Manifold sampling system to satisfy these unique requirements. This GMP-compliant, customized single-use solution was designed, prototyped and commercialized using Avantor's custom design and fast prototyping processes.
A proprietary ten-leg, platinum-cured, silicone-molded manifold was designed as the spine of the system, directing fluid to each of the conical tube collection vessels. The conical tube was purposefully selected as the collection vessel because of its wide acceptance in the bioprocessing space, but also because of its rigid structure to support pressure and vacuum facilitating liquid flow.
Avantor's conical OmniTop Sample Tubes with OctoCaps improve workflow efficiencies and increase overall process sterility assurance by providing a closed-system solution for biologic sampling. The uniquely designed cap has multiple port options, including with or without internal dip tubes for process addition steps.
Utilizing the latest technology in 3-D design and printing, Avantor engineering and development teams were able to create a new family of conical tube caps quickly and efficiently, greatly reducing the time to production for their client. The user interface and method of sample collection was also considered in the design, to assure sterility without sacrificing sampling efficiency. A custom holder using washdown-acceptable, GMP-compliant plastics protects the tubes and supports the manifold. This allows for total fluid collection with zero hold-up.
The OmniTop Sample Tubes Manifold was integrated into the manufacturer's work stream. Almost immediately, the customer saw an increase in process efficiency and sterility assurance. This single-use sampling platform can be used at multiple points in their process with the flexibility to allow a multitude of sampling options.
For more information about this product, visit VWR part of Avantor at www.vwr.com/single-use.