Problem: Regulations such as EU GMP Annex 1, FDA Aseptic Filling Guide, and ISO 14698, require the manufacturer to provide frequent or continuous monitoring to take place as close as possible to critical control points without adding any risk to the final product or the test. 1
Current sampling methods, such as passive air sampling, do not have the capability to fulfill all regulatory requirements. They either provide a snapshot of the manufacturing process, or impose a risk to the process through frequent handling interference when performed close to sampling points identified by risk assessment.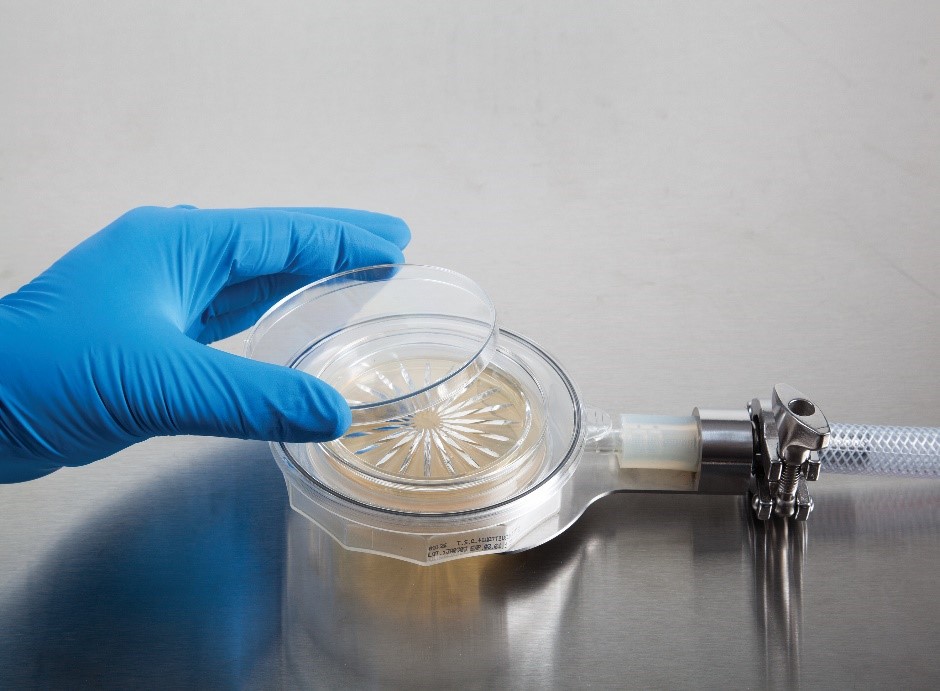 Solution: Continuous monitoring is a worldwide-accepted standard for non-viable particle testing, and can now be applied to viable air monitoring with the BioCapt Single-Use from Particle Measuring Systems. With this single use device, monitoring effectiveness is improved while removing most handling interference.
A complete 8-hour manufacturing process is commonly monitored with plates collecting at 100 LPM for a total sample volume of 1 m³ per plate. With this method, only small snapshots of the entire manufacturing process are known. At lower flow rates of 25 or 50 LPM with more frequent and longer monitoring times, it is observable that manufacturers have a better understanding of the total process, but incomplete data. With the BioCapt Single-Use, a 2-hour sampling at 25 LPM allows for the usage of only 4 units to monitor the full process. The statistical relevance of the total sampling is increased, with a sample volume of 12 m³ with 4 devices.
The BioCapt Single-Use viable air monitoring device is a demonstrable solution to the dilemma of continuous monitoring of critical control points without impacting product or test quality. With an increased sampling time of 2 hours and a flow rate of 25 LPM, the device collects 3 m³ of air.
The single use technology allows for minimal manipulation and maximal security of the manufacturing process. Applying the Single-Use in a critical environment can help to improve the quality of the process, reducing overall cost.
For more information about this product, visit www.pmeasuring.com.