Problem: The continued expansion of life sciences research in laboratory and medical facilities has dramatically boosted the demand for nitrogen and carbon dioxide for use in sample growth applications. As the total number of incubators employed per facility increases, engineers are shifting toward centralized gas delivery systems to supply the entire building with the required nitrogen and carbon dioxide. Incubators demand continuous supply of low pressure gas between 6-15 PSIG to ensure optimal function. This dynamic becomes problematic given that line pressure from centralized gas sources are typically between 50 and 100 PSIG, yet pressures above 30 PSIG can cause incubator components to fail, filling an enclosed space with asphyxiating gases. Therefore, it is vital that the system integrates precise, high-purity controls at the point-of-use to accurately control final line pressure and isolation to the incubator.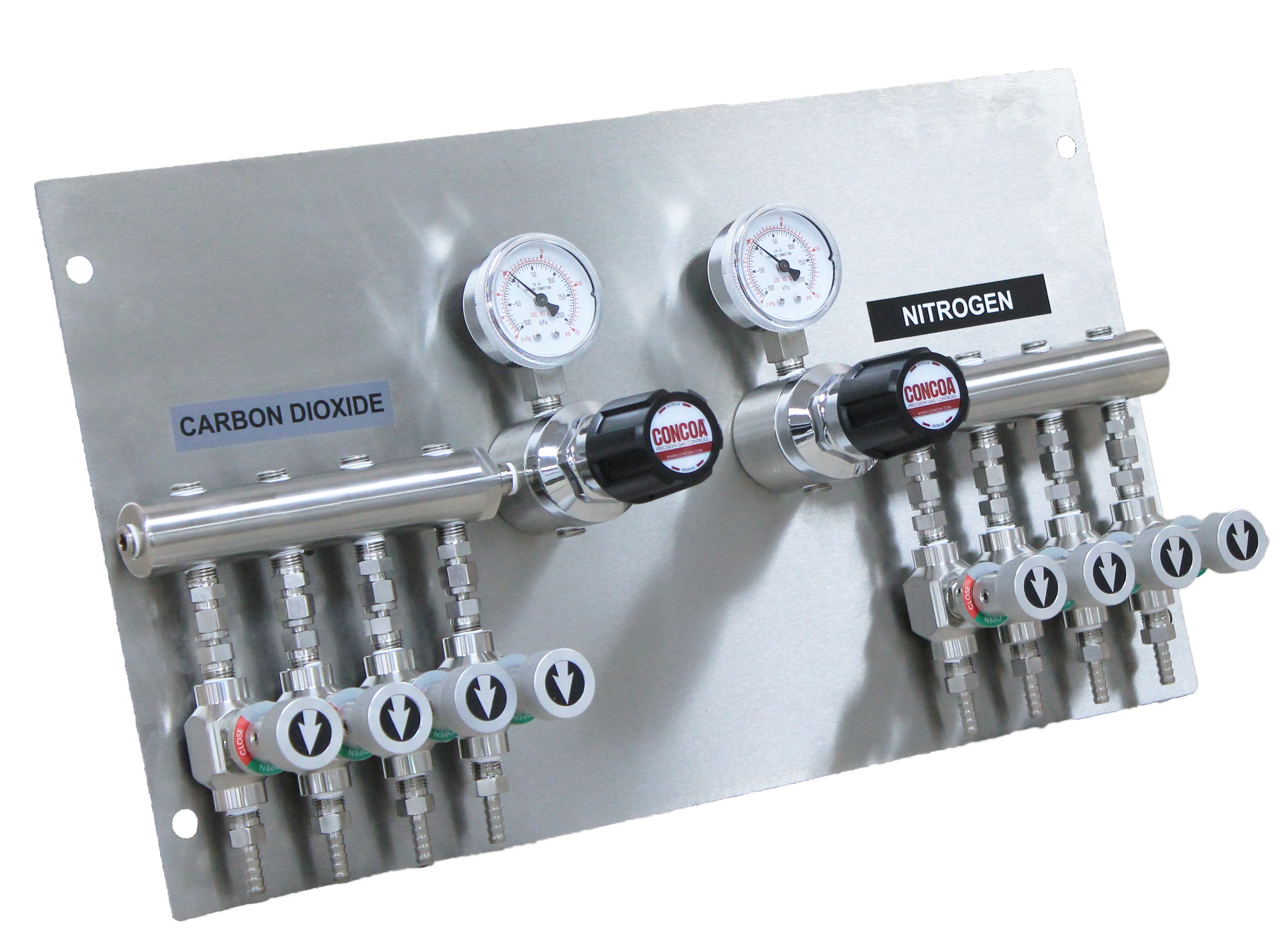 Solution: The CONCOA 55S Series Point-of-Use Panel provides final line pressure control and individual isolation for up to four streams of carbon dioxide and nitrogen, making it ideally suited to supply four individual incubators or two dual-stack incubators from a single panel. The traditional method of employing individual pressure controls and isolation valves for each gas stream makes installation and maintenance problematic. This method dramatically complicates piping system design and layout while increasing potential leak paths from the increased number of connections required. Conversely, the 55S streamlines the installation process by limiting the number of connections, and packages the necessary components into a single, efficient panel at the point-of-use.
Incorporating regulators conforming to CGA E-4 standards for high-purity design capable of exceeding 10,000 cycles, the 55S provides enhanced accuracy to control final line pressure to the incubator. The dual-surface diaphragm increases the equipment's precision and response even at extremely low pressures and flow rates, while simultaneously extending component lifecycle. Capable of handling full cylinder pressure, the panel's regulators eliminate damage to incubator components typically associated with over-pressurization from gas source equipment failure.
In tandem with precise final line pressure control, preserving gas purity is essential to maintaining optimal incubator conditions in order to mitigate the risk of damaging expensive and possibly irreplaceable samples. Utilizing regulators and isolation valves with metal-to-metal seals capable of achieving 1×10¯⁹ helium leak integrity, the 55S eliminates the opportunity for ambient air to be drawn into the system and for process gas to escape to the laboratory environment.
As life sciences research continues to evolve, precision, control, and efficiency will continue to play a role in planning and installation of gas delivery equipment for incubator applications. This dynamic will increasingly emphasize the need for accurate, high-purity equipment at the point-of-use that is capable of supplying multiple incubators from a centralized gas source.
For more information, visit www.concoa.com.