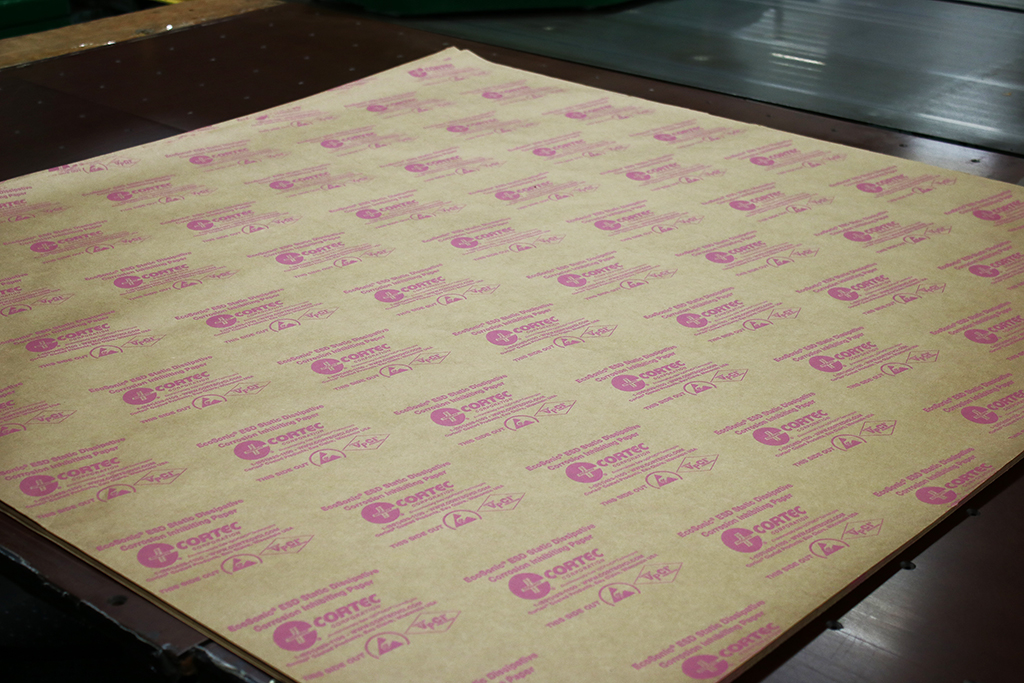 Problem: Static electricity, tiny particles, and corrosion can damage sensitive electronic components during production. Special precautions must be taken in Electronics Manufacturing Service (EMS) industries to provide electrostatic discharge (ESD) protection, limit the number and size of particles in cleanrooms, and prevent corrosion. Despite tight controls, workbenches and trays may lack ESD-safe properties and require additional ESD protection before coming in contact with parts. ESD foam is commonly used to interleave layers of components stacked in deep trays for transport to the next stage of assembly or inspection. However, this foam may lack needed strength to keep parts from pinching each other when stacked many inches deep for highest transfer efficiency. Components will also be at risk for flash corrosion if the foam lacks corrosion inhibitors.
Solution: Cortec Corp. has developed an electrostatic dissipative paper to protect electronic parts from static charge and corrosion while enabling a more efficient work process. EcoSonic ESD paper protects against static electricity buildup through the use of an environmentally friendly coating made from soybean oil. The coating performs better on the static half-life test (a test performed in a very low or no humidity environment) than papers with conventional anti-stat coatings (alkyl ammonium chlorides, typical ethoxylated amines, typical imidazolines, phosphate esters, and nonionic based antistat coatings). The antistatic protection is heat stable in excess of 392°F (200°C) and pH stable (between 2 and 11) at temperatures above 100°F (38°C) for several days. EcoSonic ESD Paper conforms to performance specifi cations for MILPRF-81705D (Static Decay Rate and Surface Resistivity). EcoSonic ESD Paper is available in large widths and can Protecting Sensitive Electronics from Corrosion and Static Electricity be used to create temporary work surfaces. If the ESD properties of a workbench are uncertain, a simple solution is to lay a piece of EcoSonic ESD Paper on the surface to create an ESD-safe workspace. Electronic components and tools can then be laid on the temporary work surface, shielded from potential static discharge.
EcoSonic® ESD Paper is useful for lining trays and interleaving components in multiple layers for more efficient transport. EcoSonic® ESD Paper protects the components from static electricity and keeps parts from physically touching and damaging each other from layer to layer. The strength of the paper will allow many parts to be layered on top of each other without the same puncture or pinching concerns that arise with ESD foam.
EcoSonic ESD paper protects parts from corrosion through Vapor phase Corrosion Inhibitors (VpCI) in the paper coating. VpCI molecules vaporize from the coating and adsorb on metal surfaces enclosed in the paper, forming a microscopic protective layer on ferrous and non-ferrous metal components. When the parts are unwrapped, the VpCI molecules evaporate, leaving the components uncontaminated and free of corrosion.
EcoSonic ESD Paper conforms to performance specifi cation MIL-PRF-3420H (VCI treated wrapping materials, opaque) and also provides contact and barrier phase corrosion inhibition. It is effective against galvanic corrosion and aggressive humid, SO2, and H2S environments. The paper is non-toxic; free of nitrites, phosphates, and silicates; biodegradable; and fully recyclable.
For more information about this product, visit www.cortecvci.com.