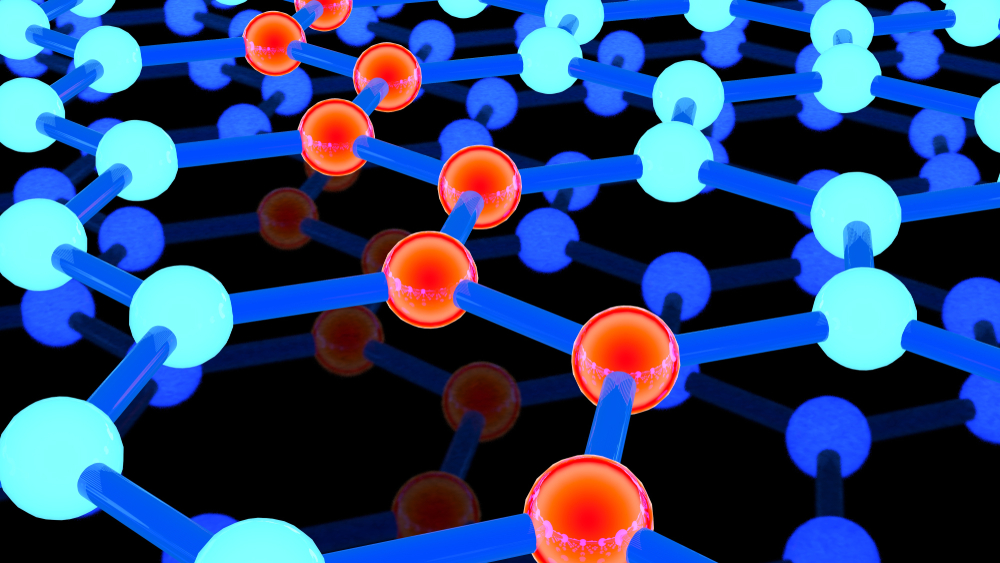 There has been a lot of buzz lately around graphene—a 2D material made from a single layer of carbon atoms tightly bound in a hexagonal honeycomb lattice.
It's the thinnest substance ever made, with extremely interesting properties. It conducts electricity faster at room temperature than any other known material and it can convert light of any wavelength into a current. It is light, flexible and extremely strong.
Since graphene was first isolated over a decade ago, researchers have been investigating it for a variety of innovative purposes. Over the last month, R&D Magazine took a closer look at different graphene applications as part of our "Special Focus" series.
Energy
Researchers have long been investigating the use of silicon in lithium-ion batteries, as it has the potential to greatly increase storage capacity compared to graphite, the material used in most conventional lithium-ion batteries. By some estimates, silicon could boast a lithium storage capacity of 4,200 mAh/g—11 times that of graphite.
However, despite its benefits, silicon has stability changes due to its tendency to rapidly expand and contract when used in a lithium-ion battery. Researchers at the Global Graphene Group are working to overcome this problem by utilizing a graphene and silicon composite anode. Our article "Graphene, Silicon Combo Could be Key to Next-Gen Lithium-Ion Batteries" features an exclusive interview with Bor Jang, PhD, the CEO and Chief Scientist of Global Graphene Group, who explains how the technology works.
Material Science
Another, perhaps less conventional, graphene pairing is also making a splash. Researchers from Brown University are utilizing graphene oxide to strengthen alginate—a natural material derived from seaweed—and create a unique hydrogel that will become stiffer and softer in response to different chemical treatments. This innovation could be used in several applications, including to make more robust smart materials that react to their surroundings in real time.
Our article "Using 3D Printing, Researchers Combine Graphene Oxide, Seaweed- Derived Material to Create Smart Hydrogel" explains how the researchers used a 3D printing technique called stereolithography to make this new material.
Automotive
Sometimes less is more. While, graphene has been long considered as a way to improve strength in the automotive space, its high cost has made it economically prohibitive. However, for the first time ever, one of the nation's leading car companies has determined how to use just a small amount of the extremely strong material to greatly improve a variety of under the hood components.
In our article, "Ford, XG Sciences Go Under the Hood with Graphene" we outlined Ford's recent partnership with XG Sciences and Eagle Industries to use graphene nanoplatelets in polyurethane-based fuel rail covers, pump covers and front engine covers. The research group found that using a small amount—less than half percent—of the "miracle material" was efficient to improve variety of under the hood vehicle parts. The nanoplatelets can be used to a reduce weight, achieve better heat conductivity and decrease noise.
Biotech
The sensitive nature of graphene also makes it a good candidate to detect and diagnose diseases. A team of researchers from the University of Illinois at Chicago (UIC) has found that due to the phononic properties of graphene, it could be used to diagnose ALS and other neurodegenerative diseases in patients by simply shining a laser onto graphene that has a patient sample on it. We outlined their work in the article, "Graphene Could Help Diagnose ALS."
The researchers found that graphene produced a distinct and different change in the vibrational characteristics of graphene when cerebrospinal fluid from ALS patients was added compared to what was seen in graphene when fluid from a patient with multiple sclerosis was added or when fluid from a patient without a neurodegenerative disease was added.
Technology
Finally we took a more in-depth look at how graphene could be created for specific applications, with an expert-written piece titled "Seeding Large Single-Crystal Graphene for Photonics Applications," by the Graphene Flagship.
Researchers at the Graphene Flagship—a European Union research initiative, tasked with taking graphene from laboratories into the market—have discovered a novel approach to developing graphene that has potential in photonics, optoelectronics and electronics applications, specifically data communications.
The method is designed to grow single graphene crystals by chemical vapor deposition on copper "seeds" deposited using optical lithography. It results in graphene that is more mobile than graphene grown in a continuous film and also exhibits electric properties that are comparable to those achieved from pristine graphene exfoliated from flakes.
Next Month's Special Focus
Be sure to check back next month when we take a closer look at virtual reality (VR), a growing technology trend that has applications far outside of just entertainment. Scientists are now utilizing VR to virtually step inside their experiments and innovate and design new cutting-edge concepts.