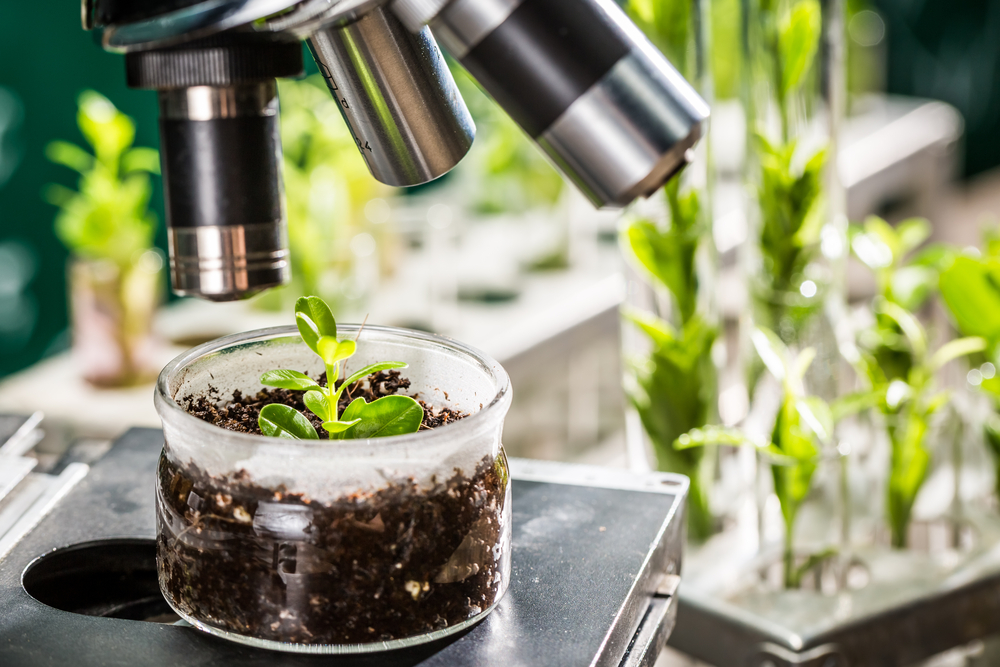 Plants are one of the most valuable resources available on Earth. And while their role as a food source may be their most recognizable contribution, they have significant potential beyond that, with uses in the medical field, within material science, as an energy source, and in many other industries. During the month of June R&D Magazine took a special focus on the potential of plants, and the work of plant scientists, across science and technology.
Improving growth
We kicked off our coverage focusing on the basics of plant science—optimizing growth. In our article, "Fungi Transplants Could Help Restore Native Plants on Shrinking Prairie Land," we highlighted a solution to the growing problem of endangered prairie land. Currently, less than 1 percent of prairie land remains. Researchers from Washington State University have discovered that transplanting mycorrhizal fungi may offer a solution, as the plant forms a symbiotic relationship with many plant roots, which helps stabilize the soil, conserve water and provides a habitat for many birds and insects.
Water scarcity also puts plant life at risk. As part of our focus on plant science, we highlighted researchers from the U.S. Department of Energy's Oak Ridge National Laboratory (ORNL), who have identified a common set of genes that drought-resistant plants all use to survive in semi-arid conditions. This finding—which were explained in "Researchers Discover Genes That Make Plants Drought-Resistant"—could pave the way for scientists to bioengineer drought-resistant crops.
Energy applications
Once growth is optimized, plants can be utilized for a variety of innovative applications. One area where plants have particularly significant potential is within the energy sector.
As part of our focus on plant science, Philip T. Pienkos, PhD., from the National Renewable Energy Laboratory, explained the work by his laboratory on a multi-product algal biorefinery concept in the article, "New Algae Biofuel Production Method Could Someday Compete with Petroleum." In the article, Pienkos explains how the concept is designed so no component of the microalgal biomass go to waste.
The lesser known crop sorghum—a member of the grass family and a close relative of maize— is also a particularly attractive feedstock for bioenergy, in part because of its versatility. Thomas P. Brutnell, the Director of the Enterprise-Rent-A-Car Institute for Renewable Fuels at the Donald Danforth Plant Science Center outlines its potential in "Sorghum-Based Biofuels Key to Sustainable Bioenergy Economy." He explains that up to 30 percent of sorghum produced in the U.S. is used for ethanol production.
While E. coli is often associated with negative outcomes, researchers at Sandia National Laboratories found a way to utilize the bacteria to create inexpensive biofuels
We outlined their research with lignin— the component of plant cell walls that gives them their incredible strength—in the article, "Bioengineered E. Coli Could Yield Cheaper Biofuels." The researchers applied their understanding of natural lignin degraders to the bioengineered bacteria. E. coli typically does not produce the enzymes required for the conversion process. However, the researchers coaxed the bacteria into making enzymes by adding an inducer to the fermentation broth. The researchers were able to circumvent the cost of the inducer by engineering the bacteria so that lignin-derived compounds like vanillin can serve as both the substrate and the inducer.
While plants have a lot of potential within the alternative energy sector, the need to conserve plant life for food and other uses while still providing clean energy sources must also be a considered. In China where farmland is limited, it isn't practical to use farmland where crops could be growth for solar energy generation. To solve this problem, researchers at the University of Science & Technology of China (USTC) have developed the Agriculture Solar Concentrator Photovoltaic, a new type of solar panel system that allows for simultaneous plant growth and solar energy generation on the same land. We outlined this technology—a former R&D 100 winner—in our article, "Solar Panel Innovation Allows for Plant Growth, Energy Generation Simultaneously."
Other applications
In addition to energy sources, plants are also an important resource in the development of next-generation materials. In our article, "Super Wood Maintains Light Weight Despite Steel-Like Strength," we highlighted researchers from the University of Maryland who have developed a new method to make regular wood more than ten times stronger and tougher. The resulting material—which the researchers refer to as 'super wood'—is as strong as steel, but six times lighter. It also requires 10 times more energy to fracture than natural wood and can be bent and molded at the beginning of the process.
Medical marijuana and industrial hemp
And of course we couldn't feature plant science without tackling one of the sector's hottest, and perhaps most controversial, topics—marijuana. We featured the viewpoints of one the leaders at the University of Mississippi—the only federally authorized grower of marijuana that can supply the plant material needed explore medicinal marijuana research— in the article, "Nation's Only Federally Authorized Grower Provides Marijuana for Research Community."
We also highlighted research into industrial hemp, a cannabis sativa plant species that has been breed to have extremely low levels of tetrahydrocannabinol (THC), the principal psychoactive constituent of cannabis. In our article, "Researcher Explains How Industrial Hemp Could Transform Multiple Industries if Restrictions Were Lifted," we featured insights on the potential of industrial hemp for food sources, textiles, building materials, and pharmaceuticals, from Lawrence B. Smart, PhD, a professor and program leader in the Horticulture and Plant Breeding and Genetics departments at Cornell University.
Next Month's Special Focus
Next month R&D Magazine will take a closer look at supercomputing and high-performance computing, an exciting industry which is transforming data, science and research applications across the board.