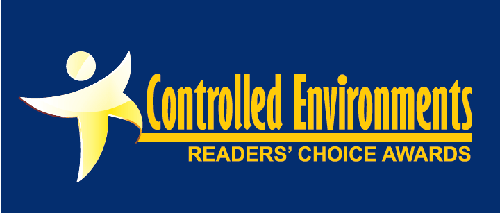 Controlled Environments is proud to announce its fourth annual Readers' Choice Awards for the Best Cleanroom Products of the Year. These awards celebrate excellence in product design and performance for tools, equipment, and materials used in all areas of clean and controlled environment performance and operation.
We need your help determining the winners!
If you have already subscribed to our newsletter, you should have received a ballot earlier this week to vote for the 2018 Readers' Choice Awards. There is no fee to vote. Simply click on the link in the email and vote for your favorite cleanroom products of 2018. You can vote for as many products as you want. The top vote-getter in each category will be featured in the May/June 2018 issue of Controlled Environments and online at www.cemag.us. They will also be celebrated on our Facebook, Twitter, and LinkedIn pages. Winners will receive a certificate as a Best Cleanroom Product of 2018.
Not a subscriber to Controlled Environments? Sign up now! It's free! Not only will you receive our daily newsletter containing the latest stories about cleanrooms, contamination control, and related topics such as nanotechnology, graphene, and aerospace, but as a subscriber you will also receive the exclusive link to vote in our Readers' Choice Awards contest. Sign up today, and watch your inbox next week for voting information. https://subscriptions.cemag.us/?cmpid=navlink
As an added thank you for participating in the Readers' Choice Awards, voters will be invited to enter their contact information at the end of the voting ballot for a chance to win a $50 American Express gift card.
If you're not yet a Controlled Environments newsletter subscriber, sign up today!