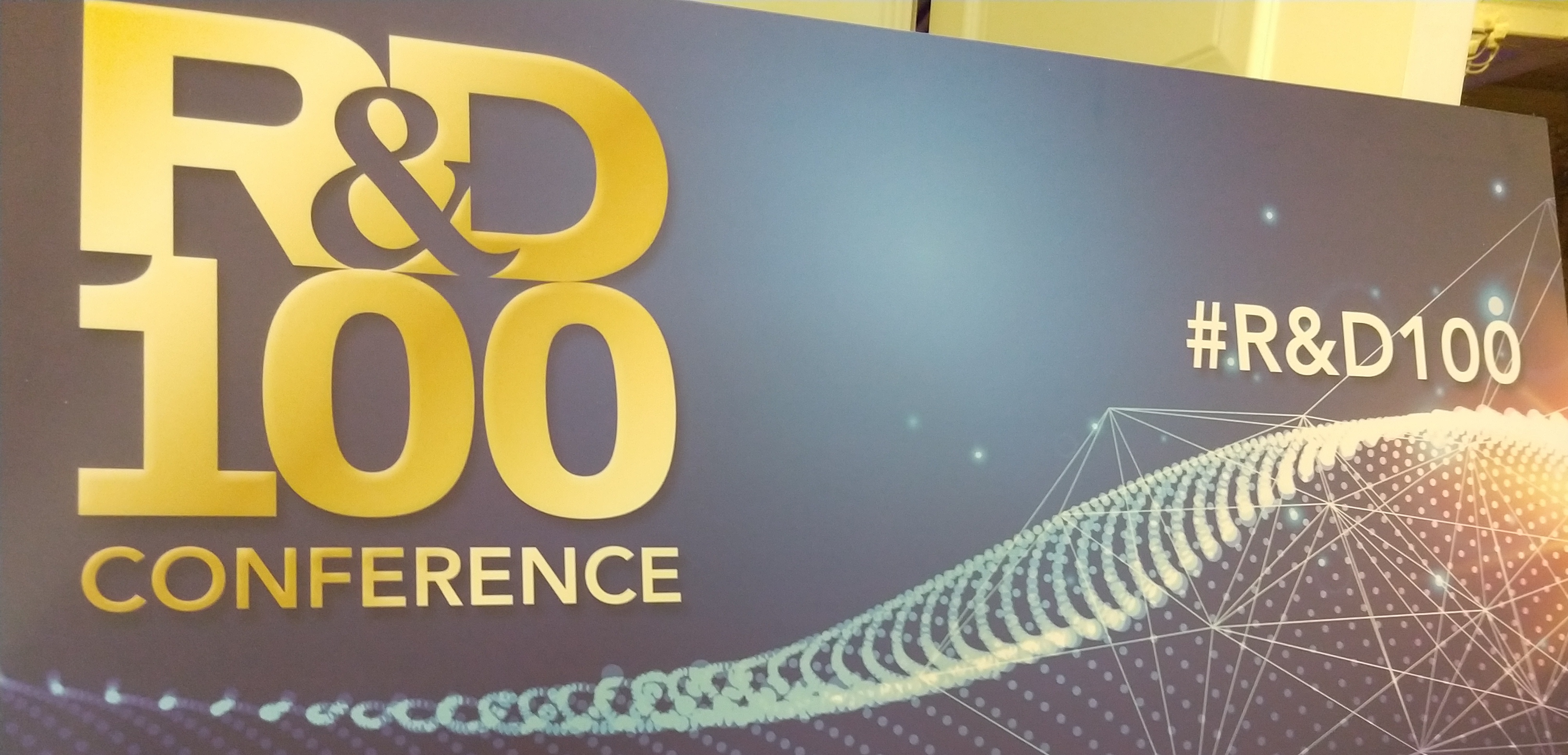 Opening day of the 2018 R&D 100 Conference continues this afternoon, Thursday, Nov. 15, with a focus on how to best utilize up-and-coming technology to further R&D, as well as the strategies needed to transform R&D efforts into real-world innovations.
The day's events will conclude with an exclusive preview of R&D Magazine's 2019 Global R&D Funding Forecast.
The fourth annual 2018 R&D 100 Conference is taking place at the Waldorf Astoria Orlando in Orlando, Florida, culminating in the R&D 100 Awards gala event on the evening of Nov. 16.
The afternoon portion of conference day one kicks off with a special event—the Tech Scout Relay Panel (1:15 – 2:30 p.m., Grand Ballroom)—which feature technology transfer experts discussing the identification, channeling and leveraging of emerging technologies into business opportunities to deliver organic growth, initiate spin-off companies and support open innovation
The panel includes George Gibson, MBA, the Director of Technology Scouting for Xerox Corporation; Jack G. Abid, a shareholder and member of the patent prosecution group at Allen, Dyer, Doppelt, & Gilchrist, PA.; Laura A. Schoppe, MBA, MSE, the president of Fuentek, LLC, a consulting firm that provides intellectual property (IP) management and technology transfer services; and Vicki A. Barbur, PhD, Senior Director, IP and Technology Commercialization, Commercial Business at BATTELLE.
Drawing on their own professional experiences, the panelists will discuss what makes technologies attractive to scouts/venture companies, the challenges scouts encounter and how R&D institutions can help and support scouting efforts.
They will also discuss the significance of business cases/market intelligence, if they are essential to pitch and if so, what is needed for the most successful pitch.
Management science of R&D spending
Following the Tech Scout Relay Panel is the second general session of the conference, "Corporate R&D Spending: Art or Science?" (2:50 – 3:40 p.m.; Grand Ballroom) presented by Bradford L. Goldense, the CEO of Goldense Group, Inc. (GGI), a consulting, education and research firm that provides advanced business and technology management services to companies that create and commercialize products.
In his talk, Goldense will discuss how management science is changing, and how companies can take advantage of those changes to improve their ROI.
"The big point that I want to try and make with this talk is that we are on the cusp of a huge leap forward in the advancement of the management science of spending," said Goldense in an interview with R&D Magazine. "Most everything that has been going on for about the last five decades has been about measuring the results of things after whatever amount of spending is put in. Because of the long lead time from when you invest to the time when you then go through your development cycle—there can be seven to eight years from the time you put your money out until the time you get your ROI— it is very hard to really do good science about what amount of R&D spending yields R&D results."
Attendees to Goldense's talk will learn how big data and analytics can be utilized to tackle these challenge, providing companies with a better understanding of the effects of downward and upward swings in R&D spending on business results. His talk will also explore the merits of the alternative parameters that constitute R&D success and identify new-to-industry KPIs that companies are currently trying out.
AI and big data in drug discovery
Matthew Clark, PhD will follow-up Goldense's talk by taking a slightly different look at the impact of big data, this time in the life science space.
In his talk, "AI, Machine Learning and Big Data for Life Sciences: The Good, the Bad and the Ugly" (3:50 p.m. – 4:30 p.m.; Madison)—a breakout session in the R&D Global Trends track—Clark will provide an overview of best and worst practices in applying artificial intelligence, machine learning and big data to life sciences to facilitate the successful use of these techniques in today's competitive drug discovery environment.
Like Goldense, Clark also believes there are an art and science aspects to AI and big data.
"Everyone is talking about AI, especially now, and big data as an art as well as a science," said Clark in an interview with R&D Magazine. "It is not as mathematically precise as it is portrayed in the media. It requires some artistry to apply it well."
Recently there has been a great increase in applying machine learning and natural language processing techniques across the sciences—from early preclinical drug discovery to selecting precision treatments for individual patients. In his talk, Clark will discuss the significant future benefits this technology could have.
"Machine learning is a more powerful way to combine data to predict almost anything, like what drugs could be used to treat a rare disease or what kind of adverse effects the drug might have early in its progress," said Clark. "It will allow them to more easily predict that drug A is likely to be toxic, but drug B is not. Then we should focus our research on drug B and make those types of decisions earlier in the process."
He will also discuss the pitfalls in the application of AI and big data—challenges that can be overcome with better normalizing of vocabularies and mining from multiple data sources.
Industry partnerships
Also this afternoon as part of the R&D Innovations & Leadership track, the breakout session, "Lift-Off: How Fostering Industry Partnerships Fueled a New Cutting-Edge University Laboratory for Aerospace Advanced Manufacturing," (3:50-4:30; Vesey) will take place. This unique presentation features a case study highlighting the importance of industry partnerships. The case study focuses on the creation of Aerospace Engineering Sciences Building at Metropolitan State University (MSU) Denver. The Aerospace Engineering Sciences Building is a true partnership with Colorado's industry leaders in advanced manufacturing and aerospace. The university engaged industry in the programming and design of the labs and in building the curriculum for its new Advanced Manufacturing Sciences Institute.
The talk is presented by several involved in the laboratory's development: David C. Pfeifer, AIA, a partner at Anderson Mason Dale Architects and Erin Hillhouse, AIA, a senior associate at Anderson Mason Dale Architects, as well as Tina Wells the acting as Director of Facilities Planning and Space Management at MSU Denver and Vicki L. Golich, PhD, the Provost and Executive Vice President of Academic and Student Affairs at MSU Denver..
In this session, the panel will present a tangible case study of partnership between higher education, local civic leadership and industry that demonstrate the inherent project opportunities from strategic visioning, conceptualization and financing through design and construction. A lot can be learned from this experience, said Hillhouse in an interview with R&D Magazine.
"We hope that attendees will be able to see how a grass-roots level of partnership between industry and academia can fundamentally shape an academic building and the program it houses," said Hillhouse. "Furthermore, the project is a model for a very fluid, flexible design process that allows an institution and regional industry partners to learn how to work with one another and shape space within which to do this together."
Global R&D Funding Forecast
Day one will conclude with an "Exclusive Preview of the 2019 Global R&D Funding Forecast: Planning for Future Growth and Investments in R&D," (4:40 – 5:30 p.m., Grand Ballroom) presented by R&D Magazine's contributing editor Tim Studt, MBA.
The attendees of the R&D 100 Conference will get a first-hand look at the future of R&D spending as we reveal the highlights of the much-anticipated 2019 Global R&D Funding Forecast. This annual in-depth report is created by the editors of R&D Magazine and is published annually at the beginning of each new year as a public service for R&D executives, scientists, engineers and research managers for the preparation of their annual R&D budgets and the evaluation of the current R&D environment.
R&D Magazine's Global R&D Funding Forecast, published since 1959, is a significant indicator of future trends and provides key insights and unduplicated information that examines the specific challenges for 2019—including potential winners and losers in R&D and the potential short- and long-term consequences of these investments. This exclusive report provides reliable data on more than 100 countries, along with summaries on industrial sector trends, academic research and technology regions around the globe as well as detailed spending plans by U.S. government agencies.
In October, R&D Magazine received a Folio Eddie Award for the B2B Editorial Use of Data category for the 2018 Global R&D Funding Forecast.
"We are ecstatic to be recognized by Folio as a winner in the B2B Editorial Use of Data category for our in-depth 2018 Global R&D Funding Forecast, which is a report utilized by R&D influencers in industry, government and academia each year," said Bea Riemschneider, Editorial Director for Science & Technology at Advantage Business Marketing.
About the R&D 100 Conference and R&D 100 Awards
In 2015, the R&D 100 Conference was launched as an educational event that both celebrates the historic R&D 100 Awards and provides an educational opportunity that is unique for the R&D community. The R&D 100 Conference features multi-disciplinary General Sessions specially geared for today's R&D leaders—and up-and-coming leaders—to help them tackle the most important challenges facing the R&D community right now. The conference creates a rare collaborative space where ideas flow and networking is truly special.
The R&D 100 Awards have served as the most prestigious innovations awards program in research and development for the past 56 years, honoring pioneers in science and technology. The 2018 R&D 100 Awards will be presented at the R&D 100 Awards Gala event on the evening of Nov. 16.
Together, the 2018 R&D 100 Awards Gala event and the 2018 R&D 100 Conference explore significant strides in R&D, offering an enriching experience for R&D professionals of all levels and specialties. For registration and conference details visit: www.rd100conference.com.
About Advantage Business Marketing
The R&D 100 Conference, R&D 100 Awards and R&D Magazine are brought to you by Advantage Business Marketing.
Established in 2006, Advantage Business Marketing helps more than one million innovators at science, design engineering and manufacturing companies discover and procure new technologies that give them a competitive advantage. The team provides measurable marketing solutions delivering the news, trends and analysis needed for business success. Advantage leverages proprietary behavioral-data intelligence to strengthen brand awareness, provide thought leadership, drive traffic and deliver qualified leads