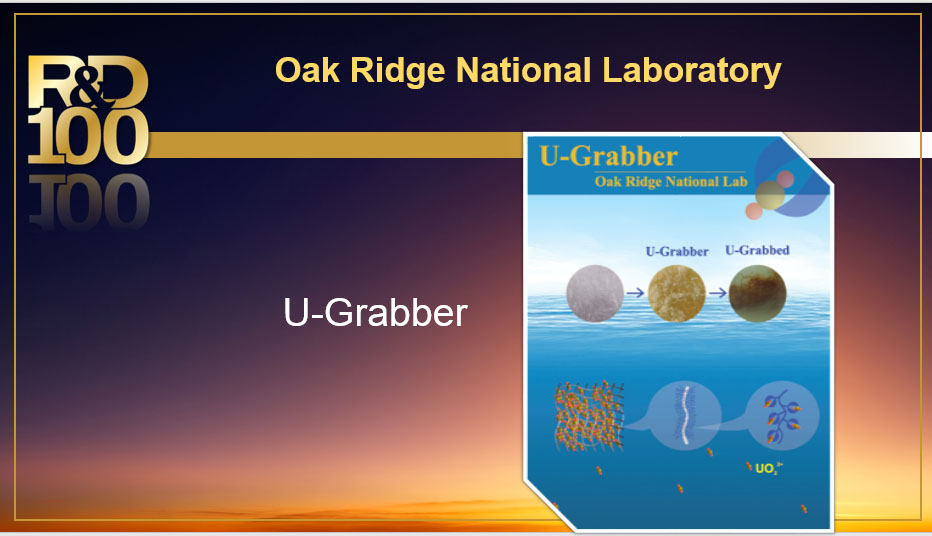 The U-Grabber, created by Oak Ridge National Laboratory, is a superior adsorbent material for the remediation of water and the extraction of commodities from traditionally difficult-to-mine sources, such as oceans, fly ash, mine-tailings ponds and geothermal brines, including fracking water. The innovative product was the winner of a 2016 R&D 100 Award.
The material is made from polyethylene fibers, similar to PVC, woven into braids and grafted with chains of a uranium-attractive chemical called amidoxine. The free-floating uranium in the water binds with the fibers and can be extracted, purified and sold as nuclear fuel.
The fibers can be reconstituted and reused, are cheap to produce at scale and can bolster dwindling terrestrial supplies of uranium. They can also be customized to bind with other toxic or valuable aqueous metals, providing an environmentally sound method of cleaning bodies of water such as mines or fly ash ponds.
The adsorbent works by immobilizing (i.e., coordinating) metals on the highly grafted polymer. The use of metal coordination (i.e., grabbing the metal out of solution) allows U-Grabber to extract metals of interest, such as uranium, from solutions where traditional adsorbents are cost prohibitive.
These solutions include high salinity solutions, such as geothermal brines, or high sulfate streams, which include some municipal water sources. This allows municipalities and companies to remove more toxic metals than with traditional adsorbents. The many deployment options available (e.g., braided fibers, nonwoven fabric, powder) allow the adsorbent to be deployed in the optimal manner, realizing extraction efficiency and lowering cost. U-Grabber's durability permits multiple uses, while the adsorbed metals can be selectively removed and sold as commodity chemicals.
Each year for more than 50 years, R&D Magazine has honored the 100 best innovations in research and development. We are currently accepting applications for the 2017 R&D 100 Awards. Innovators with an exceptional product developed between January 1, 2016 and March 31, 2017 should apply. Submissions close April 14, 2017
For information on the 55th Annual R&D 100 Awards and to enter visit http://www.rd100conference.com