Problem: The aseptic transfer of liquids between different grade cleanrooms poses a challenge in facility design and operation. Fluids must be quickly and efficiently transferred from one physical area to another, with minimized risk of contamination and maximized efficiency and cost effectiveness. This is especially true for cGMP facilities adapting single-use technology as an operating platform over traditional stainless steel piping systems.
In a case study, the main objective of the customer was to rapidly transfer fluids from one cleanroom to another with minimal contamination risk.
In addition, the customer, a drug manufacturer, wanted to reduce operator error.
Multiple options were assessed as potential solutions. The first choice explored was the use of mobile bag totes, as these were already used in multiple areas of the process train.
Another solution investigated was an in-wall iris diaphragm valve; the customer's employees were familiar with its use in other applications.
The third solution evaluated was a different style of in-wall, cleanroom portal that incorporated single-use tubing and other components and could be manufactured for the varying wall thicknesses between each of the facility's cleanrooms.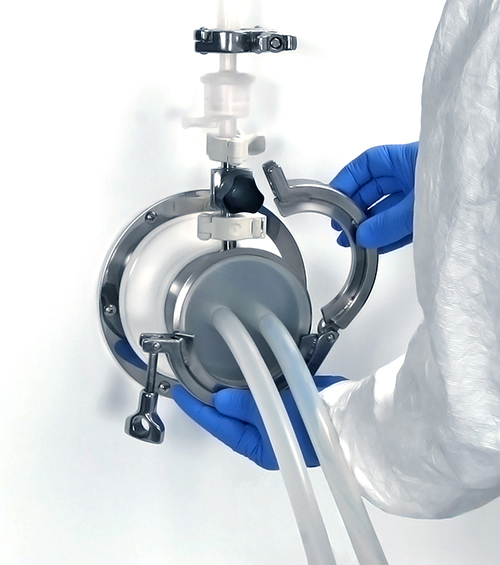 Solution: While the use of bag totes was easily implementable, the risk of bag breakage and costly product loss during transfer was considered too great. Broken bags involve the chore of attempting to wipe down or clean a filled bag inside a tote. Tote-based systems are labor intensive, vulnerable to human error and can be difficult to scale up efficiently. This choice was deemed unacceptable.
The iris diaphragm valve was also dismissed. This option did not create a sufficient barrier between cleanrooms, because the equipment did not make a consistent seal around the tubing's outer diameter. Additionally, there were cleaning validation concerns due to the areas of entrapment created by multiple moving parts.
The AdvantaPass system, however, did meet the customer's requirements of barrier separation between cleanrooms because of its patented silicone gasket design.
The system also safely allowed multiple fluid transfer lines within one single-use tubing assembly — something an iris diaphragm valve is not designed to do. This multiple line capability increased efficiency, especially when coupled with the use of high-pressure silicone tubing.
The AdvantaPass system, designed to meet operating pressures, flow rates, and product compatibility, was able to be used with minimal training and experience and with no specialized tools due to the intuitive and straightforward connections and seals involved.
The customer identified each tube in the assembly with a colored cable tie to further reduce the potential for operator error.
With its ability to accommodate multiple lines of tubing through a single wall portal, the AdvantaPass system proved to be the ideal solution for the facility design and processing challenges faced by this customer.
AdvantaPass®, NewAge®, and NewAge Industries AdvantaPure® are trademarks of NewAge® Industries Inc.
For more information about this product, visit www.advantapure.com.