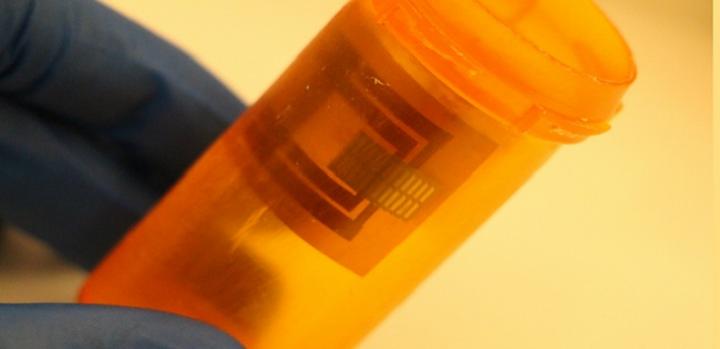 New sensors that can identify tampering, potential overdoses and unsafe pill storage conditions could help create a smart pill bottle, and potentially put a dent in the growing opioid addiction problem plaguing the U.S.
Researchers from the King Abdullah University of Science & Technology (KAUST) in Saudi Arabia have created a stretchy sensor—made of an antistrophic conductive tape with a range of touch-sensitive applications—that could have a number of new usages, including a smart pill bottle.
The sensor is assembled by sandwiching tiny silver particles between two layers of adhesive copper tape. This set up is nonconductive in its normal state, but makes electrical connections that can send signals to an external reader when pressed by a finger.
"Similar devices have been used in flat panel displays, but we've made them simple to build and easy to use by almost anyone," KAUST doctoral student Sherjeel Khan said in a statement.
One of the benefits of a smart pill bottle, according to the researchers, is it can help combat the growing prescription drug abuse problem and prevent opioid overdoses.
To prove that they can tackle this problem, the researchers 3D-printed a lid with light-emitting diodes that counts the number of pills in the bottle with paper-based humidity and temperature sensors taped to the underside. They then sealed the bottle with an outer layer of conductive tape that acts as a touch sensor.
When someone tries to break into the bottle or the insides become moist to a dangerous degree, a flexible control module inside the bottle can analyze the signals and deliver warnings on the situation to a cell phone through a Bluetooth connection. The conductive tape also can be used as part of a modular sensor system.
According to the researchers, poor adherence to prescription medications causes approximately 125,000 deaths per year. In addition, prescription drug overdoses contributed to 47,055 deaths in the U.S. in 2014.
To overcome these cost challenges, the researchers demonstrated the possibility of developing temperature and humidity sensors using paper by drawing circuits with conductive ink, bringing the overall cost down.
While the KAUST team has focused on a smart pill bottle, they believe others can use their new sensors to create new opportunities in health care and other applications. There are several other ways a wearable sensors could improve some of the issues threatening human health, including having the technology in hospitals to track influenza outbreaks in real time. However, it is currently difficult to inexpensively manufacture these types of sensors, which is especially a problem in low-income populations that suffer disproportionately from epidemics.
"If you give researchers a 'do it yourself opportunity,' there is a good chance they will use it to expand the horizon of electronics and empower humanity with better technology," Muhammed Hussain, a professor in the computer, electrical and mathematical science and engineering division at KAUST, said in a statement.
The study was published in Flexible and Printed Electronics.