Enter the 2019 R&D 100 Awards!
The Evolv Edge, from Evolv Technology, was a 2018 R&D 100 Award winner and was named one of the 2018 Editor's Choice R&D 100 awardees. All of the R&D 100 Awardees were announced at the R&D 100 Awards Gala held in Orlando, Florida on Nov. 16, 2018.
The R&D 100 Awards have served as the most prestigious innovation awards program for the past 57 years, honoring R&D pioneers and their revolutionary ideas in science and technology.
Submissions for the 2019 R&D 100 Awards are now being accepted. The deadline to submit an entry for the 2019 R&D 100 Awards is May 6, 2019. Any new technical product or process that was first available for purchase or licensing between January 1, 2018 and March 31, 2019, is eligible for entry in the 2019 awards.
Start or complete your entry now: visit: https://rd1002019.secure-platform.com/a For more info: www.rd100conference.com/awards
The last decade has shown that mass shootings can occur anywhere, from churches and movie theaters to malls and elementary schools.
However, the Evolv Edge, produced by Massachusetts-based Evolv Technology, could bring peace of mind to those looking to socialize, worship and learn without fearing the worst, while also eliminating the need for sluggish security methods like metal detecting gates and security guards with metal detecting wands.
The Evolv Edge is a walk-through security screening system that scans up to 950 people per hour for firearms and other dangerous weapons automatically—including person-borne improvised explosive devices (PBIEDs), suicide vests and belts—without requiring people to go through the cumbersome task of stopping, slowing down, removing coats, and emptying their pockets. Visitors can also keep common articles such as keys, wallets and mobile phones on their person. The innovation was a 2018 R&D 100 Award winner and was named one of the 2018 Editor's Choice R&D 100 awardees.
In an interview with R&D Magazine, Evolv CEO Mike Ellenbogen explained how the inspiration for the Edge comes from his experience in 25 years of security in the aviation market.
"There is a ton of science, technology and thought that goes into protecting aircrafts from threats and we started Evolv to start bringing some of that way of thinking to soft target protection," Ellenbogen said. "With the rise of Al Qaeda and ISIS and the active shooter challenge here in the U.S., we really wanted to look at bringing advance center technology, machine learning and connectivity into protecting places that we all expect a level of safety in. We are looking at developing a system that can automatically detect today's threats, which are explosives and firearms and other weapons, but without creating another bottleneck."
How it works
The system uses a multi-sensor approach that includes active millimeter waves, passive magnetic sensors and optical sensor technologies. The millimeter waves are transmitted out toward a person, where they penetrate their clothing, bounce off their skin and are sensed by receivers in the Evolv Edge system in seconds to identify a potential threat. If there is an explosive device or a sufficient amount of dielectric material on a person, the millimeter waves are transformed by the material to produce detectable signatures on the data. Evolv Edge can map these signature disruptions to locations on the person and generate localized suspicious areas when an anomaly is present. The potential threat is highlighted on an image of the person being scanned so that guards make fewer mistakes and can process people more efficiently and less intrusively.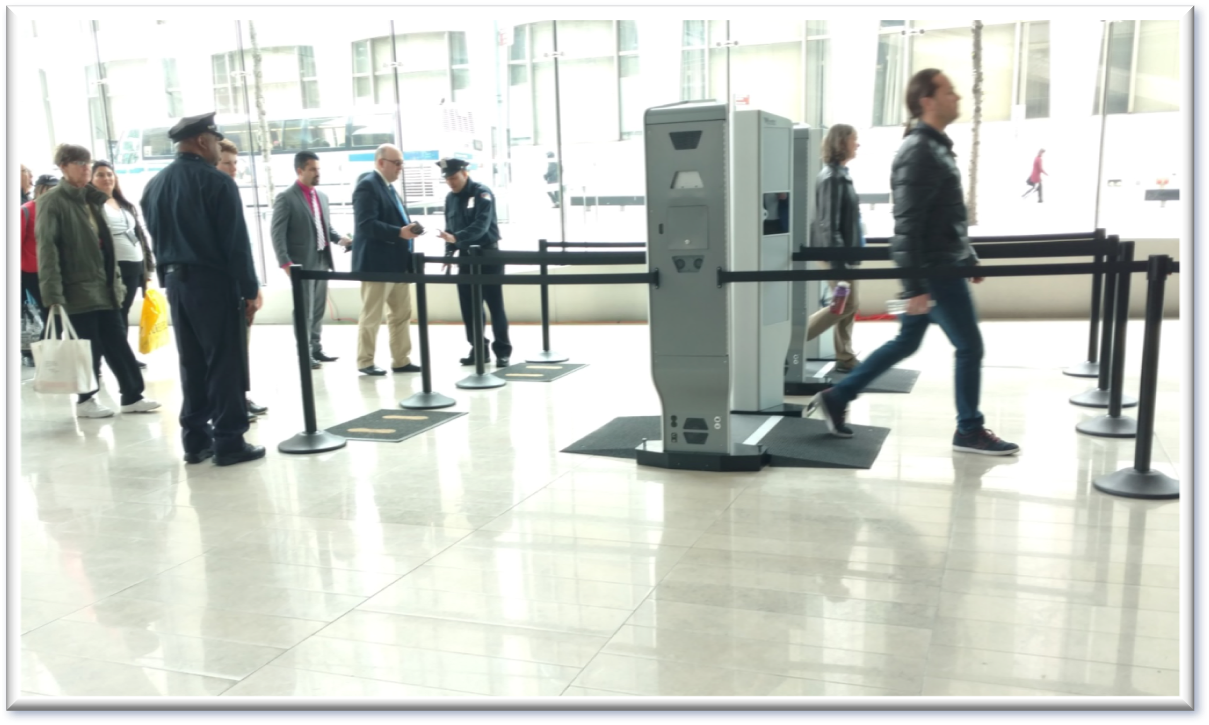 The system combines walk-through firearm and explosive detection with facial recognition for high throughput and soft target protection. While not forcing visitors to stop and empty their pockets, Edge captures digital images that an operator can match to a given area of concern. The system also matches facial recognition technology to identify possible "known wolves" on a pre-authorized watch list.
The Edge employs active millimeter-wave (MMW) synthetic aperture radar (SAR) through a fully-coherent multi-offset network of antennas in frequency-modulated continuous wave (FMCW) operation across the 24-28.8 GHz band. The system also has two arrays of passive magnetic-field sensors that produce a 3D map of the magnetic field vector-components as they are disrupted by someone passing through the system.
Optical cameras and ranging sensors are then used to detect and track subjects throughout the scanning process, while LED displays direct the subjects through the system with straightforward signage. A software system will allow Evolv to add additional sensors and integration capability—such as the facial recognition features.
Alec Rose, the Chief Technology Officer at Evolv, explained that idea behind the system with multiple sensors is like casting multiple nets, where a certain threat may bypass one net, but ultimately is caught by the next.
"There are different benefits and disadvantages to different technologies and we couldn't hitch to just one to really accomplish the whole goal of covering the entire threat space in a non-invasive and threatening way," he said in an interview with R&D Magazine.
"There is certain levels of sensors you have to put in for the imaging and we found ways to address [this] that we found were more effective," he added. "Then on top of that there is a metal detection component and also optimal cameras. So each one these has aspects that it is really good at and some pieces that it is less."
The Evolv Edge had been in development for three years before it was piloted with 30 different customers in 2017.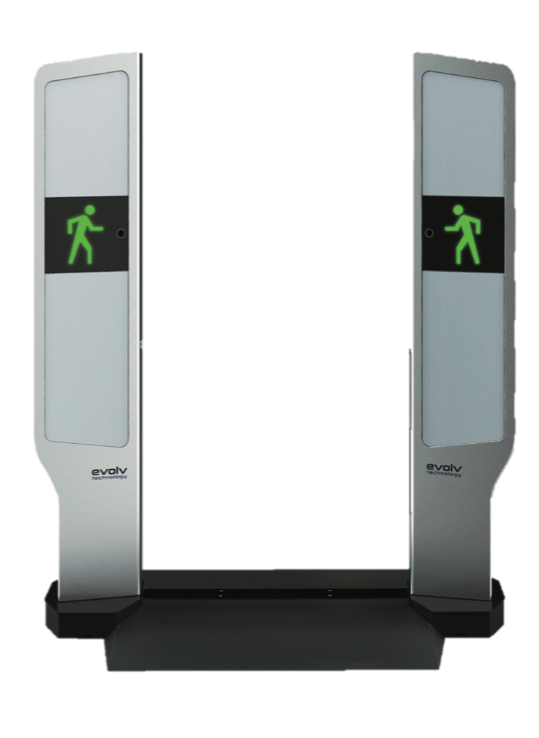 The Evolv Edge can also connect to other systems within a network, automatically locking turnstiles or doors. It can also connect directly to emergency responders that come to diffuse a situation.
According to Ellenbogen, the overarching goal of the Edge is to provide security without drawing the stigma of previous unpopular security measures.
"It is primarily for performing arts centers, stadiums, at hospitals, housing of worship, places where the only tools that have been available for the last 80 years have been a guard with a wand in his hand or those walk through metal detectors that everybody hates," he said. "We really want to provide a capability for any venue that wants to create a safe environment without turning themselves into the green zone in Baghdad."
"Sticking with the church for example, people don't want to turn that into a fortress like experience for a visitor," he added. "You want something that is open and welcoming and at the same time is overt enough that it lets somebody with malintent know that they are going through a screening process, but you don't want it to be so overt that it ruins everybody's day."
For the Edge to properly work, organizations will still likely staff guards that are capable of disarming and disabling potentially dangerous situations. However, Edge provides an enhanced security system at a lesser cost than other techniques and measures and will ultimately require less staffing than what would otherwise be used without the Edge. Rose estimated that Edge costs about a third of what it would cost to use the metal detecting gates commonly used for airport security.