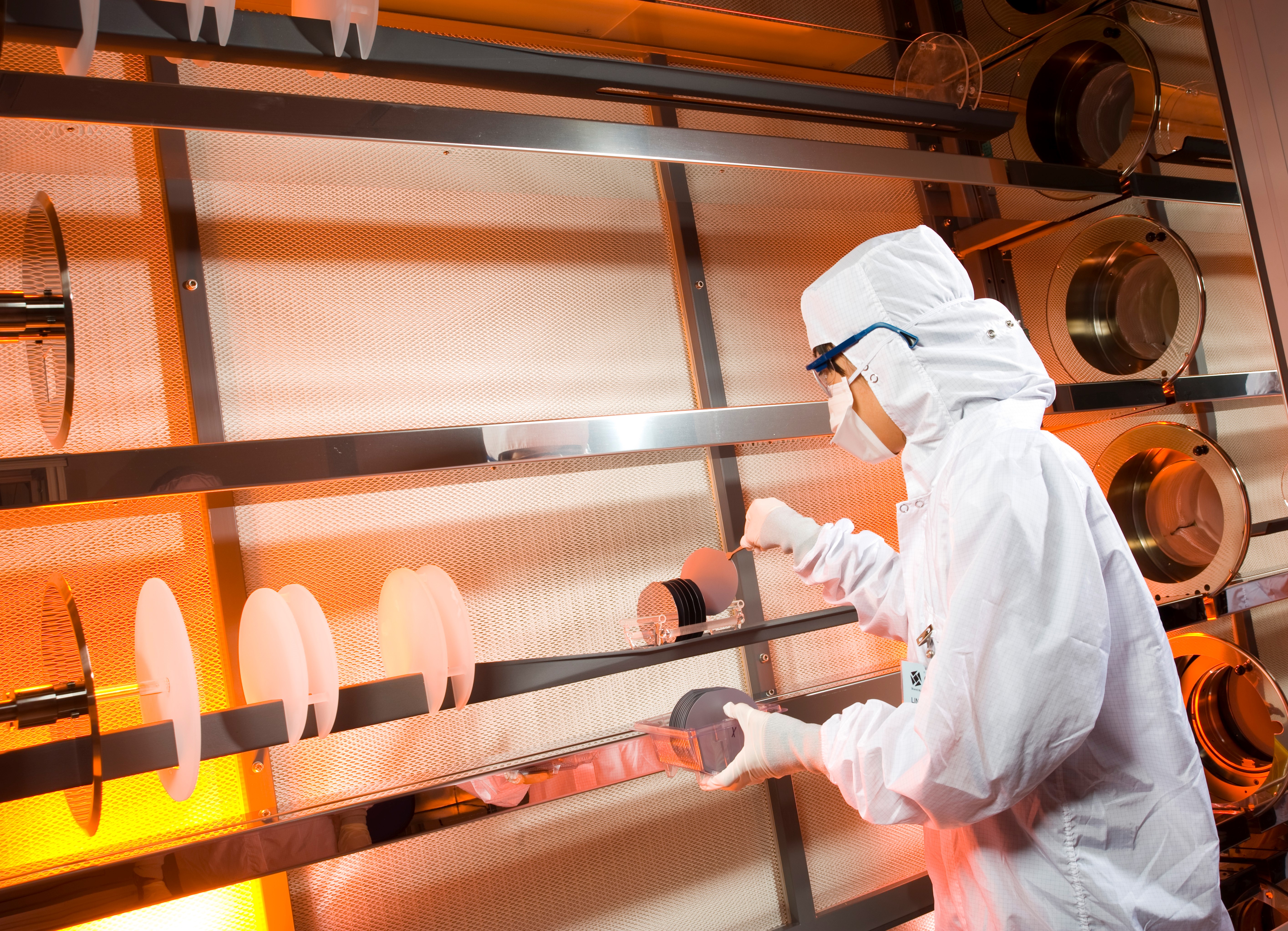 Though the nanometer is small (10-9 meters), nanotechnology is getting big, as the fields that benefit from nanotechnology advances are growing and diversifying.
Innovative applications range from the development of nanomaterials to diagnose and treat cancer, to the design of nanostructures that enhance the efficiency of solar cells. To support and drive the growth of nanotechnology, in 2015, the National Science Foundation provided awards to 16 sites and formed the National Nanotechnology Coordinated Infrastructure (NNCI). These sites make up a network of affordable nanotechnology resources at 27 institutions across the United States (US). NNCI sites are open to the public and include nanofabrication and characterization facilities, technical staff, and faculty experts. North Carolina State University (NC State), the University of North Carolina at Chapel Hill, and Duke University (Duke) collaborated to establish one of the NNCI nodes: the Research Triangle Nanotechnology Network (RTNN). The three RTNN institutions anchor North Carolina's Research Triangle region, which is one of the most productive commercial nanotechnology regions in the US. Collectively, the RTNN houses nine core nanotechnology fabrication and characterization facilities containing over 200 major tools in laboratory space exceeding 40,000 ft2. Work is supported by 45 technical staff whose expertise encompasses broad aspects of nanotechnology.
The RTNN is enhancing access to university nanotechnology resources by overcoming common barriers that prevent researchers from using them—for example, awareness of the facility, cost to access, and distance to the facility. The ultimate goal is to expand the impact of nanotech facilities—enabling discovery and the generation of knowledge, facilitating technology transfer, and creating jobs. The network is specifically reaching out to people outside the existing user base—researchers who are working in fields that have not traditionally used these facilities like agriculture and textiles, scientists from primarily undergraduate institutions, and even "new" scientists like high school students.
To increase awareness of nanotechnology facilities, the RTNN developed a free online course open to students from around the world. "Nanotechnology, A Maker's Course" gives an overview of nanotechnology tools and techniques and shows demonstrations within RTNN facilities at all three institutions. The goal of the course is to introduce nanotechnology concepts to the students and give them a better sense of the nanotechnology tools' capabilities. Armed with this knowledge, students can then become RTNN users. During the course, students explore eight modules, each focused on a different fabrication or characterization technique such as vapor deposition or scanning electron microscopy (SEM). Students first learn the underlying science of a specific technique or instrument. The lectures make the information accessible to a large audience, using simple language and relatable analogies to everyday things. In-lab demonstrations of the equipment follow each lecture with an explanation of each step in the process.
The Kickstarter Program helps to mitigate financial concerns by supporting initial use of the facilities by new users. Program applicants submit a short proposal describing the project, how the facilities will be used, and their financial need. Applications are reviewed quickly, typically within one week. This feature is critical for many applicants such as start-up companies, whose research and development may rely heavily on work in the facilities as well as community college and K-12 students who need immediate access for a school or class project.
The majority of participants in the Kickstarter program hail from small colleges and universities, start-up companies, and K-12 students and classrooms. Smart Material Solutions, a Research Triangle start-up, used the program to develop prototypes for its "nanocoining" process. This process creates nano-structured surfaces that are invisible to the eye but can manipulate light or repel water. For example, the surface can be made anti-reflective to increase the energy of solar cells. College students from Haverford College and high school students from the North Carolina School of Science and Math utilized the program to characterize samples they made in laboratory courses. Students also learned more about how tools function and interacted with technical staff experts. Participants from small colleges have studied ancient carbon-based ink in Greek paper, investigated the eardrums of primates, and developed hybrid nanomaterials for water remediation. This program has supported 40 unique projects and provided over 800 hours of facility use.
Traveling to the facility can often be difficult for researchers due to time and cost, so users can access many of the RTNN facilities remotely with the assistance and expertise of students and staff. RTNN recently partnered with the Remotely Accessible Instruments for Nanotechnology (RAIN) network to extend its reach. Together, institutions in the RAIN network provide remote capabilities to numerous instruments housed in universities across the country. Nanofabrication and/or characterization are performed in the facility and streamed live to the remote user. RTNN staff and students are available to explain the procedures, discuss technical aspects of the equipment, and answer questions throughout the process. RTNN is also bringing these tools and instruments into the classroom with the help of a portable, desktop SEM. This instrument is user-friendly and approachable. Students can get their "hands dirty" right away without complex and lengthy training sessions.
The RTNN supplements this programming with numerous activities including technical workshops and short courses, nano-themed scientific demonstrations, and facility tours. The network performs extensive assessment of its facilities, staff, and programs in an effort to inform network goals and implement effective changes. RTNN events and activities are actively communicated through an email newsletter and social media. Through these efforts, the RTNN has been successful in extending the reach of nanotechnology and moving nano-research forward.
RTNN facilities serve to advance innovative research across the three institutions. One of the strengths of the RTNN is the development of nanotechnologies used in flexible systems and substrates. Researchers are investigating these materials for a variety of applications. One user group recently deposited an ultra-thin oxide ferroelectric film onto a flexible polymer substrate for the first time. Ferroelectric materials can store charge but are often brittle and made at high temperatures. Here, researchers worked at low temperatures to enable film growth on plastic substrates. The flexible films are used to make non-volatile memory devices that are wearable and resilient, ideal for applications ranging from consumer textiles to defense and space applications.
Engineers at Duke have created a flexible sensor for use in diffuse reflectance spectroscopy (DRS). DRS is used to assess cancer margins in tissue by measuring refracted light from the sample. This measurement depends on tissue structure and chemistry. The flexibility of the sensor allows it to conform to tissue, reducing data anomalies. The sensor is comprised of thin film photodetectors (PDs) bonded to a flexible polymer substrate. In testing, the researchers found that the flexible sensor's responsivity and performance were equal to that of rigid PDs.
Other researchers are creating self-powered devices to help people monitor their health and understand how the surrounding environment affects it. Much of their work depends on the development of flexible systems. Laboratories in NC State's College of Textiles are creating fabrics for smart garments. To power these materials and support signal transport, conductive silver inks can be first screen printed onto plastic films and then transferred to a knit fabric. This inexpensive method provided robust and stretchable electrical connections in a comfortable garment.
To continue to make these exciting discoveries, it is imperative that researchers are able to acquire the necessary skills and easily access nanotechnology tools. RTNN stands ready to meet these needs with its groundbreaking education and training programs and cutting-edge facilities.