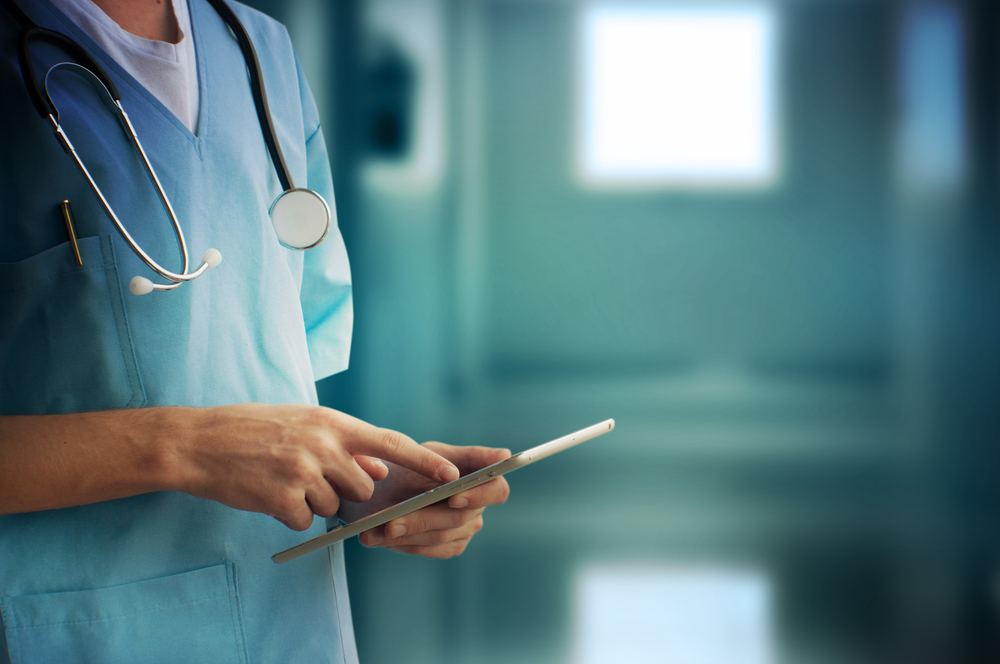 A new clinical study found that sensor technology could curtail and lessen symptoms related to head and neck cancer and its treatment.
The researchers—who presented the study during the 2018 American Society of Clinical Oncology (ASCO) in Chicago held June 1-5—conducted a randomized clinical trial with 357 people who received radiation therapy for head and neck cancer with mobile and sensor technology that enabled doctors to remotely monitor symptoms.
"Our study generated evidence on how newer technologies can be integrated into cancer care relatively easily and improve patient outcomes without interfering too much in a person's daily life," lead study author Susan Peterson, PhD, professor in the Department of Behavioral Science at the University of Texas MD Anderson Cancer Center, Houston, said in a statement. "This study was done during a rather intense period in the patients' care for head and neck cancer. The system helped their physicians to provide valuable support that ultimately resulted in lower symptom severity."
The researchers used CYberinfrastructure for Comparative Effectiveness Research (CYCORE), a system developed by four institution thanks to a grant from the National Cancer Institute, which includes a Bluetooth-enabled weight scale, a Bluetooth-enabled blood pressure cuff and a mobile tablet with an app that tracks symptoms and sends information directly to a physician each weekday.
In the study, 169 patients that received radiation therapy used the new sensor technology to track their progress, while 188 patients who received the therapy did not utilize the technology. Both groups attended weekly doctor's visits.
Physicians reviewed data from the app and sensor transmissions from the CYCORE group remotely each weekday and ultimately found that daily remote tracking of a patients wellbeing allowed doctors to catch concerning symptoms early and respond rapidly.
Prior to the start of radiation therapy, participants completed a 28-item MD Anderson Symptom Inventory survey about their health and common activities of daily living that covered general symptoms that are common in people with cancer including pain, fatigue and nausea.
The survey also covered symptoms that are relevant to people with head and neck cancer, including difficulty swallowing or chewing, skin pain, burning, rashes, as well as problems tasting food.
Each participant completed a similar survey at the conclusion of radiation therapy six-to-seven weeks later and a final survey six-to-eight weeks later.
At the start of the trial, the researchers found no difference in self-reported health severity scores between the participants who used the new technology and the control group. The scores were rated between zero—no symptoms or pain—to 10, the highest pain severity.
After completing radiation therapy, the CYCORE participants had an average score of 2.9, while the patients with traditional care had an average score of 3.4. The CYCORE particpants had a lower mean score for symptoms specific to head and neck cancer with 4.2, while the usual care participants had a mean score of 4.8.
After the final survey, CYCORE participants had a mean score of 1.6, while the usual care participants had a mean score of 1.9, as well as a lower symptom specific score of 1.7 to 2.1.
There is an estimated 51,000 new cases of head and neck cancers that will be diagnosed in 2018 and more than 10,000 deaths result from the disease. The majority of patients receive radiation therapy as treatment, as well as chemotherapy and surgery. However, these treatments require careful monitoring, are painful and can lead to dehydration due to difficulty swallowing.
The researchers now plan to test how long the benefit of a CYCORE intervention could persist and whether CYCORE could be implemented in non-academic cancer treatment settings where the majority of cancer patients receive their treatment.