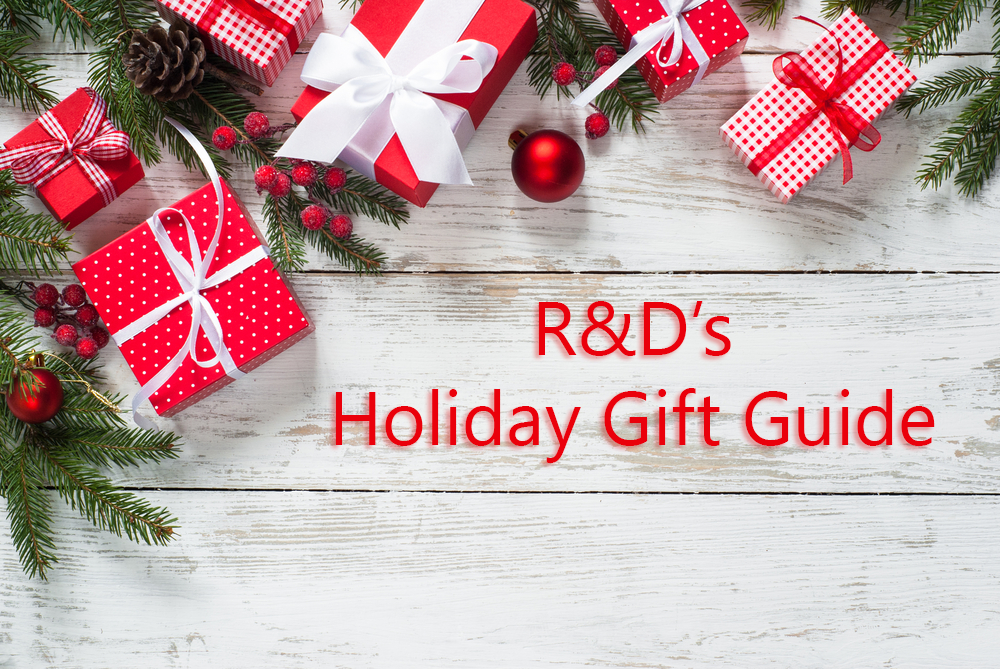 No need to fuss about getting the perfect gifts this year, as the editors are here to spread some science cheer. Check out these 10 science-themed gifts for your loved ones, and perhaps even for yourself.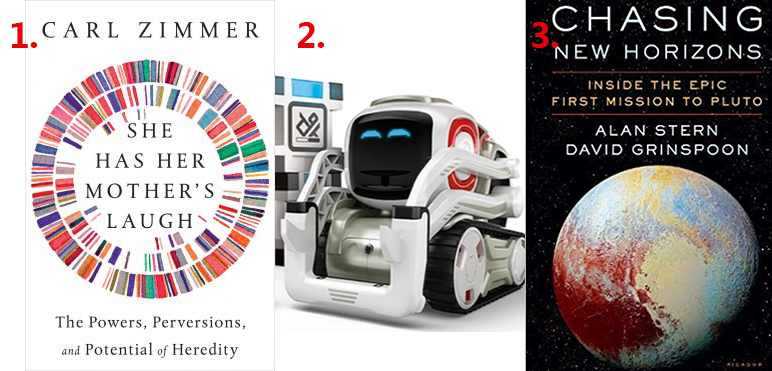 1. She Has Her Mother's Laugh: The Powers, Perversions, and Potential of Heredity by Carl Zimmer
Award-winning, celebrated New York Times columnist and science writer Carl Zimmer presents a profoundly original perspective on what we pass along from generation to generation. Charles Darwin played a crucial part in turning heredity into a scientific question, and yet he failed spectacularly to answer it. The birth of genetics in the early 1900s seemed to do precisely that. Gradually, people translated their old notions about heredity into a language of genes. As the technology for studying genes became cheaper, millions of people ordered genetic tests to link themselves to missing parents, to distant ancestors, to ethnic identities. Heredity isn't just about genes that pass from parent to child. Heredity continues within our own bodies, as a single cell gives rise to trillions of cells that make up our bodies. We say we inherit genes from our ancestors—using a word that once referred to kingdoms and estates—but we inherit other things that matter as much or more to our lives, from microbes to technologies we use to make life more comfortable. We need a new definition of what heredity is and, through Carl Zimmer's lucid exposition and storytelling, this resounding tour de force delivers it.
Big brain, bigger personality and adorably personable—Cozmo's a supercomputer and loyal sidekick all at once. Thanks to artificial intelligence, Cozmo can express hundreds of emotions. He knows your name, face and quirks. Best of all, he continues to evolve the more you hang out. Cozmo is made of over 300 parts that create one super smart, super entertaining robot. He doesn't just move; he gets curious and explores. He doesn't just learn; he plots and plans. He doesn't just see you; he gets to know you. Also, Cozmo is equipped with Code Lab, the perfect platform for new coders. Cozmo's skills and games are constantly updating, so the fun never runs out.
3. Chasing New Horizons: Inside the Epic First Mission to Pluto by Alan Stern
On July 14, 2015, something amazing happened. More than 3 billion miles from Earth, a small NASA spacecraft called New Horizons screamed past Pluto at more than 32,000 miles per hour, focusing its instruments on the long mysterious icy worlds of the Pluto system, and then, just as quickly, continued on its journey out into the beyond. Nothing like this has occurred in a generation―a raw exploration of new worlds unparalleled since NASA's Voyager missions to Uranus and Neptune―and nothing quite like it is planned to happen ever again. The photos that New Horizons sent back to Earth graced the front pages of newspapers, and NASA's website for the mission received more than 2 billion hits in the days surrounding the flyby. At a time when so many think that our most historic achievements are in the past, the most distant planetary exploration ever attempted not only succeeded in 2015, but made history and captured the world's imagination. Chasing New Horizons is the story of the men and women behind this amazing mission: of their decades-long commitment and persistence; of the political fights within and outside of NASA; of the sheer human ingenuity it took to design, build, and fly the mission; and of the plans for New Horizons' next encounter, 1 billion miles past Pluto in 2019.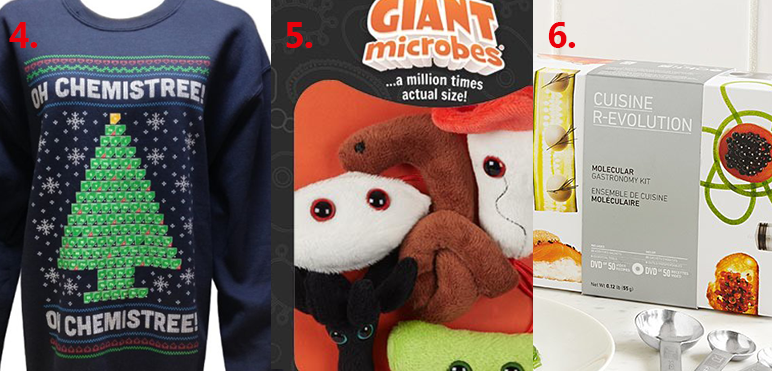 4. "Oh Chemistree!" Sweatshirt
Science geeks will love this fun, festive "Oh Chemistree!" sweatshirt. This sweatshirt has a soft fleece cotton blend and is machine washable. When reversed, the museum's logo is displayed. It is available in adult sizes SM to 2X.
5. Giant Plush Microbes — Themed Gift Boxes
These plush toys are perfect little gifts for people who love science, and can even be a great gift gag. From ancient plagues to blood blood cells, to ocean dwellers and biohazards, these gift sets have a variety of adorable organisms.
6. Molecular Gastronomy Kit – Cuisine
What do you get when you combine food, chemistry and art? You get to deconstruct any dish, to change the look and feel of any ingredient, to impress dinner guests and to take your tastebuds on an adventure—also known as molecular gastronomy. Turn your kitchen into a food laboratory with this how-to kit that teaches you how to transform liquids, like honey, into jelly-like cubes, gelify chopped produce into flavor-packed beads, or even morph melted chocolate into a delicate powder or spaghetti-like strands.

7. Geode Puzzle
Beautiful—and fiendishly difficult—these cutting-edge geode puzzles seduce the eyes while challenging the brain. And like real agate, each of these designs (pink, blue or multi-colored) has a distinct shape, color and pattern. The way they're made is inspired by how a geode's crystalline structure is created in nature: a special simulation program develops an image by layering color that radiates from the puzzle's edge; an algorithm generates the puzzle piece patterns; and a computer-guided laser cutter shapes the pieces from birch plywood.
8. Beaker Mug
Drink with lab style! This attractive drinking mug is the same size as a standard 400 ml beaker and can be used for hot or cold drinks. This premium beaker mug is well made from durable borosilicate glass that will stand up to years of daily use. More than just a lab beaker with an attached handle, these beaker mugs are uniquely designed with straight sides so they're much easier to drink from than a typical fluted edge beaker would be.
9. Handcrafted Felted Wool Marie Curie Ornament
Handcrafted and highly detailed, this felted wool ornament of the great female scientist Marie Curie was made by women in the mountain village of Kyrgyzstan. It is a Fair Trade item that measures 6.5 inches tall.
Crystalline and complex, a geode reminds us that nature knows how to work a room. Or, you know, a planet. Bring a little of that brilliance to your bar with these stemless wine glasses.
Disclaimer: We were not paid to promote any of these products, but simply came up with a list of some awesome gifts.