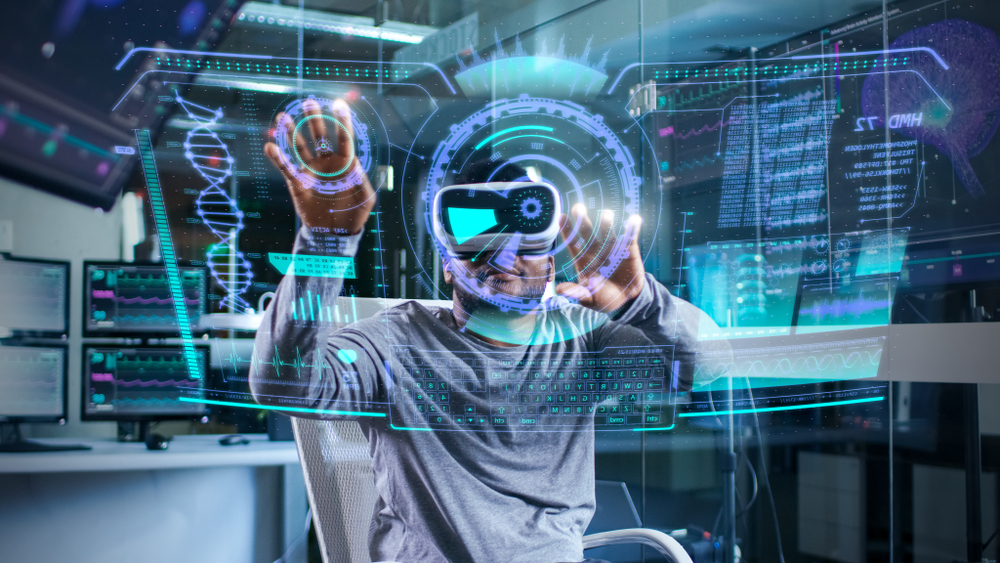 When most people think of virtual reality (VR) they think of an interactive gaming experience, where players get to participate in a fun adventure that feels almost like real life.
While VR has certainly made a splash in the entrainment space, it's also making an impact in a less flashy sector—science.
VR tool are providing researchers, engineers and designers with entirely new perspectives on their scientific endeavors. For the first time, they can literally step inside their experiments, models and designs and tackle new and innovative ideas and challenges never before possible. Over the last month R&D Magazine highlighted some of the science that VR has made possible.
Equipment
We first took a look at the VR tools themselves. While VR has had significant potential as a research tool for some time, it hasn't been highly utilized because many early VR systems were not suited for analysis and research purposes. In our article "Immersive Science Brings VR Tools to Research Labs" we highlighted a Seattle-based company that develops what they call 'perceptual experiences' that are more than the simple visualization tools that are often utilized. This technology—specifically designed for biomedical research purposes—gives scientists the ability to engage with their data and feel like they are inside of the cells or tissue samples they are analyzing. It also gives them the ability to manipulate and change different aspects within the three-dimensional environment.
Applications
Scientists at Benaroya Research Institute at Virginia Mason (BRI) are taking advantage of such tools, used VR to conduct detailed experiments focused on autoimmune and immune system diseases. Instead of viewing images of diseased cells on a computer screen with limited detail and restricted angles, using VR, BRI researchers are able to fully analyze specimens. In the article "Using Virtual Reality, Researchers Get a Closer Look at Autoimmune Disease," we outlined the BRI team's work, which is focused on imaging cells using a confocal microscope and fluorescent tags, where they are able to image four colors at once at a high resolution. The confocal builds up individual optical slides of a cell or of multiple cells that are interacting, which can be put together to make a three-dimension model of the cell in VR.
VR can also be used in the design world. For an automobile designer, one of the most challenging and time-consuming aspects of creating a new vehicle is having to sketch in 2D while thinking in 3D. Gravity Sketch, a UK-based VR software firm, is working to provide car companies, including Ford Motor Company, with VR tools that will allow designers to not only sketch in 3D but also immerse themselves inside of their sketches, streamlining the design process. The designer can even step inside of the vehicle sketch to adjust certain design aspects. We outlined these efforts in the article "Using Virtual Reality, Automotive Designers Can Step into Their Creations."
Education
In addition to the practical applications, VR can also be utilized as a scientific teaching tool. Students are getting a better understanding of the human body at Taipei Medical University using VR, as outlined in our story "Medical Students Learn in World's Largest Virtual Reality Anatomy Lab." The Taipei Medical University features 10 sets of VIVE Pro Headsets loaded with 3D Organon VR Anatomy software, allowing students to both train by themselves and in groups, as multiple users can join a virtual space and experience a human anatomy demonstration. The new software contains more than 4,000 realistic human body structures, organs and physiological animations. Users can walk around in a virtual environment, while observing different angles of the body, including the skeleton, muscles, tissue, blood vessels, nerves and organs.
The role of VR in education was also heighted in another article "New Study Tests Effectiveness, Interest for Using VR in the Classroom." This article featured a researcher and educator at Cornell University who investigated the effectiveness of VR as a teaching tool compared to traditional methods. In her experiment, Cornell University undergraduates were randomly selected to participate in one of the three learning methods—using either VR tools, computer simulations or a hands-on approach, to learn the different Moon phases.
Next month's special focus
Next month, R&D Magazine will run a special series of articles focused on "green" materials—materials that have a neutral or positive environmental impact. These novel materials, especially when they are used to replace toxic or environmentally-harmful materials, have the potential to make a big impact on the earth and the climate.